Références (Whisky Resume)
REFERENCES (WHISKY RESUME):
Mise à Jour avec révisions & illustrations supplémentaires : 09/2022
Revised & updated, with more pictures : 09/2022
Toutes photos © Grégoire Sarafian /Droits réservés sauf si précisé / Certaines photos sont très vieilles, aussi merci de votre indulgence quand à leur qualité.
All pics: © Grégoire Sarafian/Copyrighted, except some that are specified /Some of my pictures are very old, so sorry for the sometimes poor quality.

BREVE INTRODUCTION /SHORT INTRODUCTION :
J'ai découvert le whisky de manière autodidacte, autour de 1998 (même si j'en ai certainement dégusté avant sans souvenir précis), à une époque ou le livre avait encore un sens plus important qu'aujourd'hui (ou les sites internets & les vidéos blogs ou "'vlogs" règnent en maître) pour découvrir un tel sujet, et ou des sommités en la matière, comme Michael Jackson (non pas le chanteur, en fait il y en a eu même plusieurs...mais l'écrivain de la bière et du whisky dont le "Guide de l'amateur de Malt Whisky" faisait autorité), Charles MacLean ou encore Martine Nouet (selon moi l'écrivain français du whisky le plus important), publiaient à la fois de beaux livres et des guides bien utiles et sérieusement documentés. J'ai commencé avec l'acquisition d'un livre, puis de deux, puis aujourd'hui ma bibliothèque de livres sur le whisky en compte plus d'une cinquantaine (sans compter de nombreux catalogues), et bien sûr aussi une longue exploration des sites internets sur le whisky, la participation à des blogs (dès 2004) et plus tard la découverte des vidéos blogs (dont bien sûr le vidéo-blog de Ralfy Mitchell). Par la suite, comme je le raconte plus en détails dans une autre rubrique intitulée "Un Passionné" (voir lien ci-dessous), il y eu mon premier voyage en Ecosse, en 2002, mon premier grand salon du whisky, en 2004, des concours de dégustation (notamment en 2005) & stages individuels et collectifs d'assemblage avec de grands noms (2005, 2007), puis mes premières notes de dégustation écrites, puis une ébauche de livre (600 pages, tout de même, des sujets de fond et plus d'un millier de notes de dégustation...), livre refusé en 2011 par tous les éditeurs contactés...En 2013 c'est finalement la sortie de ce site internet, puis seulement en 2019, une réactualisation de ma chaîne sur Youtube pour parler cette fois aussi de whisky, mais de manière épisodique, car tout cela est une passion, mais très chronophage pour quelqu'un qui travaille par ailleurs à plein temps dans un tout autre domaine.
Il faut savoir qu'il n'existe pas de diplôme spécifique concernant le whisky en France, mais plutôt un cursus dans une université près de Poitiers (Segonzac) concernant les spiritueux en général, et qui forme surtout des jeunes à travailler dans le monde du Cognac, avec un caractère commercial important, et qui donne aussi les éléments de base par exemple pour devenir distillateur. A l'étranger, l'offre est plus importante, mais cela dépend dans quel cadre (et pitié que l'on ne me parle pas de "sommelier whisky" car en dehors d'un contexte très particulier d'inspiration française, cela ne veut rien dire pour moi), car c'est également un business juteux pour certains qui facturent plutôt cher quelques jours de cours qui à mon avis ne peuvent suffire à prétendre être un expert en whisky. Personnellement, je ne peux officiellement non plus prétendre à ce titre, même si d'autres parfois le font et parviennent à en tirer des revenus. Mon expérience professionnelle n'est que partielle-j'ai été ambassadeur de distillerie a minima avant de lancer mon site-et assujettie à certaines obligations quant à mon travail à plein temps sans rapport avec le whisky.
En effet, à une période ou les vidéos blogs (ou vlogs) pullulent, et ou chacun pense devoir donner son avis sur un whisky-ce qui est certes tout à fait honorable pour les personnes qui savent ou elles en sont, entendez bien...mais cela pourrait être trompeur question fiabilité des avis-ce n'est pas donné à tout le monde de prétendre être connaisseur en whisky. Au positif, du côté de la toile, c'est un vrai bonheur que d'échanger avec nombre de chaînes sur Youtube, menées par des personnes souvent formidables, qu'elles soient expertes ou non, et le sens du partage y est parfois exceptionnel je dois dire...D'ailleurs, l'an dernier, j'avais mentionné sur ce site ceux que j'avais trouvé les plus pertinents à cette époque, sachant que l'offre évolue vite, et il y a cette année de nouvelles chaînes plutôt remarquables dont je vous reparlerais. J'estime, donc, compte tenu de mes 20 ans d'expérience en tant que dégustateur et mon parcours (que chacun jugera), avoir mon mot à dire sur le sujet. Vous pourrez sur ce site, juger par vous-même ce qu'il en est, même si, comme pour tout ce qui est artistique ou culinaire, une expérience de dégustation (y compris le vocabulaire descriptif) demeure très personnelle, même s'il y a bien sûr, comme en parfumerie et pour le vin, des classifications établies par des experts.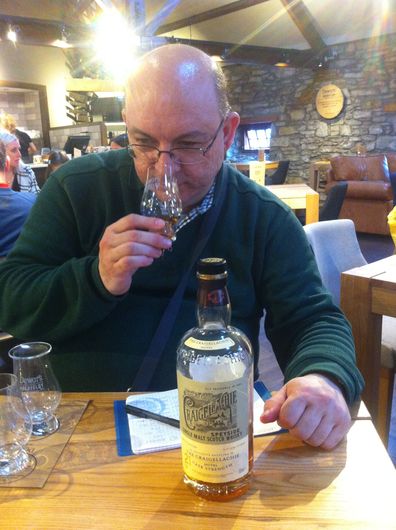 En Ecosse, en 2018, chez ABERFELDY, en train de déguster et d'évaluer un CRAIGELLACHIE 21 ans brut de fût spécialement conçu pour le Craigellachie Hotel, autant dire un grand moment de dégustation pour ce qui s'est avéré une très belle version. Photo: © Grégoire Sarafian (merci à Olivier)
ENGLISH VERSION : I discovered whisky on my own, self-taught, around year 1998 (even if I did probably try some before but with no precise memories), and at a time where whisky books had a way more important role than internet (translate: websites, blogs & video blogs) for such a topic discovery. At this time, whisky writer authorities such as Michael Jackson (not the singer, mind you-yes they were even 2-but the beer & whisky writer who's book "The Malt Whisky Guide" was receiving high praise at each release), or Charles MacLean, or Martine Nouet (French most importer whisky writer in my opinion) were in a way calling the shots. They were publishing both nicely illustrated books & seriously documented & very useful guides. I started with buying a book about whisky, then two, and today I have more than 50 books & a lot of catalogs, but also of course I did explore whisky websites & blogs, and later on video-blogs (first of them of course the one from Ralfy Mitchell). Later on, as I am explaining it more in details in another section called "Un passionné' (sorry it is only in French at the moment, as the text is rather long-see link above at the end of the French version), I did my first journey to Scotland (in 2002), then my first huge whisky show in Paris (2004), tastings contests & individual & collective blending training courses with big names of the whisky industry (2005, 2007), then wrote my first tasting notes, and an unpublished book (600 pages, including serious topics & more than a 1000 tasting notes...), refused in 2011 by all the publishers I had been in contact with. Then in 2013 I finally released this website, and only in 2019 I started to do videos about whisky on Youtube because I had to reactive it, but I will not do it in a too regular basis as all this takes me a lot of time, and even if it is a passion, I also have a regular full time job aside.

One has to known there isn't a specifically whisky oriented expert certification in France, but only a University course about fine spirits, near the town of Poitiers (in Segonzac), and this is mainly for young people who wants to work in the Cognac industry, with an important trade part, but is also said to provide basic elements for someone who would like to become a distiller, for instance. Abroad the offer is more important, but it depends in which context, as it is also a juicy business for some that ask an awful amount of money for just a few days of course that in my opinion can't be enough to make you become a whisky expert. Personally, I can't pretend to have this title as well (and please don't mention the "Whisky Sommelier" title, because it is simply absurd out of a very specific context), even if other people sometimes do it & manage to earn a bit of money with it (my own professional experience is too short & on some aspects only-I have been shortly distillery ambassador for a few days a year-and I have some duty), so I can only pretend to be a "connoisseur" in whisky which is informal.
At a time where the video blog offer about whisky is huge, and in which everyone seem to want to give his opinion about whisky-which is fair & honourable for those who know where they are about whisky, but, at the end of the day, the downside is that it may fool people about reliability, not for all of them of course (I already mentioned in this website those who I founded the most interesting last year, but it evolves quickly, and I discovered this year some new channels bringing some rather exciting approach, so you will certainly hear about them on my website in the future). Having said that, I have to say it is a true pleasure to exchange views with people having whisky channels on Youtube, wether they are connoisseurs or not, and the experience shared there can be exceptional.... So, because I have 20 years of experience as a whisky taster & that I have my blending training course experience as well (it is up to everyone to decide if it is valuable of not), I think I can have my say about whisky. Everyone can judge if it is relevant or not, despite the fact that, as for everything artistic or about food, a tasting experience is always something very personal, knowing that as in perfume industry or in the wine world, some expert classification do matter.
EXPERIENCE :
TEXTE en FRANCAIS (ENGLISH version below this one)/NOTE IMPORTANTE (2022) :
2021-2022 Création, en tant que consultant-assembleur, pour la ferme-brasserie-distillerie artisanale française La Chapelle-Northmaen, ou Northmaen, située à La Chapelle-Saint-Ouen (près de Rouen, en Normandie), d'une nouvelle référence de whisky nommée « Cuvée 1110 » pour laquelle j'ai sélectionné des fûts puis assemblé, mais aussi trouvé le concept, participé à la rédaction du texte sur les étiquettes, à une partie du design (puis une agence de design a pris le relai), et à sa promotion sur les réseaux sociaux & auprès de professionnels CHR.
La « Cuvée 1110 » est un single-malt whisky qui célèbre le 1110 ème anniversaire du Traité de Saint-Clair-sur-Epte qui a conduit à la création du Duché de Normandie, un traité de Paix signé en 911 par le Roi Charles III Le Simple & Rollon Le Viking, Chef des Normands. Ce whisky a été élaboré à partir d'orge locale (de type Pilsen, cultivée à la ferme, maltée en Belgique), de levure de brasserie, distillé une seule fois dans un ex-alambic d'Armagnac itinérant (avec 2 séries de condenseurs) et assemble 5 fûts issus de 5 millésimes différents (2012 à 2018-dont 90 % du contenu a 5 ans d'âge ou plus, et par exemple 31 % a 7 ans d'âge, et il y a 24 % de 9 ans d'âge), mais aussi 2 types de bois & de contenus différents : 4 fûts de chêne ayant précédemment contenu du vin de Bordeaux rouge, et 1 fût d'acacia ayant précédemment contenu du vin liquoreux de la même région, mais du Sauternes. C'est l'équivalent, pour ceux qui connaissent un peu la distillerie, de l'assemblage de 2 versions existantes le "Thor Boyo" & le "Kenning", sauf que chaque fût a été soigneusement choisi parmi d'autres pour ses qualités propres et ce dans 3 chais différents (l'un humide, les autres secs) et avec des âges différents (de 3 à 9 ans). Les fûts ont tous été légèrement toastés après grattage et vidage du précédent contenu, donc presque un équivalent au S.T.R. (dénomination anglo-saxonne qui signifie « Shaved, Toasted & Recharred »), sauf qu'il est plus doux côté traitement du bois (pas de brûlage après toastage). En raison de toutes ces particularités, le profil final ne ressemble pas à un single-malt écossais, mais se rapproche plutôt à mon avis d'un whisky de seigle...Il a été produit environ 1000 bouteilles de cette édition limitée (finalisée en novembre 2021, sortie retardée début 2022) non filtrée à froid, non colorée et réduite à 48 %.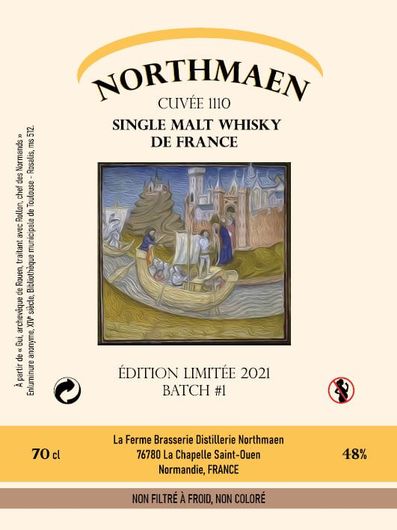 Pour en savoir plus, voir la vidéo que j'y ai consacré (version française ici) sur ma chaîne Youtube :
https://www.youtube.com/watch?v=436AspMFCwg&t=618s
Voir le reportage sur mon site rédigé après ma première visite à la distillerie en 2019 :
http://www.gregswhiskyguide.com/actualites/gros-plan-focus/279-gros-plan-no-4-sur-la-distillerie-northmaen.html
Voir l'interview donnée au blog « Whisky Français » (whisky-francais.com) :
http://whisky-francais.com/index.php/2022/05/18/northmaen-cuvee-1110-un-assemblage-signe-gregoire-sarafian/
TEXT IN ENGLISH/IMPORTANT UPDATE (2022) :
2021-2022 Blending, as a consultant-blender, for the French craft farm-brewery-distillery La Chapelle-Northmaen, or Northmaen, located at La Chapelle-Saint-Ouen (near Rouen, in Normandy), a new whisky reference named « Cuvée 1110 » for which I did select casks to blend the whisky, but also found the concept behind this reference, wrote most of the label text, and worked on some parts of the label design as well (then a design agency did work on it), promoted it on social medias & helped the representative for its distribution.
« Cuvée 1110 » is a single-malt whisky which celebrates the 1110 th Anniversary of the Saint-Clair-sur-Epte Treaty sealing the creation of the Duchy of Normandy in 911 between King Charles III « The Simple » & Rollon The Viking, Chief of the Normans. This whisky is made with local barley (Pilsen, the malting, though, is made in Belgium), brewery yeast, distilled only one time with a special ex-Armagnac wandering still (with 2 series of condensers) & blends 5 French wood casks from 5 different Vintages from 3 to 9 years old (90 % of the content is aged 5 yo to more, and, for instance, 31 % is 7 yo & 24 % is 9 yo). Four of them are ex-Bordeaux red wine (these casks are almost « S.T.R. », except that they are not recharred) French oak casks & one is a French acacia wood cask having held sweet white wine (also from the Bordeaux area) called Sauternes. This expression is a bit the equivalent of gathering 2 existing expressions into one (the "Thor Boyo" & the "Kenning"), except that every cask has been carefully selected among others for its specific qualities & picked into 3 different warehouses (one dunnage, the others dry ones) & different ages (from 3 yo to 9 yo). Because of all the production details explained before, this whisky doesn't taste like a Scotch single-malt, but rather, in my point of view, like a rye whiskey. There are around 1000 bottles produced for this new reference's first release & first batch (limited edition, finalised in November 2021, but delayed release in early 2022). This whisky is non chill filtered & has a natural colour. It is bottled reduced to 48 % abv.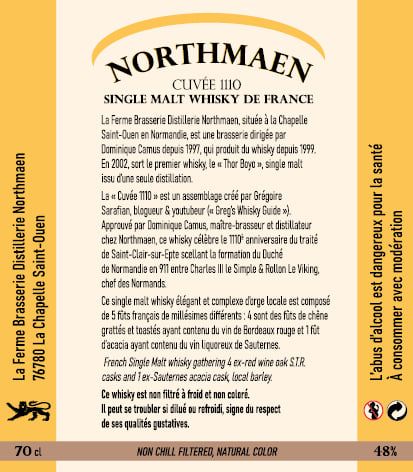 To learn more about it, here is the video I made in English :
https://www.youtube.com/watch?v=436AspMFCwg&t=618s
Please also check out the report on my website about my first visit at the distillery in 2019 :
http://www.gregswhiskyguide.com/actualites/gros-plan-focus/279-gros-plan-no-4-sur-la-distillerie-northmaen.html
If you speak French, or you can Googletranslate it maybe, here is an interview I've given this year to a French blog :
http://whisky-francais.com/index.php/2022/05/18/northmaen-cuvee-1110-un-assemblage-signe-gregoire-sarafian/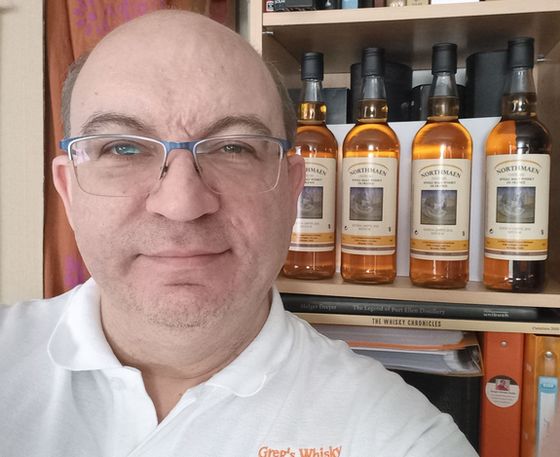 2010-2012: Assistant-interprète & ambassadeur de la Tasmania Distillery (Australie), pour la marque de single-malts whiskies "SULLIVANS COVE", pour la France, au Salon "Whisky Live Paris", en 2010 (au Palais de Tokyo), en 2011 (à l'Hôtel Salomon de Rothschild), & en 2012 (à la Maison de la Mutualité) durant les trois jours du salon (2 jours pour le public & un jour pour les professionnels) et en 2011 au salon "Spirit in the Sky" (Leuven, Belgique).

ENGLISH VERSION: Assistant interpretor & brand ambassador for Tasmania Distillery (Australia) & their single malts whiskies brand "SULLIVANS COVE" for France, mainly during "Whisky Live Paris" (3 days show) from 2010 to 2012 & in Belgium (Leuven) for the "Spirit in the Sky" 2011 festival.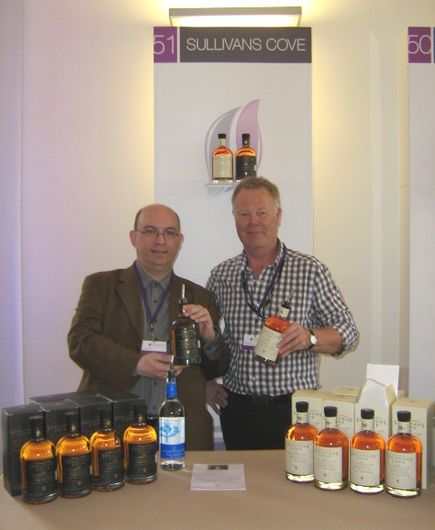 Votre serviteur avec Patrick Maguire, le maître-distillateur et l'un des 3 directeurs de la Tasmania distillerie, ici lors Whisky Live Paris 2011.

Me with Patrick Maguire, at Whisky Live Paris show 2011, showing the different releases of SULLIVANS COVE.
2014: J'ai participé le 5 novembre à une soirée dégustation thématique co-organisée à deux (un caviste, Charlie, parlait des vins dégustés, tandis que votre serviteur des whiskies dégustés en parallèle, avec des bouchées étudiées pour être associées avec chacun des vins & whiskies servis, puis la soirée s'est achevée sur près d'une heure de questions-réponses sur le vin et le whisky) sur le thème des rapprochements possibles entre VIN et WHISKY dans l'excellente cave à vins & spiritueux de Levallois appartenant à l'enseigne JULIEN DE SAVIGNAC, boutique menée à l'époque par le dynamique Charlie (et en ce moment par le fort sympathique Christophe). Une cave & une enseigne (il y a plusieurs boutiques en région parisienne et en France-la dégustation a eu lieu dans celle de Levallois, au 28 Bis, Rue Gabriel-Péri) par ailleurs déjà recommandée sur mon site à la rubrique « Bonnes Adresses ».
Tous les détails sur cette dégustation un rien atypique et unique ci-dessous:

Article sur notre DĂ©gustation Vin et Whiskies chez JDS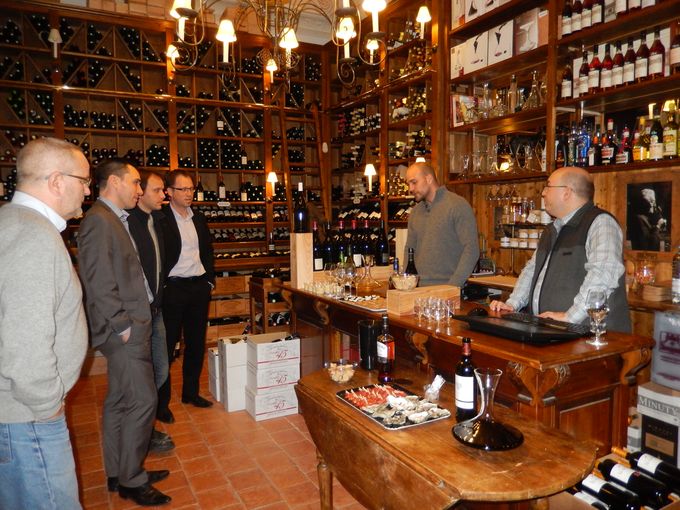 Votre serviteur avec Charlie, caviste chez Julien de Savignac, à Levallois, présentant les trois "couples" vins et whiskies de la dégustation. Photo: © Grégoire Sarafian
Here I am with Charlie, a retailer at the Julien de Savignac shop channel, in Levallois (near Paris), presenting the 3 whiskies, paired with 3 wines & food.
ENGLISH VERSION: In 2014, November, 5, I did co-direct a special Wine & Whisky & Food pairing tasting evening with a wine merchant called Charlie, in an excellent wine & spirits shop called JULIEN DE SAVIGNAC (part of a shop channel present in many towns of France-a recommended channel I have to say...) in the town of Levallois (just outside Paris, in the Gabriel-PĂ©ri street, 28 Bis). I was presenting the 3 whiskies chosen while Charlie was presenting the 3 wine chosen, both paired with specially cooked morsels in order to be paired with both wine or whiskies. The idea was to speak about the links & the differences between those wines & whiskies, and then to digress about wine & whisky facts & topics, with a Q & A after the tasting. Since a few years it is the very kind Christophe who runs the shop, so if you are nearby, don't hesitate to visit his shop.

All details about this unusual & unique tasting in the link above, on the French version.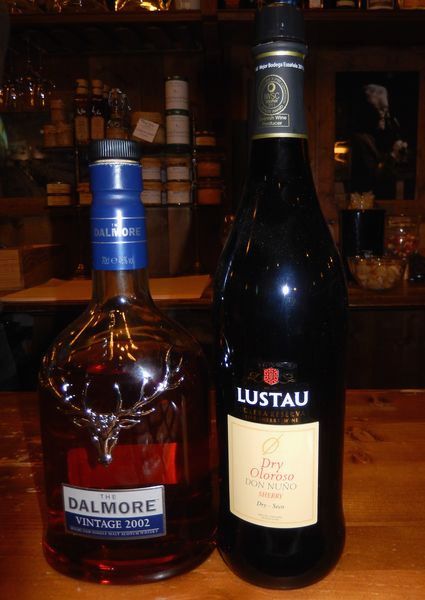 Le deuxième "couple" de la dégustation The DALMORE et un XERES Oloroso. Photo: © Grégoire Sarafian

2010: Vous ne le savez peut être pas, mais je suis aussi assembleur de whiskies, en amateur, avec, depuis 2005, plus de 65 assemblages maisons allant de quelques whiskies à 35 whiskies différents. Appréciant ce travail, Jean-Michel Noël, le chef du restaurant LA ZYGOTHEQUE (situé 15 Bis, Rue de Tolbiac à Paris, dans le 13ème arrondissement), bien connu des amateurs de whisky et d'associations culinaires avec celui-ci (avec plus de 200 whiskies à sa carte !), m'a un jour proposé d'intégrer l'une de mes créations dans un des menus whiskies de son restaurant, un whisky d'assemblage-maison* nommé "Serendipity Revisited (The P.L.C. Vatting)" a donc été présenté le 05/11/2010 à l'occasion d'un Dîner avec Menu Whisky, et proposé comme "La création surprise de Grégoire". Il fut associé à un "Oeuf poché sur une petite brioche en meurette"). Il s'agissait d'un assemblage en exemplaire unique de 70 cl de 14 single-malts de 8 à 20 ans d'âge des distilleries ARDBEG, GLEN MORAY & GLENMORANGIE, dont certains rares single-casks...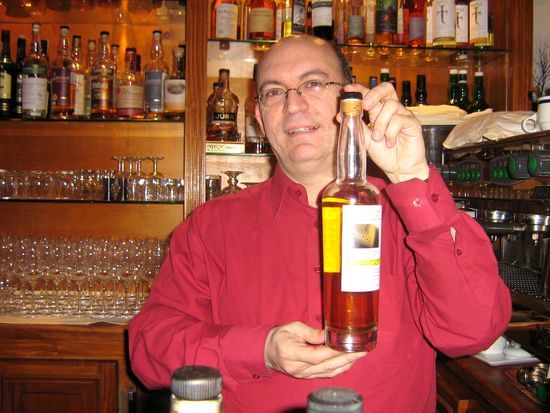 Au restaurant La Zygothèque, ou plus le chef propose une carte de 200 whiskies. Ici je présente ma propre création No 40, servie lors d'un dîner à thématique whisky.

At the restaurant La Zygothèque in Paris, who has more than 200 whiskies in his menu, showing my own blending malt, served during a special whisky themed dinner.
ENGLISH VERSION: You might not know it, but I am also an amateur blender, with, from 2005, more than 65 home private blended whiskies or blended malts, sometimes gathering around 35 different whiskies. Enjoying what I do, Jean-Michel Noel, the chef of a French restaurant called LA ZYGOTHEQUE, located in Paris (13th district, Tolbiac street, 15 bis), a restaurant known for food & wine or whisky pairing (with more than 200 whiskies on his menu), proposed me some day to include one of my private blends in a special Whisky Menu. So, in 2010, a home blended malt I created & called ""Serendipity Revisited (The P.L.C. Vatting)" has been included in a "Whisky Menu" (pairing) dinner. It was a unique 70 cl bottling for the restaurant, proposed as a "surprise" choice for those interested (it was paired with a French starter around the egg theme), a blending of 14 single malts aged from 8 to 20 yo from ARDBEG, GLEN MORAY & GLENMORANGIE, including some rare single casks...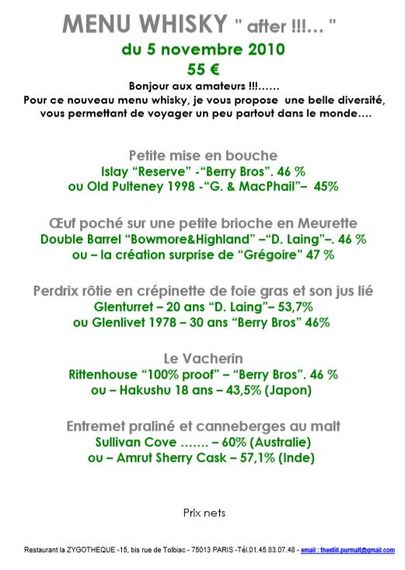 Le menu original ou a été présenté ma création No 40 / The original menu in which my home blended whisky No 40 was presented.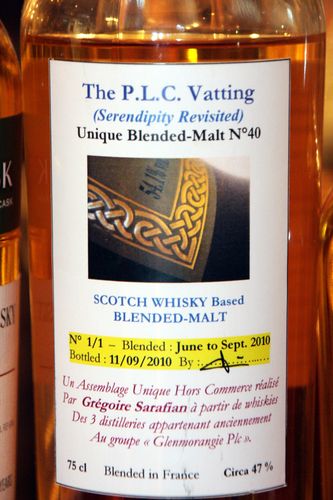 Mon assemblage proposé pour cette occasion, à partir de ma collection comme de quelques samples rares.
My own blended malt label here, in tribute to the Glenmorangie Plc group, made after my own bottles but also some rare samples.
2007: Stage pratique individuel d'assemblage de whiskies, effectué chez la société de négoce Compass Box à Londres, à l'invitation de son directeur John GLASER. Plusieurs interviews ont été réalisées suites à ce voyage (ou j'ai été également invité par la société de négoce Berry Bros & Rudd, via son responsable des spiritueux mais également assembleur Doug McIvor), disponibles sur ce site, ici: Interview en 2 parties de John Glaser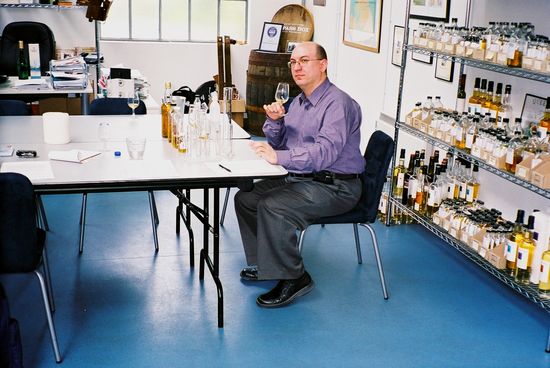 Votre serviteur ici dans le laboratoire d'assemblage de John, tel qu'il était à l'époque, en total espace ouvert. J'évalue les différents whiskies avant de les assembler.
I am here at COMPASS BOX's headquarters, as they were in 2007 during my visit (more opened surfaces than now), assessing the samples proposed by John.
E.V. : In 2007, I was invited by John Glaser during a day to an individual blending training course at Compass Box whisky company in London, and 2 interviews were made after this week end (see just above).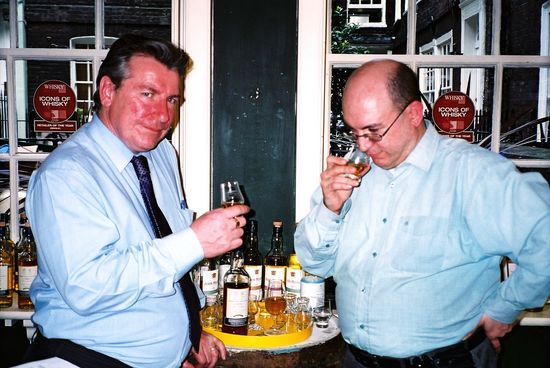 Au quartier général de BERRY Bros & RUDD, avec Doug McIvor, en train de déguster l'un des 9 whiskies proposés durant ma visite, le dernier étant un PORT ELLEN de 25 ans !
At BERRY Bros & RUDD Headquarters, with Doug McIvor, tasting one of the 9 whiskies proposed that day, last but not least was a PORT ELLEN 25 years old !
2006 à ce jour: *Réalisation d'assemblages de whiskies, en édition très limitée, généralement unique et hors commerce, pour des occasions particulières, en cadeaux à destination de collections privées, ou simplement pour m'exercer (plus de 65 réalisations à ce jour*).
2006 to today: *Home blending whisky creation, in very limited edition, most of the time not for sale & unique (one bottle only), or made sometimes for special occasions (weddings, birthdays, etc...) only for private use, and often also to help me practise (more than 65 home blendings until now).
*= Merci de voir à la fin de cette rubrique, pour voir le lien vers une critique consacrée à un de mes assemblages
(please have a look at the end of this topic, as there is link to a review of one of my blendings)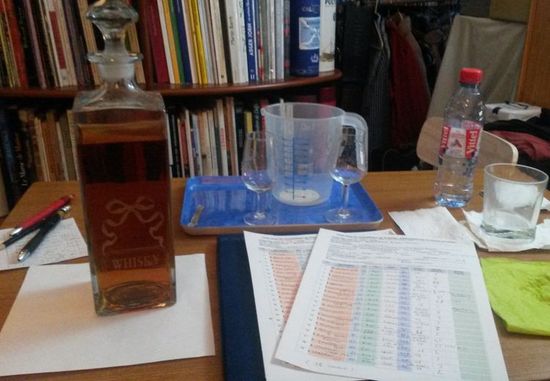 Une photo que d'ordinaire je ne diffuse pas, car je suis ici en fin de séance d'assemblage pour mon home blended whisky No 63.
A rare picture I usually don't show, because here I had just finished my home blended whisky No 63.
CONCOURS (CONTESTS) :
2008: -Diplômé « Blend Master » aux côtés de Jérôme Vallanet, ex-barman à l'Hôtel Regina (qui m'avait choisi pour être son binôme), à l'occasion du concours professionnel d'assemblage de whiskies « Chivas Blending Challenge » supervisé par Colin Scott, le maître assembleur de CHIVAS Brothers (voir ci-dessous).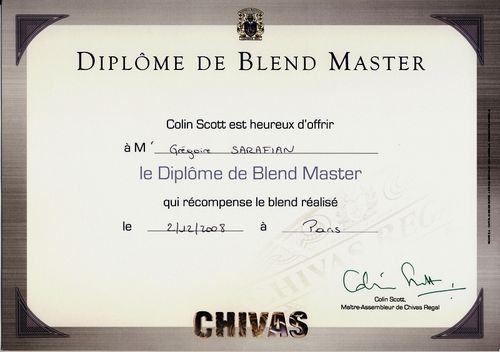 Une distinction obtenue en 2008, aux côtés du barman Jérôme Vallanet (ex-chef barman à l'Hôtel Régina), qui m'avait choisi comme binôme pour participer avec lui au concours professionnel du "Chivas Blending Challenge" de Pernod-Ricard, concours présidé par Colin Scott, le maître-assembleur des blended-whiskies de CHIVAS REGAL depuis 1989 (il y est entré en 1973 et est notamment le créateur du 18 et du 25 ans d'âge). L'objectif était de reconstituer, à l'aveugle à partir d'une demi-douzaine d'échantillons, un blend mystère concocté par Colin Scott. Photo © Grégoire Sarafian
This diploma, even if it has no official status, was important for me as 1/ I was chosen to participate to a professional only contest (organised by Pernod-Ricard company) by a famous & talented French once a chief bartender in one of the most prestigious palace, the Regina Hotel. 2/ The jury was "the man" behind CHIVAS REGAL himself, Sir Colin Scott. The idea was to re-create a blended whisky that should ressemble the most to a "mysterious" blended whisky conceived by Colin Scott himself.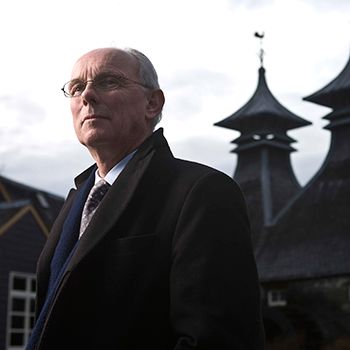 Colin Scott, l'homme derrière CHIVAS REGAL, ici devant la distillerie STRATHISLA, qui est au coeur de ce blended whisky. Merci à The Spirit Business pour la photo.
Colin Scott, l'homme derrière CHIVAS REGAL, hee before the STRATHISLA distillery which is the heart of this blended whisky. Thanks to The Spirit Business for the picture.
E.V.: In 2008, I was invited as a guest (chosen as a blending partner) by Jerome Vallanet who was at that time head of bartenders in Regina Hotel, Paris, to a professional yearly whisky blending contest event called "Chivas Blending Challenge" supervised by Colin Scott, CHIVAS Brothers' master-blender. We have been awarded for our creation (see below) among the first four pairs of tasters.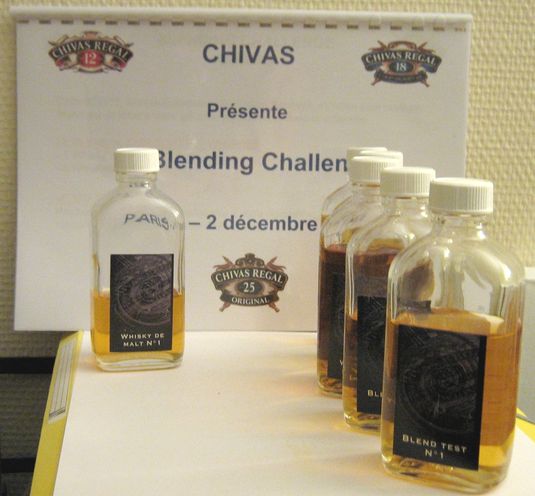 Une partie du set de dégustation pour le concours CHIVAS BLENDING CHALLENGE, ou nous n'avions aucune information sur les whiskies.
Part of the set for the CHIVAS BLENDING CHALLENGE, for which we had no information about each sample.
2006: -Classé 6 ème ex-aequo au concours Photo de « Whisky Magazine » (publié dans le tiré à part du N° 17 de l'édition française), grâce à une photographie de la salle des alambics de la distillerie GLENMORANGIE prise lors de mon voyage en 2002.
E.V.: In 2006, I was equally ranked 6th in French edition of "Whisky Magazine" (published in N°17th off-print number), thanks to a picture of GLENMORANGIE's Still room taken during my trip there in 2002.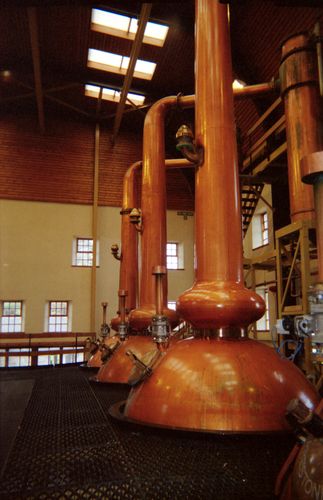 La photo (prise sur place à GLENMORANGIE) qui a été primée lors du concours WHISKY MAGAZINE, malgré sa nature argentique en prise de vue automatique.
The awarded picture I took on site, at GLENMORANGIE distillery, despite the fact it was made with an analogue camera (automatic position chosen).
2005 : -Classé 12 ème/650 au concours de dégustation à l'aveugle (Blind tasting contest) dit « Whisky Magazine Challenge », l'un des plus importants concours de dégustation organisés par Whisky Magazine (France).
E.V.: In 2005, I have been ranked 12 out of 650 people (including professional retailers & tasters, and important whisky collectors) at one of the most important blind tasting contests organised by La Maison du Whisky (owner & redactor in chief) through the "Whisky Magazine Challenge" (French edition of "Whisky Magazine").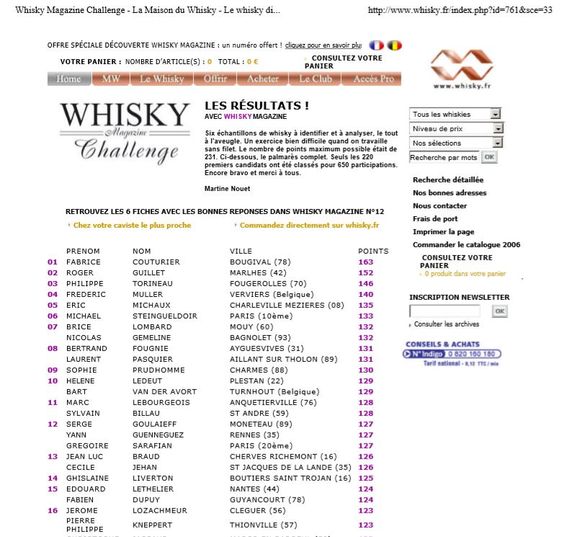 La tête du classement des lauréats de ce concours très difficile...Je fus heureux d'y participer, hélas aucun concours (public au moins) de ce niveau n'eut lieu après cela en France.
The winners of this very difficult contest (here the head of the list) I was happy to participate in. alas no other contest of this kind (at least public) was organized since this one in France.
2002: Voyage-découverte de la distillerie GLENMORANGIE (Ecosse) suite au gain d'un concours. Invitation à une masterclass des whiskies du groupe GLENMORANGIE Plc par Graham Eunson (à l'époque ARDBEG, GLEN MORAY & GLENMORANGIE, de nos jours directeur de la distillerie TOMATIN). Visite guidée de la distillerie & du domaine (incluant 2 nuits à la Cadboll House) & diverses activités, participation à mon premier Ceilidh également...A Noter: De nombreuses oeuvres à caractère artistique furent réalisées durant et après le séjour (dessins au pastel, feutres-pinceaux, stylo-feutre, photographies).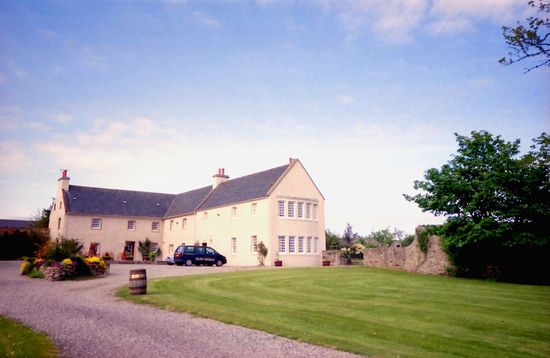 La splendide propriété cinq étoiles pour les visiteurs de la distillerie, ou j'ai passé un séjour inoubliable.
The gorgeous Cadboll House, where I spent a fabulous & unforgettable time for a week end.
E.V.: In 2002, I won a trip (after a contest) to the GLENMORANGIE distillery in Scotland. I have been invited to a guided tour at the distillery & stayed 2 nights at the Cadboll House (and was proposed diverse activities including my first ever Ceilidh)...I had a masterclass with Graham Eunson about whiskies from the GLENMORANGIE Plc group (they owned at that time ARDBEG, GLEN MORAY, GLENMORANGIE-Nowadays, Graham is TOMATIN's distillery manager). Note: During this journey & after, a lot of drawings have been made, some with oil crayons, some with special brushpens, some with markers, and I did some pictures as well).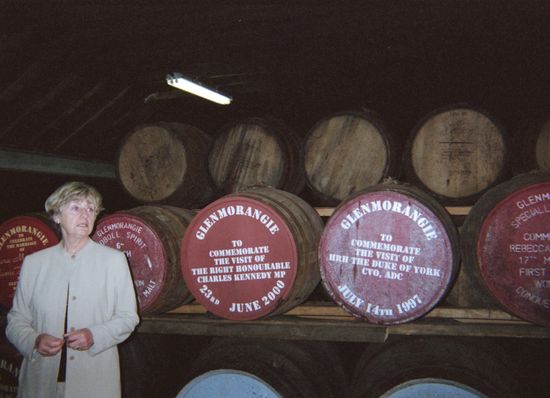 L'un des chais traditionnels de la distillerie GLENMORANGIE durant notre visite guidée.
One of the GLENMORANGIE dunnage warehouses, here with our tour guide.
PUBLICATIONS (RELEASES) :
2006 à ce jour : Interventions rédactionnelles (notes de dégustation abrégées, points de vue) sur l'actualité du whisky dans des forums spécialisés sur internet, comme ceux de «www.quelwhisky.org» (pseudo = Corto Malté) et de "www.whisky-distilleries.info" (pseudo = C Malté).
Voir : http://www.quelwhisky.org/
2008 : Newsletter de la société de négoce Berry Bros & Rudd, Londres (encart de 22 lignes rédigées en anglais avec notes de dégustation abrégées ; publié en décembre 2008).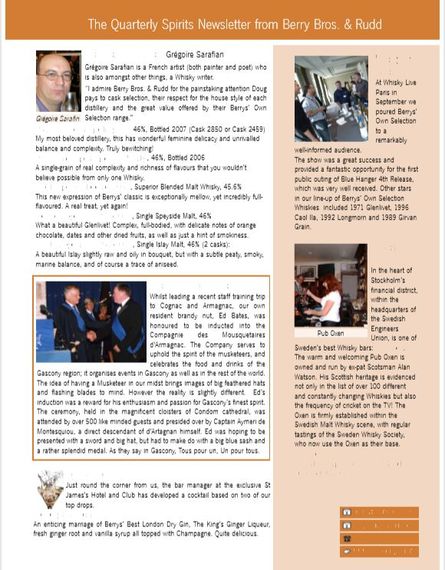 Un extrait de la lettre d'information de BERRY Bros & RUDD pour laquelle j'avais été interviewé en choisissant mes whiskies préférés parmi les leurs.
An excerpt of a 2008 Newsletter from BERRY Bros & RUDD in which I was interviewed about my favorite whiskies from their selection.
2007 : Rubrique « Press » du site web de la société de négoce Compass Box, Londres (extraits). NDLR : Il s'agit de l'ancien site internet de la société, ces pages ne sont probablement plus accessibles aujourd'hui...je vais essayer de retrouver une ancienne copie d'écran pour l'ajouter ci-dessous (à suivre), si je la retrouve...Merci de votre compréhension.

Voir : http://www.compassboxwhisky.com/home.html
Rubriques « Awards » & « About us », du site web de la « Tasmania distillery », Hobart, Australie.
Voir : http://www.tasmaniadistillery.com.au/
Rubriques « Awards » , « About us », du site web « The Odd Whisky Coy » de Graham Wright,Glynde, Australie.
Voir : http://www.theoddwhiskycoy.com.au/catalogue.phpiskycoy.com.au/
-Ainsi que des citations (pas toujours autorisées!) de mes critiques ou notes chiffrées sur de nombreux sites commerciaux ou informatifs sur le whisky et au delà ...trop nombreux pour être cités (y compris du simple pillage de mon travail !).
ENGLISH NOTE: I appeared on the websites or newsletters listed above (even if some have refurbished totally their website so my comments might not appear anymore), sometimes in French, others in English, with my reviews & sometimes my ratings as well, plus others too numerous to quo, including some copycats !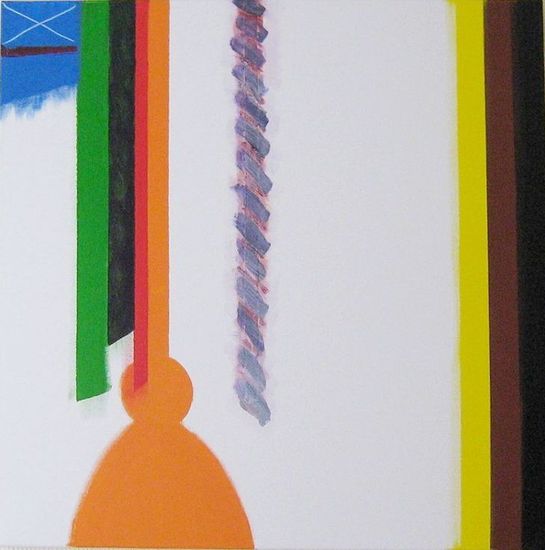 Une des oeuvres picturales de votre serviteur consacrée au whisky: "SPIRIT,3", acrylique & collage sur toile (80 x 80 cm), 2006. Photo: © Grégoire Sarafian
One of my paintings about whisky made with the acrylic technique & some collage. Part of my art work was devoted to whisky, but the main paintings are abstract or about landscapes.
CONTRIBUTIONS DIVERSES :
2015 : Aide, sous forme de financement participatif, à la réalisation du film "Le Tour de France des whiskies" de Robin Entreinger, un long métrage de type documentaire (via la plateforme "KissKissBankBank").
Voir le film ici :
Le Tour de France des whiskies (full movie here)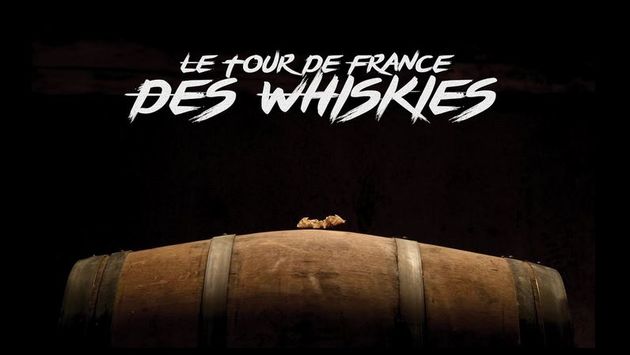 E.V. : I did participate financially to the creation of a documentary made by Robin Entreinger about French whisky distilleries named "Le Tour de France des whiskies" in 2015, through the crowdfunding platform called "KissKissBankBank".
PROJETS EN COURS DE REALISATION*:
2006 à 2013 : Rédaction d'un GUIDE sur le WHISKY, destiné tant aux néophytes qu'aux amateurs avertis & aux professionnels des spiritueux. Réalisé sur plusieurs années à partir de plus de 1700 notes de dégustation (j'en suis à environ 3300 whiskies dégustés en 2019), d'interviews exclusives, de fiches techniques, classements thématiques et pratiques, etc… (près de 600 pages déjà rédigées-*projet stoppé en 2013, au profit du site web, voir ci-dessous).
Ce site web en est, en partie du moins, une transposition. Cela va prendre du temps en effet de reporter toutes mes notes vers le site (voir c'est quasi-impossible étant donné que j'ai un travail à plein temps à côté-lors du recensement du 31/01/2019, j'ai pu en effet constater en être à 3611 whiskies dégustés à ce jour...-davantage entre temps-vous imaginez j'en suis sûr l'ampleur de la tâche...). Le projet de livre-guide (ou de séries de livres thématiques, je suis souple sur ce sujet) a été mis de côté pour le moment, faute d'éditeur dans le passé déjà , et de temps aussi désormais. A bon entendeur....

Merci de consulter également la page dédiée aux projets plus récents: Mes Projets
From 2006 until 2013, I have written a WHISKY GUIDE, for the newcomers to whisky as well as for the professional staff & I gathered for that more than 1700 tasting notes until 2013 (more than 3300 in 2019), exclusive interviews, technical aspects for thematic topics, whisky lists, etc... (more than 600 pages were written back in 2013, but they were mostly transferred into the website instead, as it is a transposition of my book, which cannot contain as many tasting notes as I've written now, as I have a full time job "aside" (at the latest count of tastings-31/01/2019- made from the start I've counted 3611 whiskies tasted so far in a bit more than 20 years now). The initial book/guide project has so been put aside at the moment, but I could work with a publisher for some themes topics, I'm opened about it, even if I'm conscious times are difficult (I coudn"t find a publisher for it). Please have also a look at my "Projets" pages...below (in French only, sorry!).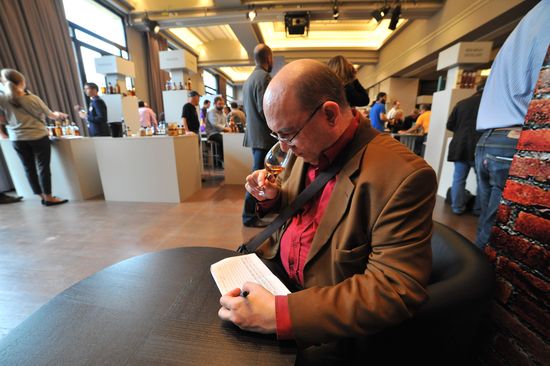 En pleine évaluation d'un whisky sur un des stands américains du salon Whisky Live Paris, ici en 2013. Photo: © Constantin Sarafian
Evaluating an American whiskey during the Whisky Live Paris 2013. A picture taken by my brother.
REMARQUE GENERALE:
A noter, mon site web (& aussi désormais mes vidéos sur Youtube) est gratuit, ce qui n'est pas négligeable au vu de certains sujets mis à disposition du public comme de professionnels (à fortiori plus tard encore davantage lorsque j'aurai complété la base de données distilleries/pays, notamment), ce qui ne veut pas dire que je refuse le soutien financier (s'il me permet de rester indépendant) ou des donations. Par contre pour des raisons techniques je ne peux travailler avec la plateforme Paypal, désolé. A bon entendeur là aussi...me contacter, le cas échéant, s.v.p., via la page Contact du site, merci d'avance.
ENGLISH NOTE: My website (& now my Youtube content) is available for free, which is important if one considers the time & energy spent to work on it & all the information available here (& even more when it will be completed if I may say), but this doesn't mean I refuse financial support (as long as I can remain independant) or donations. To whose it may concern, you can contact me, if you like, at the link on the French version just above. Sorry I can't work with Paypal platform at the moment. Thanks in advance.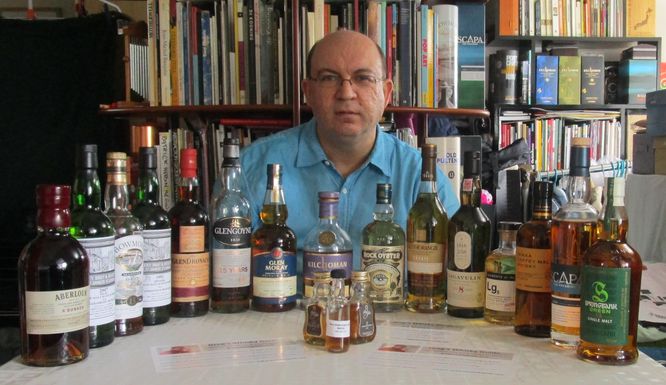 Votre serviteur ici avec une sélection de whiskies abordables et de qualité, officiels ou de négoce, pour l'un des sujets du site. Il est important pour moi de parler de rapport qualité/prix.
I am here with a selection of affordable indie & official bottlings , for one of my topics. Value is an important question for me, as I like people to get their due of good whiskies.
NOUVELLE DISTINCTION / NEW DISTINCTION (02/11/2019):
J'ai l'honneur depuis peu d'être distingué par Feedspot comme l'une des 60 MEILLEURES CHAINES YOUTUBE DE WHISKY,
voir lien ci-dessous:
I am honoured to be now ranked among the TOP 60 YOUUBE WHISKY CHANNELS, here is the link below:
Feedspot TOP 60 WHISKY CHANNELS

Lien direct vers ma chaîne YOUTUBE:
Direct link to my YOUTUBE Channel:
Greg's Whisky Guide on Youtube
RECOMMANDATIONS:
Un invité de marque, John GLASER, le fondateur de la société de négoce COMPASS BOX, invité dont vous trouverez une interview par ailleurs (ici en fait: Interview en 2 parties), a gentiment accepté de témoigner de l'intérêt de ma démarche en tant qu'auteur-écrivain du whisky:

JOHN GLASER recommande GREG'S WHISKY GUIDE:
Depuis toutes mes années dans le monde du whisky, je n'ai jamais rencontré un amateur aussi passionné, au cœur de poète pour le whisky, qui rivalise avec Grégoire Sarafian.
"Greg", comme je le nomme, s'est présenté à moi pour la première fois lors d'un festival du whisky à Paris il y a des nombreuses années. J'étais impressionné par sa compréhension immédiate de ce que je cherchais à faire avec Compass Box (vous pouvez le croire, au début, ce n'était pas le cas de tout le monde). Greg appréciait la qualité de nos whiskies et, plus important, il comprenait et appréciait ma façon d'aborder l'assemblage et la création. Je me souviens qu'il a même employé le mot "art" pendant notre première conversation. Etant donné que Greg est non seulement un expert sur le whisky, mais un peintre aussi, c'était pour moi des louanges d'autant plus considérables.
Greg's Whisky Guide est pour Greg une véritable oeuvre de passionné. Là , je suis certain que nous trouverons tous du savoir, de l'opinion mûrement réfléchie et de l'inspiration, pour hisser notre intérêt dans le whisky à des nouvelles hauteurs tout en découvrant des nouvelles réalisations. Je suis sûr que nous y retrouverons le beau langage de Greg pour le whisky qui donne vie à des whiskies de manière inédite jusqu'ici. Ici, je suis confiant que nous formerons tous partie d'une communauté d'amateurs (expérimentés comme néophytes) du whisky tous animés des mêmes sentiments.
J'espère vivement que vous vous joindrez à moi pour soutenir le Greg's Whisky Guide de Grégoire Sarafian !
John Glaser
Créateur de whiskies, Compass Box Whisky Company
(version française par votre serviteur, avec l'aide de Christine & Hugh, merci à eux)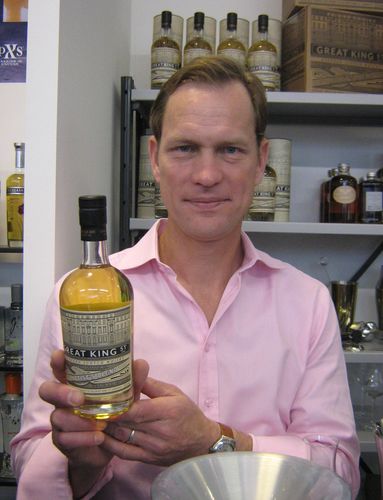 John Glaser au salon "Cocktails Spirits" 2011, montrant une de ses créations ,"The Great King Street", en hommage aux arts plastiques & aux peintres en particulier (Photo: © Grégoire Sarafian)
John Glaser here at the 2011 "Cocktail Spirits" show, with one of his creations in tribute to fine arts & to the painters in particular : "The Great King Street". (My picture).
JOHN GLASER Recommends GREG'S WHISKY GUIDE:
(Original text in English: 30/07/2011)
Across all my years in whisky, I would be hard-pressed to think of any whisky lover I have met who has the passion and the poet's heart for whisky like Gregoire Sarafian.
Greg, (as I know him), first introduced himself to me at a Paris whisky festival many years ago. I was impressed by him because he seemed to immediately understand what I was doing with Compass Box (believe me, in the beginning, not everyone did). Greg appreciated the quality of our whiskies, but more importantly, he understood and appreciated my approach to blending and to creating. I recall he even used the word "art" in our first conversation. And given that Greg is not just a whisky expert, but a painter as well, that is to me high praise indeed.
Greg's Whisky Guide is Greg's labour of love. Here, I am sure we will all find knowledge, studied opinion and inspiration to take our interest in whisky to new places and new heights. Here, I am sure we will find Greg's beautiful language for whisky bringing to life whiskies in ways we have not experienced before. Here, I am sure we will be part of a community of like-minded whisky lovers, (both experienced and new).
I hope you will join me in supporting Grégoire Sarafian's Greg's Whisky Guide !
John Glaser,
Whiskymaker, Compass Box Whisky Company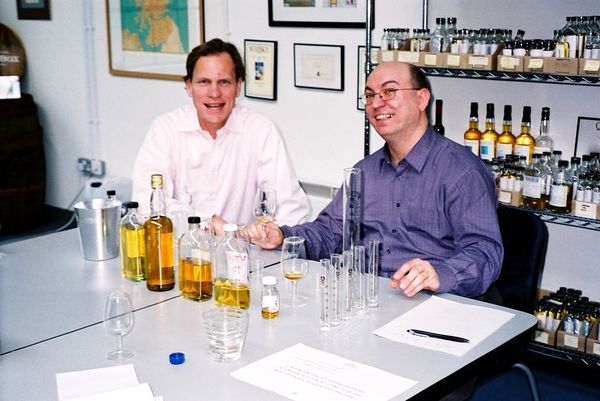 John Glaser et votre serviteur, Grégoire Sarafian, en pleine séance d'assemblage, en 2007, dans les locaux de Compass Box, d'anciens Studios de cinéma situés à Chiswick, dans la banlieue de Londres, suite à l'invitation de celui-ci à assembler avec moi, puis seul, quelques whiskies, dont un Carsebridge (single-grain) officiel de 42 ans d'âge. Impressionnant! Je n'oublierais jamais cette belle journée d'échanges, non seulement sur le whisky, mais aussi sur la musique, comme vous le constaterez à la lecture de l'interview double qu'il m'a accordée. Photo © Grégoire Sarafian

John Glaser from Compass Box & I, Gregoire Sarafian, while ready for a blending lesson, in 2007, in Compass Box's headquarter, Chiswick's old movie Studios, London West suburb. John did invite me to blend with him (we even blend a 42 years old Carsebridge single-grain from official stock) and then left me work alone then on my own blend. It was amazing, though I was a bit too impressed and I will never forget that day where we exchanged a lot about whisky, but also music, as you can read it on the interviews made with him after that. Thanks a lot again to him.

***
ADDENDUM (04/02/2015):
Pour information, Govert Pennings, un bloggeur hollandais de whisky a récemment écrit un article sur un de mes assemblages maison ou « private blend », le N°61, réalisé en 2014, et que je suis toujours intéressé par un poste d'assembleur et/ou un mécène ou partenaire pour monter un jour ma propre société de négoce & d'assemblage, je me permets de vous en transmettre le lien ci-dessous :
Note: Govert Pennings, a Dutch whisky blogger has recently written the first public review ever of a private home-made blended whisky of mine, number 61, created in 2014. I mention this because I am still looking for a job in the whisky industry (or even better « artisanry ») or a partner & / or sponsor to start an independant bottling & blending company some day, so here is what he says about it :
Review of Gregoire Sarafian's N° 61 Private Blended-whisky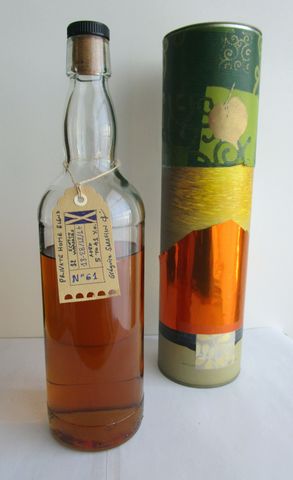 Mon assemblage No 61 (blended-whisky maison, hors commerce) mis en bouteille le 28/12/14. Celui-ci contient 32 whiskies écossais âgés de 5 à 41 ans, incluant notamment 3 single-malts âgés que sont un PORT ELLEN 25 ans, un DALMORE 30 ans et un BUNNAHABHAIN de 41 ans. Photo © Grégoire Sarafian
My blended-whisky, a private, not for sale home blending, named No 61, bottled in december 2014-it is made with 32 Scottish whiskies from 5 to 41 years old, among them 3 old single-malts : PORT ELLEN 30 y.o., DALMORE 30 y.o., BUNNAHABHAIN 41 y.o., all vintages bottlings.