Invités
INVITES (GUESTS) :
Mise Ă  jour du /Updated: 21/02/2015
Ponctuellement, des passionnés du whisky, des professionnels du whisky & des spiritueux, voire des personnes d'autre statut (autre centre d'intérêt ou d'activité principal que le whisky), seront sollicités pour m'aider à répondre à certaines questions, traiter certains sujets, mais aussi pour apporter un avis sur des débats du moment. C'est aussi une rubrique ou vous trouverez des liens vers les rubriques "Interviews" & "Portraits".
Punctually, enthousiasts of whisky, professionals of Whisky & other Spirits, even people of another status or of a major interest other than whisky, will be requested to help me to answer certain questions, to handle certain subjects, but also to bring an opinion on debates of the moment. This is also a link to the "Interviews" & "Portraits"' section.
En préambule à cela, un invité de marque, John Glaser, l'assembleur-artisan et le fondateur de la société de négoce Compass Box, invité dont vous trouverez plusieurs interviews par ailleurs (voir lien plus bas), a gentiment accepté de témoigner de l'intérêt de ma démarche en tant qu'auteur-écrivain du whisky:
In introduction in it, a distinguished guest, John Glaser, the craftsman-blender & Compass Box Whisky independent company founder, whose interviews you will find besides (please see below), friendly agreed to testify of the interest of my approach as an author-writer of the whisky: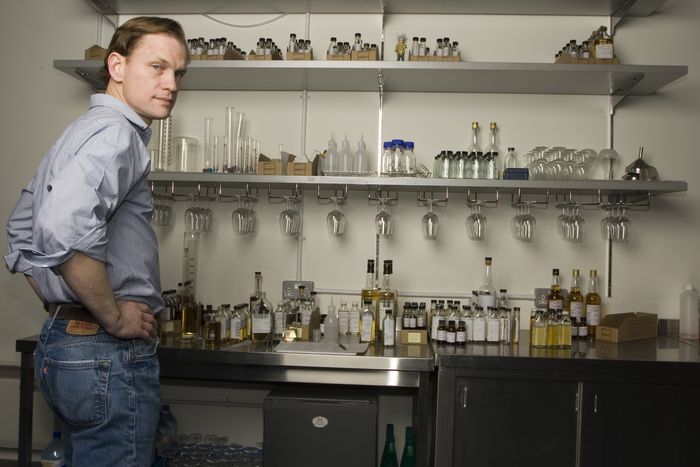 John Glaser dans son "labo" d'assembleur (Photo: © Compass Box)
John Glaser recommande Greg's Whisky Guide:
Depuis toutes mes années dans le monde du whisky, je n'ai jamais rencontré un amateur aussi passionné, au cœur de poète pour le whisky, qui rivalise avec Grégoire Sarafian.
"Greg", comme je le nomme, s'est présenté à moi pour la première fois lors d'un festival du whisky à Paris il y a des nombreuses années (Ndlr : en 2005). J'étais impressionné par sa compréhension immédiate de ce que je cherchais à faire avec Compass Box (vous pouvez le croire, au début, ce n'était pas le cas de tout le monde). Greg appréciait la qualité de nos whiskies et, plus important, il comprenait et appréciait ma façon d'aborder l'assemblage et la création. Je me souviens qu'il a même employé le mot "art" pendant notre première conversation. Etant donné que Greg est non seulement un expert sur le whisky, mais un peintre aussi, c'était pour moi des louanges d'autant plus considérables.
Greg's Whisky Guide est pour Greg une véritable oeuvre de passionné. Là , je suis certain que nous trouverons tous du savoir, de l'opinion mûrement réfléchie et de l'inspiration, pour hisser notre intérêt dans le whisky à de nouvelles hauteurs tout en découvrant de nouvelles réalisations. Ici, je suis sûr que nous retrouverons le beau langage de Greg pour le whisky qui donne vie à des whiskies de manière inédite jusqu'ici. Ici, je suis confiant que nous formerons tous partie d'une communauté d'amateurs (expérimentés comme néophytes) du whisky tous animés des mêmes sentiments.
J'espère vivement que vous vous joindrez à moi pour soutenir le Greg's Whisky Guide de Grégoire Sarafian !
John Glaser
Créateur de whiskies, Compass Box Whisky Company
(version française par votre serviteur, avec l'aide de Christine & Hugh, merci à eux)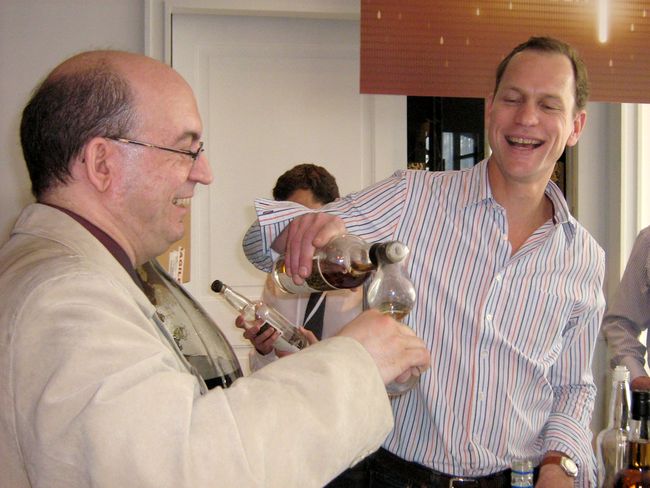 Votre serviteur avec John Glaser au salon Whisky Live Paris 2009 (Photo du staff © Compass Box)

Lire son Interview (en deux parties) /Link to John Glaser's Interview (in 2 parts):
Lire son Portrait /Link to John Glaser's Portrait:
***
Texte original de John Glaser (30/07/2011) :
Original copy from John Glaser
Across all my years in whisky, I would be hard-pressed to think of any whisky lover I have met who has the passion and the poet's heart for whisky like Gregoire Sarafian.
Greg, (as I know him), first introduced himself to me at a Paris whisky festival many years ago. I was impressed by him because he seemed to immediately understand what I was doing with Compass Box. (Believe me, in the beginning, not everyone did.) Greg appreciated the quality of our whiskies, but more importantly, he understood and appreciated my approach to blending and to creating. I recall he even used the word "art" in our first conversation. And given that Greg is not just a whisky expert, but a painter as well, that is to me high praise indeed.
Greg's Whisky Guide is Greg's labour of love. Here, I am sure we will all find knowledge, studied opinion and inspiration to take our interest in whisky to new places and new heights. Here, I am sure we will find Greg's beautiful language for whisky bringing to life whiskies in ways we have not experienced before. Here, I am sure we will be part of a community of like-minded whisky lovers, (both experienced and new).
I hope you will join me in supporting Grégoire Sarafian's "Greg's Whisky Guide"!
John Glaser,
Whiskymaker, Compass Box Whisky Company