Express Notes No 9
EXPRESS NOTES No 9 : "DIVERS/MISCELLANEOUS" 2019:
Sujet publié le : 10/06/2019-Mise à Jour du : 18/08/2019

First published : 10/06/2019-Update : 18/08/2019
Toutes photos © Grégoire Sarafian /Droits réservés sauf si précisé
All pics: © Grégoire Sarafian/Copyrighted, except some that are specified
INTRODUCTION:
Dans ce numĂ©ro « mixte » un peu spĂ©cial (de transition avec 2 sujets plus spĂ©cialisĂ©s et plus importants en nombre de whiskies traitĂ©s), je publierais mes notes de dĂ©gustation & impressions concernant des whiskies, mais parfois aussi d'autres spiritueux, soit prĂšs de 20 bouteilles au total.
Dans une premiÚre partie, je chroniquerais 3 mises en bouteille du négociant & artisan assembleur COMPASS BOX (d'autres notes de dégustation sont à venir dans un sujet qui lui sera entiÚrement dédié), puis dans une deuxiÚme, 3 whiskies du groupe LOCH LOMOND Group (en attendant d'autres également dans un sujet spécial), ainsi qu'un whisky de la distillerie BRUICHLADDICH & un de la distillerie AILSA BAY, 4 de ces whiskies ayant été dégustés mais aussi samplés lors du mini-salon annuel du whisky de mai dernier à la boutique The Whisky Shop Paris. En guise de bonus, 11 notes brÚves de dégustation à propos de ce salon s'y ajoutent désormais ! (Addendum du 15/06/19).

Merci encore aux personnes (que des professionnels, cette fois) qui ont pu contribuer à fournir des échantillons pour ce sujet. Merci donc à Suzi Beney & John Glaser pour les samples de COMPASS BOX, merci à Imogen Bankier, directrice de The Whisky Shop Paris pour son accueil, à Vincent Faesch pour les 2 samples de LOCH LOMOND, à Ibon Mendiguren pour le GLEN SCOTIA (ainsi que pour d'autres chroniques de samples à venir), à Florian Pflieger pour le BRUICHLADDICH, à Damien Anglada pour l'AILSA BAY. Ce geste est grandement apprécié, sans que cela n'affecte d'aucune maniÚre, je vous l'assure, mon jugement sur ces whiskies.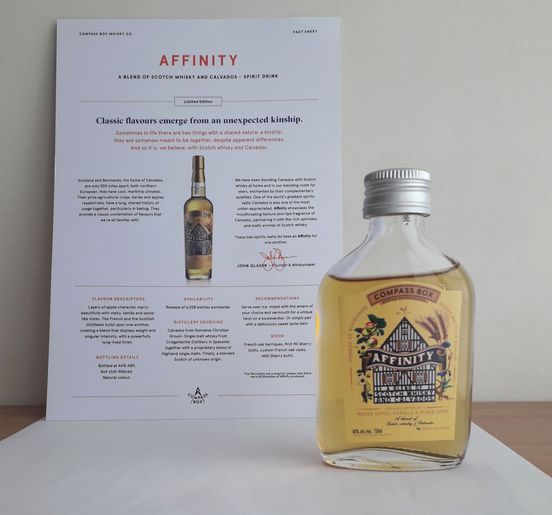 ENGLISH SUMMARY:
In this new "EXPRESS NOTES" number, you will find my new tasting notes about around 20 whiskies, single malts or spirit drinks.
In a first part, you will find my tasting notes about 3 recent COMPASS BOX expressions, one being legally a whisky, two being too experimental or partly too young to enter in the whisky category. Others will follow in a special big topic to be coming soon. In a second part, you will find 3 tasting notes about whiskies from the LOCH LOMOND group (others will follow as well in a special topic as well). There will also be 2 other whiskies (a BRUICHLADDICH & an AILSA BAY) as they were, part of those available to sample during last month's mini-whisky show taking place in The Whisky Shop Paris. As a bonus, 11 other notes (but short ones) about this show have been added today (15/06/19).

Thanks again to the professional staff welcome & contributions for their samples. It is much appreciated, but I have to precise this doesn't mean my opinion has been biased in any way here. Their names are listed above & associated to their brand, so I won't double this part in order to make it lighter to read.

1/ Notes sur 3 créations de la société COMPASS BOX en avant-premiÚre du sujet/Express Notes dédié
(COMPASS BOX, a retrospect) Ă  venir :
(COMPASS BOX Tasting Notes published in this issue, prior to a bigger topic to be coming soon)
-« AFFINITY », by COMPASS BOX, a SPIRIT DRINK (Calvados casks blended with Scotch Whisky Casks*), Limited Edition 2019, 6028 bouteilles, 46 % (SPIRITUEUX à base de whisky & de Calvados):
A Noter: Il s'agit probablement de la crĂ©ation la plus expĂ©rimentale Ă  ce jour de John Glaser, puisqu'elle allie des fĂ»ts de Calvados vieux (un « XO »-de 6 ans minium Ă  10 ans d'ñge-chez Christian Drouin, pour 37,5 % du contenu final), avec diffĂ©rents types de fĂ»ts (1st fill Sherry casks, refill Sherry butts, French oak barriques) d'un assemblage de whiskies Ă©cossais de malt & de grain, dont 13 % de blended Scotch d'origine indĂ©terminĂ©e, et 49,5 % du total de l'assemblage composĂ© de single malts, dont 20 % de fĂ»ts de la distillerie CRAIGELLACHIE et 29,5 % de fĂ»ts assemblant divers single malts des Highlands (dont CLYNELISH, Ă  60 %, DAILUAINE & TEANINICH Ă  20 % chacun), en deux blends diffĂ©rents, l'un avec un toastage lĂ©ger des fĂ»ts, l'autre avec un toastage trĂšs important (« heavy »). J'ajouterais que comme d'habitude, cette crĂ©ation est disponible en ligne sur le site de la sociĂ©tĂ© : www.compassboxwhisky.com-et il vous faudra leur Ă©crire afin d'obtenir une indication d'ñge). Ce faisant, le mĂ©lange d'un autre spiritueux (rappelons que le Calvados est du jus de pommes fermentĂ© puis distillĂ©, 2 fois dans un alambic Ă  repasse) avec du whisky (ici orge et un peu de grain, distillĂ©s 2 fois Ă©galement dans un type quasi-similaire d'alambics) conduit Ă  disqualifier techniquement & juridiquement cette crĂ©ation en tant que whisky. Ajoutons qu'à  ma connaissance, il s'agit de la premiĂšre tentative officielle d'assembler les deux...
Couleur : Vieil or. Nez : PlutĂŽt fin, plaisant, avec une domination partielle du Calvados, mais pas au point d'écraser la part provenant des fĂ»ts de whisky (pas de caractĂšre alcooleux, de solvant comme dans certains Calvados, c'est un bon point). Disons que le Calvados joue « le premier violon » ici. TrĂšs habilement, et dĂšs le nez, l'on perçoit les intentions de John Glaser, c'est-Ă -dire Ă  mon avis utiliser les fĂ»ts de whisky comme Ă©lĂ©ment de tempĂ©rance du Calvados tout comme, paradoxalement, de mise en valeur de certains arĂŽmes issus de ces fĂ»ts, afin qu'au final les 2 grands types de fĂ»ts (les uns de whisky, les autres de Calvados) se rejoignent. Je m'explique, l'utilisation de fĂ»ts de sherry majoritaires induit des notes chaleureuses de pommes cuites, d'épices douces et de vanille, Ă©lĂ©ments que l'on retrouve aussi dans les fĂ»ts de Calvados. Les pommes cuites sont au premier plan, suivies par des notes d'épices douces (cannelle, girofle, voire muscade), puis ensuite de notes de vanille, le tout enrobĂ©es dans un Ă©crin finement boisĂ©. C'est un peu timide au nez, mais cela fonctionne. En bouche, l'on retrouve cette mĂȘme harmonie, avec une lĂ©gĂšretĂ© proche de celle du « The Story of the Spaniard », mais de caractĂšre vineux ici. Le palais est dĂ©licatement tapissĂ© par de la pomme cuite vanillĂ©e lĂ©gĂšrement Ă©picĂ©e, ce avec une grande douceur, presque de la timiditĂ© malgrĂ© les 46 % affichĂ©s au compteur, mais cela fonctionne selon moi. Tenue Ă  la dilution : PlutĂŽt bonne, mais je serais tentĂ© de recommander de ne pas diluer du tout, ce pour Ă©viter un certain risque d'affadissement des saveurs. Quelques gouttes d'eau permettent d'accentuer le beau fondu originel des saveurs. Conclusion : J'apprĂ©hendais cette version trĂšs casse-gueule sur le papier, et finalement je la trouve plutĂŽt rĂ©ussie, sans ĂȘtre un chef d'Ɠuvre non plus (j'aurais aimĂ© un peu plus de complexitĂ© et de profondeur), un entre-deux qui bascule quelque peu du cĂŽtĂ© du Calvados, mais pas complĂštement et plutĂŽt joliment. Le whisky joue un rĂŽle ambigu Ă  la fois de faire-valoir et de modĂ©rateur. Une crĂ©ation assez subtile qui pourrait plaire aux amateurs des 2 spiritueux. Indication de Prix : 124 €, MdW. Rapport qualitĂ©/prix lĂ©gĂšrement dĂ©favorable, comparĂ© Ă  un vieux Calvados XO ou un vieux blended malt de 10 ans d'Ăąge. Note confirmĂ©e : 89,5/100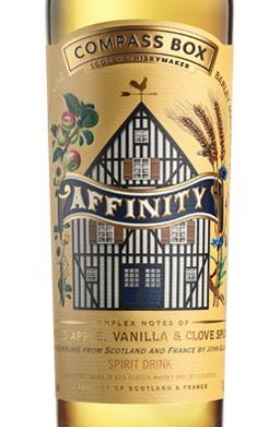 Merci Ă  COMPASS BOX pour ce visuel.
ENGLISH VERSION :
Note: This bottling is probably John Glaser's most experimental to date, as it blends old Calvados casks (an "XO"-so minimum 6 years old, to around 10 years old-from Christian Drouin distillery, for 37,5 % of the final content of this blend) & different types (& toast levels) of Scottish whisky casks (1st fill Sherry casks, refill Sherry butts, French oak barriques), some being from an undisclosed blended scotch (so it has some grain in it), then 49,5 % of the total is composed of Scottish single malts, mainly from the Highlands, 20 % from CRAIGELLACHIE distillery, 29,5 % from 2 different blends of Highlands single malts (CLYNELISH, at 60 %, DAILUAINE & TEANINICH at 20 % each), one with heavy toasted casks, the other with lightly toasted casks. As usual, you will find the recipe (& the age of some component on demand only) of this creation on the company's online website: www.compassboxwhisky.com. By mixing another spirit (Calvados is made of apple cider distilled 2 times in a potstill) with whisky, this creation cannot be disclosed as a whisky, neither technically nor by law. Based on my experience, I think it's the first attempt ever to mix the two officially...
Color : Old Gold. Nose: Rather fine & nice, with the Calvados partly taking over the whisky, not to the point of crushing it, but, let's say leading the orchestra (no spirity of heady feel from the Calvados, a good thing). Rather cleverly, one can already understand John Glaser's intentions when creating this improbable blend: Use the whisky casks to temper the Calvados casks, and at the same time use especially Sherry casks instead of Bourbon casks to enhance the baked apples notes that are common to whisky as well as to Calvados. John then obtains both baked apples, sweet spices & vanilla notes "from both sides". The apples are forefront, while the sweet & warm spices (cinnamon, cloves, and maybe some nutmeg as well) are on a second ground, followed by the vanilla notes, all thses notes wrapped into refine oak. It is a bit shy, but it works. Palate: One will find the same harmony on the palate, with a lightness that recalls the one from "The Story of the Spaniard", but with here no winey notes at all. The palate is delicately filled with the baked apples notes, sustained by a spiced vanilla note, with a great sweetness, almost shyly despite the 46 % abv, but it still works for me. With water: A few drops of water can help enjoying the beautiful way the flavors are melted, but more water won't make the ensemble flat, so careful with it, or just don't add water to this, which I'm tempted to recommend here. Conclusion: I have to say I was a little worried with this experiment, but, at the end of the day, I think it's rather well done, with a "middle of the road" side (between Calvados & Whisky) that finally turns more on the Calvados side, and quite nicely. The ambiguous role played by the whisky is interesting, as it is both a conveyer of the Calvados qualities & a moderator of its possible drawbacks (Calvados being sometimes too spirity). A subtile creation that could please to both Calvados & whisky lovers. Price tag: Around 124 €. The price of this bottling isn't fully satisfying, as it is a bit above compared to a XO Calvados or 10 years old blended malt bottling. Confirmed rating: 89,5/100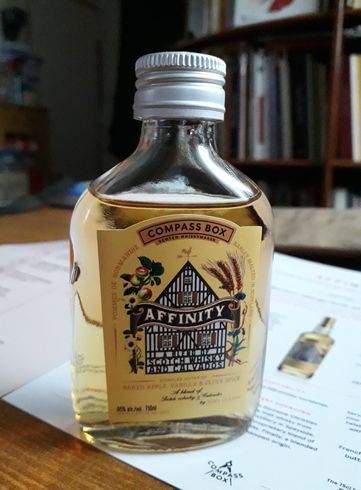 -« JUVENILES », by COMPASS BOX, BLENDED MALT, Limited Edition 2019 (bottled 09/2018), 14894 bouteilles, 46 % (BLENDED MALT):
A Noter: Il s'agit de la nouvelle Ă©dition d'un assemblage initialement conçu en 2004 en hommage au bar Ă  tapas parisien du mĂȘme nom menĂ© par l'écossais Tim Johnston depuis 1987. John apprĂ©cia l'esprit de ce bar et promis de crĂ©er cet assemblage qu'il a renouvelĂ© plusieurs fois depuis. Ceci est la derniĂšre version en date, avec toujours la part belle faite Ă  son malt fĂ©tiche des Highlands du Nord CLYNELISH (30 % du total, avec 20 % de fĂ»ts re-brĂ»lĂ©s et reconstituĂ©s, le reste issu de fĂ»ts de plusieurs remplissages de Sherry de type Butt), mais une dominante du Speyside via les malts STRATHMILL (34 %), BALMENACH (34 %), tous deux en fĂ»ts reconstituĂ©s avec plusieurs remplissages, et enfin 2 % de GLENDULLAN (fĂ»ts de sherry-Butts-de premier remplissage).
Couleur: Or clair. Nez: TrĂšs vanillĂ©, mais aussi marquĂ© par les agrumes (avec le pamplemousse & le citron en sorbet-allĂ©gĂ© en sucre-au premier plan, et une pointe de clĂ©mentine & d'orange), du glaçage pour mille-feuilles, et une certaine aciditĂ© perceptible. Joli nez. Bouche : De prime d'abord comme le nez, marquĂ©e par les agrumes et la vanille, mais aussi par la poire (sorbet), puis davantage herbacĂ©e et Ă©picĂ©e (gingembre, piment doux). La note pĂątissiĂšre est modĂ©rĂ©e et la sĂ©cheresse l'emporte vite sur le reste. VivacitĂ© du distillat, fermetĂ© du chĂȘne et aciditĂ© du profil gĂ©nĂ©ral perturbent quelque peu la sĂ©rĂ©nitĂ© fruitĂ©e (l'aciditĂ© citrique l'emporte sur le fruitĂ© des agrumes) et pĂątissiĂšre (et compromettent l'expression de quelques beaux esters), davantage que dans la version prĂ©cĂ©dente, et les tannins du bois sont un peu trop prĂ©sents Ă  mon goĂ»t, lui faisant perdre quelques points. Certes le charme inhĂ©rent Ă  cette version, qui parvient parfois encore Ă  s'exprimer. Tenue Ă  la dilution : TrĂšs moyenne, car elle a tendance Ă  accentuer le tempĂ©rament sec et ferme de l'ensemble. Conclusion : MalgrĂ© tout assez jeune & agressive, un peu trop ferme et manquant d'équilibre, cette version du « JUVENILES » n'est pas clairement la meilleure (je prĂ©fĂšre la prĂ©cĂ©dente ou la premiĂšre, au profil assez diffĂ©rent), mĂȘme si cela n'en fait pas pour autant un mauvais whisky. Disons que c'est un whisky intĂ©ressant, mais vif, jeune et sans doute plus intĂ©ressant en cocktail, ou sur glace que consommĂ© sec. Rapport qualitĂ©/prix plutĂŽt dĂ©favorable de mon point de vue. Indication de Prix : 120 €, MdW. Note confirmĂ©e : 84/100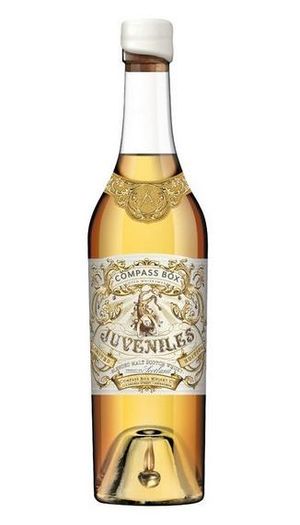 Merci Ă  COMPASS BOX pour ce visuel.
ENGLISH VERSION :
Note: This bottling is the latest edition of a blend initially released in 2004 in tribute to a French tapas (wine, whisky & food) bar in Paris. John Glaser once visited this bar, led by a Scottish man named Tim Johnston (he founded it in 1987), and enjoyed the spirit of the place so he promised to create a bespoke whisky for Tim and so did it and even did several releases of it (so it wasn't a one-off but a repeated limited release). This bottling still contains his fetish Northern Highland malt CLYNELISH (for 30 % of the total, with 20 % coming from re-charred hogsheads & 10 % from refill sherry butts), but has a majority of Speyside malts in it, with STRATHMILL & BALMENACH (34 % each, and each from refill hogsheads), and a bit of GLENDULLAN as well (first fill Sherry butts).
Color : Clear gold. Nose: A lot of vanilla notes to start with, and also some citrus fruit (grapefruit, lemon in sherbet-light in sugar-at the forefront, then also a hint of clementine & orange), icing sugar for French dessert called "Mille-Feuilles", and some obvious acidity? Nice nose. Palate: Faithful to its nose, it is first dominated by some citrus fruit & vanilla, but also showing some pear in sherbet, then it gets herbaceous & spicy (ginger, sweet pepper). The pastry note is moderate and quickly the dryness take over anything else. The distillate's liveliness, the oak's tightness & the overall acidic profile are disturbing the fruity side of this whisky, and also moderating its pastry side and are crushing some beautiful esters trying to come through. Yes, more than in the previous edition, the oak tannings are a bit too much ahead in this one, making it lose several points at this stage, even if some of its charm remains. With water: Not very good, as water tend to push ahead this firm & dry ensemble. Conclusion: A bit too young, a bit too dry & tight, this expression isn't clearly the better one I've tried (I prefer the previous one, and even more the first one, which had a rather different profile), though that doesn't mean it's a bad whisky. Let's say it is a bit difficult because too vivid (or call it aggressive if you prefer), young & lacking a bit of balance & harmony. So, I suppose it might be more interesting in cocktails or on ice than tasted neat. The quality/price ratio here isn't in its favor, in my opinion. Price tag: Around 120 € Confirmed rating: 84/100
-« STRANGER AND STRANGER", by COMPASS BOX, a SPIRIT DRINK, 46 % (SPIRITUEUX Ă  base de whisky):
A Noter: Cette crĂ©ation particuliĂšre est destinĂ©e Ă  rendre hommage Ă  10 ans de collaboration avec l'agence de design « Stranger and Stranger » qui a crĂ©Ă© la plupart des Ă©tiquettes contemporaines des whiskies de la sociĂ©tĂ© COMPASS BOX. La recette de cette crĂ©ation (que l'on ne peut nommer « whisky » car elle comporte un « embryon » de whisky de grain-du distillat trĂšs peu vieilli) est la suivante : 80 % de single malt de la distillerie GLENLOSSIE (fĂ»ts sur-brĂ»lĂ©s reconstituĂ©s), puis 14 % de GLEN ELGIN ( fĂ»ts de type Butt sur-brĂ»lĂ©s), puis 5 % de LINKWOOD (fĂ»ts de type Butt de premier remplissage) et enfin (ce qui le disqualifie lĂ©galement en tant que « Scotch whisky ») 1 % de whisky de grain trĂšs jeune (vieilli moins de 3 ans-j'ai cru comprendre prĂšs d'un an...) en provenance de la distillerie GIRVAN.
Couleur: Or Ă  reflets vieil or. Nez: Ce « blended whisky » (qui n'en est pas un lĂ©galement juste parce que les fĂ»ts du single grain GIRVAN sont trop jeunes) comporte un peu la mĂȘme base aromatique que le « JUVENILES » en apparence, mais en plus riche et plus Ă©quilibré (le GLENLOSSIE remplace le STRATHMILL plus avantageusement ici Ă  mon sens), avec un redoutable combo herbacĂ©, Ă©picĂ© (gingembre, poivre gris), fruitĂ© & vĂ©gĂ©tal (oranges, thĂ© Earl Grey avec une pointe de bergamote). Engageant ! Bouche : IntĂ©ressante, et de caractĂšre, nous prodiguant d'abord de la vivacitĂ© et un rien d'astringence, avant de s'ouvrir davantage sur le caractĂšre fruitĂ© & vĂ©gĂ©tal du malt dominant (GLENLOSSIE, clairement), avec presque des notes pĂątissiĂšres (pĂȘche melba-& pĂąte sablĂ©e-ça cela peut ĂȘtre aussi la touche LINKWOOD), une Ă©lĂ©gance boisĂ©e et une certaine profondeur. Tenue Ă  la dilution : Remarquable, elle est la clĂ© de ce whisky Ă  mon avis. Les saveurs s'harmonisent en un fondu assez sĂ©duisant, complexe et encore une fois faisant ressortir les qualitĂ©s des deux malts clĂ©s de l'ensemble, GLENLOSSIE & LINKWOOD. Conclusion : Un « whisky » de grande qualitĂ©, qui exprime ses qualitĂ©s davantage avec un peu d'eau, avec une certaine personnalitĂ©, parfait pour Ă©voquer les 10 annĂ©es de collaboration fructueuse entre cet excellent designer qu'est Stranger & Stranger et la sociĂ©tĂ© Compass Box. Un prix assez Ă©levĂ©, lĂ  encore, mais je pressens que quelques vieux fĂ»ts ont Ă©tĂ© utilisĂ©s ici, ce qui pourrait l'expliquer (ou pas, Ă  chacun de juger). Indication de Prix : 209 €, MdW. Note confirmĂ©e : 91/100
Merci Ă  COMPASS BOX pour ce visuel.
ENGLISH VERSION :
A Noter: This particular creation is a bespoke one, in tribute to 10 years of collaboration with the design agency named « Stranger and Stranger » that did create most of contemporary era of COMPASS BOX's bottle labels. The recipe of this creation that one cannot call "whisky" as it contains an "embryo" of grain whisky (aged less than 3 years old, I mean) is basically the following one: 80 % of GLENLOSSIE (re-charred hogsheads), then 14 % of GLEN ELGIN re-charred butts, also 5 % of LINKWOOD first fill butts, and, last but not least (& that disqualifies it as "Scotch whisky"), 1 % of a very youngly aged grain (around 1 year I heard
) whisky from GIRVAN distillery.
Color : Gold. Nose: This "blended whisky" (which isn't legally a whisky, because the grain whisky component in it is too young) has almost a similar aromatic recipe from the "JUVENILES" in a way, but only in appearance, as it is richer & more balanced. The GLENLOSSIE casks replace here the STRATHMILL ones more efficiently in my opinion here, with a rather impressive herbaceous, spicy (ginger & grey pepper), fruity & green (oranges, Earl Grey tea with a hint of bergamot) combo. Inviting ! Palate: Interesting, and with quite some character, first providing a lot of liveliness & some astringency, before opening up to a dominating fruity & green character coming clearly from the GLENLOSSIE with also some almost pastry-like notes (Melba peach & shortbread biscuit tart base-possibly coming from the LINKWOOD this time), some elegant oak notes as well as some depth. With water: Remarkable, and the key to enter into this whisky in my opinion. The flavors harmonize now in a seductive & complex blend, and help to show the 2 key malts qualities of this blend, GLENLOSSIE & LINKWOOD. Conclusion: A great quality "whisky", which expresses itself better with some water, and with enough personality to celebrate with some class the 10 years of this profitable collaboration between Stranger & Stranger and the Compass Box society. A rather hefty price here, but I felt some old casks were used here, so that could explain it (or not, one's choice). Price tag: Around 209 € Confirmed rating: 91/100
2/ THE WHISKY SHOP PARIS Mini Salon 2019, retour sur 4 whiskies incluant 2 whiskies en avant-premiÚre du sujet/Express Notes dédié (LOCH LOMOND Group malts)...plus 1 inédit lié au récent Campbeltown festival...: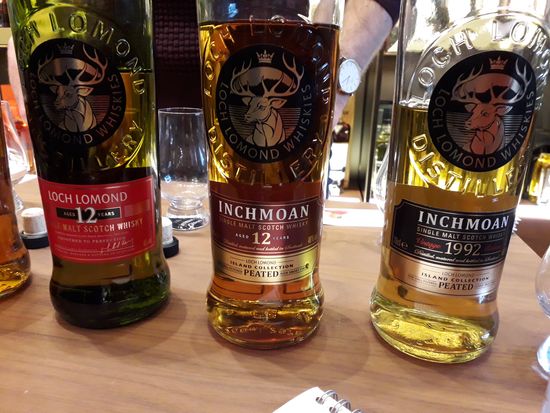 -LOCH LOMOND officiel 12 ans, Edition 2019, Bourbon matured (90 % de 2nd fill, 10 % de 1st Fill), 46 % :
A Noter: Je reviendrais plus longuement sur le sujet lors de mon numĂ©ro spĂ©cial d' "Express Notes" consacrĂ© aux diffĂ©rents whiskies & distilleries du groupe LOCH LOMOND, mais notons une particularitĂ© importante pour cette distillerie, Ă  savoir la combinaison d'alambics Ă  colonne (car la distillerie produit Ă©galement un whisky de grain) avec des alambics Ă  repasse de 2 types, l'un traditionnel ("Pot Still"), l'autre avec rectificateurs ("Lomond Still"), les 2 derniers Ă©tant combinĂ©s pour la production de ses single malts, fait unique en Ecosse (bien que par le passĂ©, les distilleries BEN NEVIS ou LOCHSIDE, par exemple, avaient la possibilitĂ© de produire des single blends), sans parler des 8 dĂ©signations nominatives diffĂ©rentes pour ses whiskies, ce qui a de quoi faire perdre la tĂȘte.
Couleur: Vieil or. Nez: Fin, fruitĂ© (fruits secs, dont abricots, raisins & dattes), puis trĂšs vite marquĂ© par des notes vĂ©gĂ©tales typiques de la distillerie: Verveine, thĂ© vert (voire mĂȘme Earl Grey), champignons
Un lĂ©ger boisĂ© se fait Ă©galement sentir. Bouche: FidĂšle au nez, donc fruitĂ©e & vĂ©gĂ©tale avant tout (avec notamment de belles notes et thĂ© vert et de verveine), avec un rien d'aciditĂ© voire d'aigreur. Quelques Ă©pices douces sont Ă©galement prĂ©sentes, puis survient une pointe florale (violette) de bon aloi. Un bel Ă©quilibre mais que l'on sent fragile, pour un profil aromatique assez inhabituel, mĂȘme pour un Highlander. Tenue Ă  la dilution: Ne pas trop diluer, pour ne pas le dĂ©sĂ©quilibrer. L'ajout d'eau a tendance Ă  susciter davantage le caractĂšre lĂ©gĂšrement aigre de ce whisky (un peu comme les jeunes TOMATIN), et renforcer son caractĂšre vĂ©gĂ©tal (dĂ©jĂ  trĂšs prĂ©sent, et qui peut dĂ©concerter un palais non averti). Conclusion: Un single malt rĂ©solument diffĂ©rent, trĂšs vĂ©gĂ©tal & fruitĂ©, un rien floral et boisĂ© aussi, lĂ©gĂšrement Ă©picĂ©, Ă  rĂ©server aux esprits ouverts. Indications de prix: Autour de 50 €, et actuellement Ă  59 € Ă  la MdW. Note confirmĂ©e: 87,5/100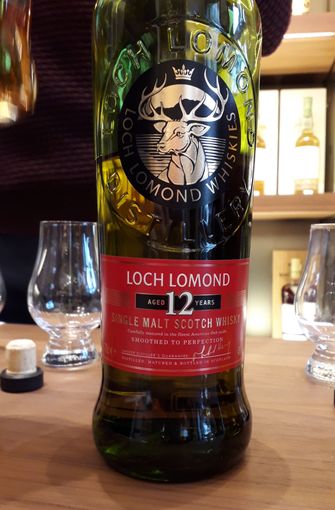 ENGLISH VERSION :
Note: I will come back on my website later on about several whiskies & the 3 different distilleries part of the LOCH LOMOND Group in a special bigger "Express Notes" entirely devoted to these brands, but for now let's just recall a very important specificity of LOCH LOMOND distillery that is the fact they are using 3 kinds of stills to produce single grains as well as single malts, one being Column stills (for the single grain), the others being traditional Pot stills & finally another kind called "Lomond stills" (Pot stills but with rectifiers on it), the 2 lasts used to produce typical LOCH LOMOND single malts. This combination of stills within the same distillery is unique in Scotland (though in the past BEN NEVIS & LOCHSIDE, for instance, did have 2 different kinds of still to produce "single blends"). There are 8 different brand names to associate with LLG, which is also rare & can make one scratch his head to understand why.
Color: Old gold. Nose: Refined, fruity (dried fruit, including apricots, sultanas & dates), then quickly influenced by the typical green notes of the distillery: Verbena, green tea (even some Earl Grey), some mushrooms
Some light oak is coming through as well. Palate: Faithful to the nose, so fruity & green before anything else (with nice green tea & verbena notes), with some acidity & sourness. Some sweet spices are coming through too, and then a welcomed hint of heady flowers (violet). A nice balance but that one can feel fragile, for an unusual whisky aromatic profile, even for a Highlander. With water: Do not dilute this whisky too much or you will break its balance, as water tends to excite the sour character of this whisky (a bit like some young TOMATINs) and enhanced its green side too much (as it is already at the forefront, it might unsettle a newbie. Conclusion: A resolutely different single malt, very green & fruity, a bit floral & oaky too, a bit spicy as well, for open-minded people. Price tag: Around 50 €, sometimes more. Confirmed rating: 87,5/100
-INCHMOAN officiel de 25 ans "1992" (bottled in 2017), Peated, (Loch Lomond distillery), 48,6 %:
A Noter: "INCHMOAN" ("l'üle de la tourbe") est l'une des appellations rĂ©servĂ©es aux versions tourbĂ©es du single malt LOCH LOMOND. Cette version utilise de la tourbe locale a 50 ppm, est Ă©levĂ©e en fĂ»ts ayant contenu du Bourbon de second remplissage (force du brĂ»lage des fĂ»ts non prĂ©cisĂ©e).
Couleur: Or, Ă  reflets vieil or. Nez: Fin, vĂ©gĂ©tal, maltĂ©, profondĂ©ment marquĂ© par la fumĂ©e de tourbe mais elle demeure modĂ©rĂ©e. Un nez agrĂ©able et trĂšs fondu (amandes, vanille, Ă©pices douces, voire un rien orientales ou asiatiques), proposant Ă©galement des notes de fruits confits et de fruits secs (raisins secs, abricots et dattes). Bouche: Elle est fidĂšle au nez, et est Ă©galement trĂšs fondue, trĂšs complexe & harmonieuse: C'est un magnifique mĂ©lange de notes dĂ©licatement boisĂ©es, doucement Ă©picĂ©es (Ă©pices douces, voire exotiques-difficile Ă  dire), joliment fumĂ©es (thĂ© Lapsang Souchong, rappelant un vieux LAGAVULIN) & vĂ©gĂ©tales (mĂ©lange de thĂ© vert & de thĂ© noir, notes de sous-bois), florales & fruitĂ©es (fruits confits, fruits secs dont amandes et abricots, raisins secs et agrumes-dont du pamplemousse et du citron confit), pointe de cuir, de la vanille noble en arriĂšre-plan, donc, oui, pas mal de complexitĂ©. Tenue Ă  la dilution: N'ajouter que trĂšs peu d'eau (juste quelques gouttes), pour conserver la subtilitĂ© de ce whisky. De dĂ©licates notes de verveine (que l'on trouve dans les jeunes LOCH LOMOND) apparaissent, ainsi que d'autres notes de plantes aromatiques comme l'estragon. Conclusion: Un magnifique whisky, trĂšs subtil et trĂšs complexe, d'un bel Ă©quilibre et d'une certaine Ă©lĂ©gance. Indication de Prix: Autour de 160 € Ă  sa sortie, actuellement autour de 230 € en moyenne via Whisky Base, et 275 € Ă  la Maison du Whisky.Note confirmĂ©e: 92/100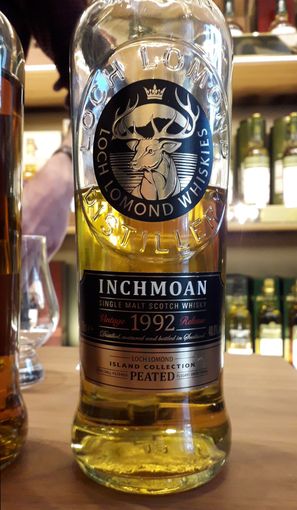 ENGLISH VERSION :
Note: "INCHMOAN" (meaning "The Island of Peat"), is one of the peated expressions of LOCH LOMOND single malt. This expression uses local peat (at 50 ppm) and is matured in second fill ex-Bourbon casks.
Color: Gold, with old gold reflections. Nose: Refined, green, malted, deeply marked by peat smoke but remaining moderate. It is a pleasant nose, with everything very melted (almonds, vanilla, sweet spices, almost Oriental ones if not Asian. Then some nice candied fruit & dried fruit notes are coming through (sultanas, apricots & dates). Palate: Faithful to the nose & very melted as well, the palate is very complex & harmonious: It is a magnificent blend of delicately oaky, softly spiced (sweet spices, some probably exotic-hard to say), nicely smoky (notes of Lapsang Souchong tea, reminding me of an old LAGAVULIN) notes, with subtle green notes as well (a blend of black & green tea, some forest moss as well), floral & fruity (candied fruit, dried fruit including apricots, almonds & sultanas, but also citrus fruit: grapefruit & candied lemon), but I also get some leather, noble vanilla (on the background), so yes, quite some complexity there. With water: I do not recommend to add a lot of water to this one, but rather a few drops, in order to keep the subtlety of this whisky at a high level. With a few drops of water, some delicate verbena notes appear (like those one can find in young LOCH LOMONDs), as well as other botanicals, such as tarragon. Conclusion: A magnificent whisky, very subtle and very complex, with a beautiful balance and some elegance. Price tag: Around 160 € when it was released, now around 230 € (average price on Whisky Base) to 275 € at La Maison du Whisky or even more elsewhere. Confirmed rating: 92/100
-AILSA BAY n.a.s. "SWEET SMOKE", "Release 1.2", 2019, peated (22 ppm), 48,9 %:
A Noter: Il s'agit du single malt (modĂ©rĂ©ment tourbĂ©) produit depuis 2016 (premiĂšre sortie) par une distillerie rĂ©cente, AILSA BAY, fondĂ©e en 2007, appartenant au groupe William GRANT & Sons. Elle fut construite principalement pour alimenter les blended whiskies de la sociĂ©tĂ©, d'ou une capacitĂ© de production consĂ©quente (12 millions de litres d'alcool pur par an). Pour cette version, conçue par le maĂźtre-assembleur du groupe Brian Kinsman (qui a succĂ©dĂ© il y a quelques annĂ©es Ă  David Stewart), du chĂȘne neuf a Ă©tĂ© utilisĂ©, ainsi que ce que la distillerie a nommĂ© "micro-maturation", soit 9 mois de passage en fĂ»ts de petite taille (de 22 litres, 30 litres ou 61 litres) ayant contenu du Bourbon de la distillerie amĂ©ricaine Tuthilltown Spirits LLC (situĂ©e dans l'Etat de New York) qui produit le HUDSON "Baby Bourbon" (du Bourbon seulement ĂągĂ© de 4 mois, Ă©levĂ© en petits fĂ»ts et vendu en bouteilles de 35 cl), entre autres.
Couleur: Or clair, Ă  reflets vieil or. Nez: TourbĂ© (modĂ©rĂ©ment mais distinctement), avec quelques esters (bonbons anglais, poire, ananas), trĂšs vite au second plan, il est trĂšs plaisant et fait preuve d'une maturitĂ© Ă©tonnante pour un whisky que l'on devine jeune (Ă©videmment la seconde maturation en fĂ»ts de petite taille explique aussi cela). Bouche: LĂ©gĂšrement picotante et assez sĂšche, elle est marquĂ©e par une certaine aciditĂ©, mais fait assez vite preuve d'une belle texture grasse en bouche, avec des agrumes (pamplemousse et citron en sorbet en tĂȘte), une belle tourbe pas totalement sĂšche, une jolie note de badiane, des Ă©pices (le gingembre domine), et se termine sur une dĂ©licieuse note de pĂąte d'amandes allĂ©gĂ©e en sucre. Tenue Ă  la dilution: L'ajout d'un peu d'eau apporte de l'harmonie, un certain fondu des saveurs, une pointe de chlorophylle et Ă©voque alors un style modĂ©rĂ©ment marin et un rien mĂ©dicinal entre CAOL ILA et LAPHROAIG, mais aussi, plus « continental », le style d'un ARDMORE. TrĂšs agrĂ©able ! Conclusion: Un jeune single malt trĂšs bien fait, modĂ©rĂ©ment tourbĂ©, Ă©quilibrĂ©, prometteur, que l'on pourrait confondre Ă  l'aveugle avec un ARDMORE ou mĂȘme avec un Islay de nĂ©goce. Indication de Prix: Autour de 70 € chez The Whisky Shop jusqu'à  85 € (MdW). Note confirmĂ©e: 89/100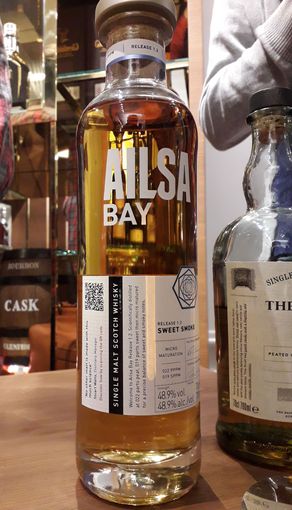 ENGLISH VERSION :
Note: This medium peated single malt is produced since 2016 (first release) by a recent distillery, AILSA BAY, founded in 2007 and which belongs to the William GRANT & Sons group. It has been built mainly to provide malt for the company's blended whiskies, and that is also shown by the huge production capacity (12 millions of liters of pure alcohol per annum-"LPA"). For this expression, conceived by the group's master-blender Brian Kinsman (who replaced David Stewart a few years ago), some new oak has been used as well as a small casks finishing (called "micro-maturation" by the distillery), meaning 9 months of further maturation in small casks (from 5, 7 to 14 gallons) provided by the American New York state located Tuthilltown Spirits LLC distillery. They produce, between other things, what they call "Baby Bourbon" (a Bourbon matured during only 4 months but in small casks and sold in 35 cl bottles).
Color: Gold, with old gold reflections. Nose: Peated (moderately but distinctively), then estery (English liquorice all sorts, pear, pineapple), but not for a very long time, it is a very pleasant nose of an amazing maturity for what we guess probably is a young whisky (sure the second maturation in smaller casks can explain that). Palate: At first a bit prickly, thin & dry, it has some acidic feel on the palate, but fortunately it quickly gets more fat, with some citrus fruit (grapefruit & lemon sherbet on the front), a half dry peat, a lovely star anise note, some spices (the ginger dominates), and finishes on a delicious (light in sugar) marzipan note. With water : A few drops of water brings some harmony, a better blend of flavors, a hint of chlorophyll, and some maritime as well as medicinal taste somewhere between CAOL ILA and LAPHROAIG, or more on the "mainland", the ARDMORE style. Conclusion: A very well made young single malt, moderately peated, well balanced, promising, that one could taste blind and swear it is an ARDMORE or even an independent Islay. Price tag: Around 70 € at The Whisky Shop, but can go over 80 € at some places (85 €, La Maison du Whisky). Confirmed rating: 89/100
-BRUICHLADDICH officiel "ORGANIC", millésimé "2009", mis en bouteille en 2017 (environ 8 ans), mais commercialisé (en tout cas en France) qu'en 2019, ncf, nc, 50 %:
A Noter: Un distillat ayant obtenu la certification de culture "biologique" (ce qui signifie notamment que l'orge utilisĂ©e dans ce whisky a Ă©tĂ© produite sans ajout de pesticides ni d'OGM) et Ă©levĂ© dans des fĂ»ts de chĂȘne ayant contenu du Bourbon, mais aussi dans d'autres fĂ»ts ayant contenu du whisky de type Tennessee. Non filtrĂ© Ă  froid, non colorĂ© (ce depuis l'achat de la distillerie par le nĂ©gociant Murray McDavid en 2001).
Couleur: Or clair. Nez: Alors que cette version n'est pas censĂ©e ĂȘtre tourbĂ©e, je perçois une lĂ©gĂšre note de fumĂ©e malgrĂ© tout (probablement issue du brĂ»lage des fĂ»ts). LĂ©gĂšre note fermiĂšre, miel, herbes sĂšches, Ă©pices (gingembre, poivre noir), quelques rares agrumes en arriĂšre-plan et
beaucoup de bois sec. Un certain charme indĂ©finissable cependant. Bouche : Beaucoup de puissance (boisĂ© tannique, sec, Ă©pices, herbes sĂšches) Ă©voquant soit l'élevage en racks (chais modernes avec des fĂ»ts probablement Ă  plus de 10 mĂštres du sol), soit l'utilisation intensive de fĂ»ts neufs. La bouche reprend les notes du nez mais peine Ă  les dĂ©tailler, comme si pour une fois « fondu et fermetĂ© » pouvaient aller de pair. Assez dĂ©concertant, mais l'ensemble dĂ©gage malgrĂ© tout un certain charme, un style unique, allant de la note lĂ©gĂšrement fermiĂšre (qui se dĂ©veloppe davantage dans les PORT CHARLOTTE), des agrumes et du miel (courants dans d'autres whiskies de la distillerie) et des Ă©pices puissantes. Pour couronner le tout, je retrouve cette agrĂ©able & Ă©lĂ©gante lĂ©gĂšre trace de fumĂ©e (« woodsmoke » ?) en finale. Tenue Ă  la dilution : Bien mieux, mĂȘme si le chĂȘne demeure ferme (ne pas trop diluer), et c'est lĂ  encore le secret pour mieux apprĂ©cier cette version
Belle note de cire, davantage de miel d'acacia, d'agrumes (pamplemousse, limonade), soupçon de thĂ© au jasmin, joli boisĂ© malgrĂ© sa fermetĂ©. Conclusion : Un joli BRUICHLADDICH mais aussi un whisky difficile dans l'absolu, demeurant assez fermĂ©, trop sec et trop boisĂ© (d'ou la note chiffrĂ©e mitigĂ©e, minorĂ©e d'environ 2 points), mais qu'un peu d'eau aide Ă  dĂ©couvrir et apprĂ©cier davantage. Indication de Prix : Autour de 80 €, cavistes. Note confirmĂ©e : 85/100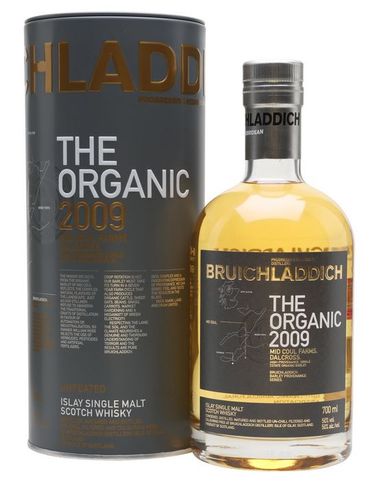 Merci Ă  The Whisky Exchange pour cette photo !
ENGLISH VERSION :
A Noter: This BRUICHLADDICH has been certified "organic" (which means mainly that the barley used for this whisky has been produced without pesticides and doesn't come from GMO production). It has been matured partly in ex-Bourbon casks, partly in ex-Tennessee casks. Bottled in 2017, this expression hasn't been apparently been presented before this year in France. It is (as always since the Murray McDavid takeover in 2001) for every expression from this distillery, non colored & non chill filtered.
Color: Clear gold. Nose: While it is said regular BRUICHLADDICH aren't peated, for me this one has a slight smoky note that could come from the wood charring. I'm also getting a light "farmy" (not really manure, let's rather say a light stable note), some honey, dried herbs, spices (ginger, black pepper), some rare citrus fruit on the background, and...a lot of dry oak (understand, too much). Some strange undefined charm though is coming through. Palate: A lot of power (dry, tannic oak, dried herbs), that is for me the sign of rack maturation (modern warehouse with palletised casks that could stand at 10 meters high from the ground) or the intensive use of new oak casks. The palate is faithful to this tight nose, but with at the same time a "tight & melted" ensemble of flavors that defies identification for me. This is really challenging, but despite this, manages to display some charm, a unique style, from some "farmy" notes (more familiar in the PORT CHARLOTTE bottlings) to some citrus fruit & honey (usual in other BRUICHLADDICHs), and powerful spices. To underline that, once again I feel that light but elegant & quite pleasant smoky note on the finish ("woodsmoke"?). With water: Much better, even if the oak remains tight. This is the secret to really enjoy this expression in my opinion
.Nice waxy note now, more acacia honey notes, more citrus fruit (grapefruit, citrus lemonade), a hint of jasmine tea, nice wood despite its firmness. Conclusion: A nice BRUICHLADDICH, but also a difficult whisky in the absolute, remaining a bit too closed, dry & oaky (that's why I had to lower my rating, almost of 2 points), even if a few drops of water can help understand & enjoy a bit more this whisky. Price tag: Around 80 €, at retailers. Confirmed rating: 85/100
3/ DEGUSTATION Spéciale en marge du Sujet LOCH LOMOND Group / LOCH LOMOND Group brands, a special bottling review :
-GLEN SCOTIA officiel de 15 ans d'ñge, tourbĂ© (Peated) "2003"/« RUM Cask finish » (Campbeltown Festival 2019 Limited Edition), ncf/nc, Cask Strength, 51,3 %:
A Noter: Cette édition limitée à un peu moins de 3000 bouteilles (entre environ 2100 & 2700) est destinée à célébrer le festival 2019 de Campbeltown. Elle a été vieillie environ 15 ans dans des fûts ayant contenu du Bourbon, puis affiné durant 8 mois dans des fûts de rhum de Guyane de type Demerara et de taille/type Puncheon (entre 320 et 500 litres habituellement).
Couleur: Or Ă  reflets vieil or. Nez: Belle influence modĂ©rĂ©e mais prĂ©sente des fĂ»ts de rhum, tout en laissant le caractĂšre de la distillerie s'exprimer. Canne Ă  sucre, fruitĂ© (fruits exotiques dont ananas, coing, citron confit), floral, un rien vĂ©gĂ©tal (thĂ© vert & thĂ© noir), vanillĂ© (modĂ©rĂ©ment, en arriĂšre-plan), lĂ©gĂšre note marine et une belle note fumĂ©e au second plan, peut-ĂȘtre liĂ©e Ă  une discrĂšte note de rĂ©glisse. Bouche: J'aime beaucoup cette alliance Ă  la fois fruitĂ©e (reprenant les notes du nez) et tourbĂ©e qui s'exprime, tout comme le caractĂšre de la distillerie, incluant trĂšs vite de belles notes Ă©picĂ©es assez complexes (gingembre, poivre noir & blanc, poivre 5 baies), des notes vĂ©gĂ©tales Ă©galement typiques (thĂ© vert, thĂ© noir, notes de sous-bois humide-mousse, champignons), une pointe de rĂ©glisse noire, et comme une note de gaufre (vanillĂ©e) Ă  la vergeoise. Joli boisĂ© modĂ©rĂ© Ă©galement. Tenue Ă  la dilution: Belle souplesse avec quelques gouttes d'eau, note un peu mentholĂ©e, accentuation du fondu (vanille, ananas, coing, poivre/gingembre, thĂ© vert & noir) trĂšs plaisant. Ne pas trop diluer (l'eau est par ailleurs dispensable, ici, Ă  mon avis). Conclusion: Une belle Ă©dition spĂ©ciale pour le festival annuel de la presqu'üle de Campbeltown, alliant charme discret, complexitĂ© de saveurs et du caractĂšre...Bravo au maĂźtre-assembleur ! Indication de Prix: En vente en ligne au Royaume-Uni ou en Europe continentale entre 64 et 75 € (voir ci-dessous, un lien conseillĂ©). Note confirmĂ©e: 91/100
Un grand Merci aux personnes suivantes par rapport Ă  cette version :
1/ à Ibon Mendiguren (ambassadeur pour le Loch Lomond Group) pour le généreux sample
2/ à Christophe (R., il se reconnaütra) pour m'avoir mis en contact avec le fournisseur de ma bouteille
3/ à Martin Fischer du site en ligne allemand "Whisky Maniac" pour avoir pu me livrer en France cette édition limitée à un prix correct, aussi je me permets de vous recommander son site :

Acheter ce whisky (et d'autres le cas échéant!) chez Whisky Maniac (Allemagne)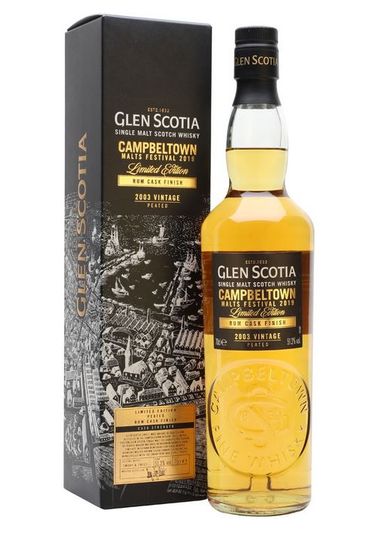 Merci Ă  The Whisky Exchange pour cette photo !
ENGLISH VERSION :
Note: This bottling is a limited bespoke edition (less than 3000 bottles-say probably between 2100 & 2700) to celebrate this year's Campbeltown festival. It has been matured during approximatively 15 years in ex-Bourbon casks and then finished 8 months in Guyana Demerara rum barrels called Puncheon (usually they contain 320 to 500 liters).
Color: Gold, with old gold reflections. Nose: Beautiful influence of the rum casks (moderate but expressive), while the maritime distillery house style can still shine. Among the notes that are coming through, there is some sugar cane, a nice fruit basket (exotic fruit including pineapple, but also candied lemon and quince), some flowers, some green notes as well (black & green tea), some vanilla (moderate, on the background), a slight maritime note, and a beautiful smoky note on the second ground, possibly married with a discrete black liquorice note. Palate: I have to say I like a lot this alliance of fruit & peat that is coming through here, faithful to the nose, but also the distillery character, including some complex & beautiful spicy notes (ginger, black & white pepper, Chinese 5 berries pepper), some typical green notes (black tea, green tea, damp forest moss & mushrooms notes), a hint of black liquorice, and something like a vanilla & "vergeoise" flavored waffle ("vergeoise" is a kind of crystallized brown sugar, cooked with first beetroot cane juice & with some molasses added-it is very closed to the "cassonade" that uses more sugar cane). Nice oak presence too. With water: This whisky offers a beautiful suppleness once diluted with a few drops of water. Some menthol notes are then coming through, as well as more melting of the flavors (vanilla, pineapple, quince, pepper/ginger, black & green tea), and it is very pleasant. Please do not dilute this one too much (for me water isn't mandatory here). Conclusion: A beautiful special edition for the annual Campbeltown festival that combines a discrete charm with some flavors complexity, and some character as well
Congrats to the master-blender! Price tag: Around 64 to 75 € (see below link for a recommended online shop where you can find it). Confirmed rating: 91/100
A big thank you to the following persons for the review of this whisky :
1/ To Ibon Mendiguren (Loch Lomond Group brand ambassador) for his generous sample
2/ To Christophe (R., he'll recognize himself) for his help to find the online shop below to get this bottle
3/ To Martin Fischer from the German online shop "Whisky Maniac", for delivering this limited edition whisky into France, and this at a decent price, so I felt it was natural for me to recommend you his online shop's website:
Shop this whisky (& others if you like !) at Whisky Maniac (Germany)
4/ QUATRE DEGUSTATIONS sur Ă©chantillon au sujet du Mini-Salon Ă  THE WHISKY SHOP PARIS (06/04/2019), voir aussi plus loin :
(Prior to a summary of The Whisky Shop Paris mini-whisky show-see below further on-here are 4 REVIEWS after samples)
Il y a deux mois je me suis rendu au salon organisĂ© par The Whisky Shop Paris, un mini-salon prĂ©sentant une cinquantaine de whiskies & autres spiritueux (cognacs, armagnacs, gins-et coin cocktail) pour seulement 12 € en rĂ©servation en ligne et 15 € sur place, plus 2 € minimum pour une tombola permettant de gagner un TALISKER 25 ans d'ñge ! J'ai apprĂ©ciĂ© l' accueil chaleureux par la patronne des lieux (Imogen Bankier) proposant mĂȘme un vestiaire gratuit dont elle s'occupait elle-mĂȘme...Je lui tire mon chapeau. Une proposition exemplaire en termes de rapport qualitĂ©/prix et de rares opportunitĂ©s de dĂ©gustation pour certaines rĂ©fĂ©rences. Pour rĂ©sumer, en plus des 4 whiskies dĂ©jĂ  chroniquĂ©s ci-dessus, voici quelques mots sur d'autres moments de dĂ©gustation intĂ©ressants lors de ma visite (ainsi que quelques bĂ©mols), avec de brĂšves notes de dĂ©gustation (sans note chiffrĂ©e ou de estimations):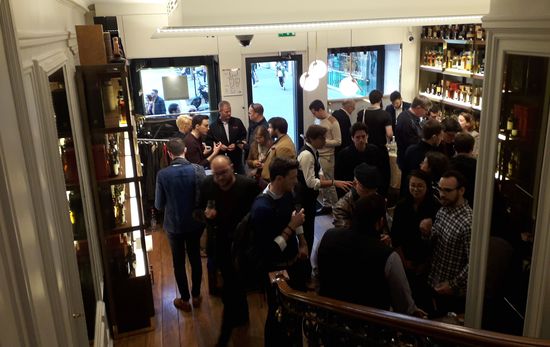 Un franc succÚs (mérité) pour le 2Úme mini-salon du Whisky organisé par The WHISKY SHOP Paris...Ici, les premiers stands à l'entrée de la boutique,
le salon Ă©tait sur 2 niveaux...
ENGLISH VERSION : Two months ago I went to a mini-show organised by The Whisky Shop Paris, a mainly whisky show but also presenting some Armagnacs, Cognacs & gin, with a cocktail corner (around 50 spirits to taste), for only 12 € online booking & 15 € on site, plus a (2 € minimum) raffle to win a TALISKER 25 yo ! I enjoyed the warm welcome from the shop's director (Imogen Bankier) who was herself at the shop's entry & taking care of a free cloakroom...Kudos to her for that. This show was an exemplary proposal in terms of quality/price ratio & some rare tasting opportunities for some references. Here are other notes (to add to the first 4 ones above) that are shorter but do summerize the interesting tastings I have done there (including some less successful ones), here in short notes size (so with no rating or just some estimations):
-BUNNAHABHAIN officiel/Limited Release de 20 ans (distilled 22/11/97-Bottled 26/04/18), "Palo Cortado Cask finish"(Sherry), 1620 bouteilles, 54,9 % (Islay, ECOSSE/SINGLE MALT):
Mon premier whisky dĂ©gustĂ© ce jour lĂ  (donc palais bien disposĂ©) et ce fut une chance. Cette Ă©dition limitĂ©e est d'une grande finesse & d'une complexitĂ© certaine. Bel Ă©quilibre entre Ă©pices douces, fumĂ©e de tourbe modĂ©rĂ©e, fruits secs & quelques notes marines (sel, embruns) et vĂ©gĂ©tales (thĂ© noir, notes de sous-bois), fleurs variĂ©es, avec une influence modĂ©rĂ©e de ce Sherry trĂšs particulier qui hĂ©las donne souvent bouteilles trĂšs chĂšres, comme ici (entre 379 & 500 €). Au positif, cette modĂ©ration permet au caractĂšre de la distillerie de bien s'exprimer. PremiĂšre impression trĂšs positive donc, et note estimĂ©e Ă  90-92/100.
EN: The first dram I had that day (so in good conditions) and that was a chance. This limited edition has quite some complexity and is of a great refinement. Beautiful balance between sweet spices, moderate peat smoke, dried fruit & some maritime notes (salt, seaspray), green notes (black tea, forest moss), varied flowers, with a moderate influence of that very particular Sherry that often makes bottles prices go very high, as it is here (from 379 to 500 €). On a good side, this moderated finish lets the distillery character come through. Very positive first impression, with a rating estimated at 90-92/100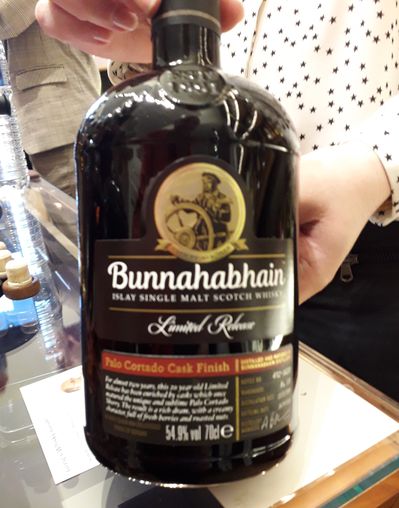 -TOBERMORY 15 ans "Marsala Cask finish", Edition 2017, 1200 bouteilles, 56,2 % (Isle of Mull, ECOSSE/SINGLE MALT):
L'antithĂšse du whisky prĂ©cĂ©dent, avec un affinage qui Ă©crase le style si dĂ©licat de la distillerie (tout comme hĂ©las les premiĂšres versions affinĂ©es, elles, en fĂ»ts de Sherry Oloroso): Trop tannique, trop vineux, trop Ă©picĂ©, il ne prĂ©sente pour moi que peu d'intĂ©rĂȘt, et Ă  autour de 130 € en moyenne, encore moins. Je reste cependant curieux du nouveau 12 ans, qui semble avoir une maturation plus naturelle.
EN: For me this one is clearly the exact opposite of the previous one, with a finishing that crushes the so delicate distillery character (as it was with first versions of it, finished in Oloroso Sherry): Too tannic, too winey, too spicy, this one has for me not much interest & around 130 € (average price found) the bottle even less. I am still curious of the new 12 years old though, that seems to have a more natural maturation.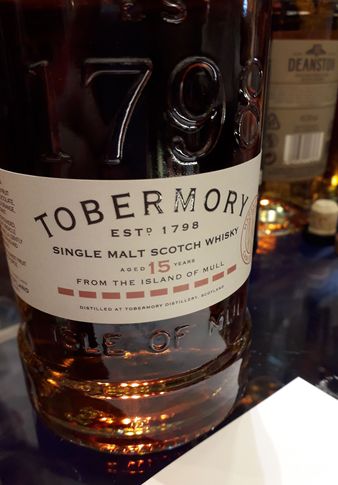 -BALVENIE 21 ans "Portwood' (finition en fĂ»ts de Porto de 30 ans d'ñge), 2019, 40 % (Speyside, ECOSSE/SINGLE MALT):
De passage sur le stand pour dĂ©guster le nouveau AILSA BAY (voir plus haut) qui appartient Ă©galement au groupe William GRANT & Sons, je repĂšre des versions dĂ©jĂ  dĂ©gustĂ©es rĂ©cemment par ailleurs (dont l'excellent 14 ans "PEATWEEK"), et remarque le retour du prestigieux 21 ans "Portwood" (un temps plus disponible ici). Remarquablement Ă©quilibrĂ©, sans doute moins exubĂ©rant que par le passĂ©. Son caractĂšre trĂšs confiturĂ© (abricots, oranges) s'est certes assagi, mais il demeure un bien beau BALVENIE et parmi les plus fruitĂ©s. Le prix a hĂ©las grimpĂ© entre temps autour de 210-250 €.
EN: While I was on the William GRANT & Sons stand to taste the new AILSA BAY (see above) which belongs also to this company, I saw other expressions I had already tasted (such as the excellent 14 y.o. "Peatweek"), but noticed the comeback of the prestigious 21 y.o. "Portwood" (that was for some time not available, at least here). Remarkably balanced, it is for sure less exuberant than before, with its very jammy (apricots & oranges driven) style moderated, but it remains one of the most beautiful BALVENIE's around & one of the most fruity too. Its price has alas increased over the years and one can find it now around 210-250 €.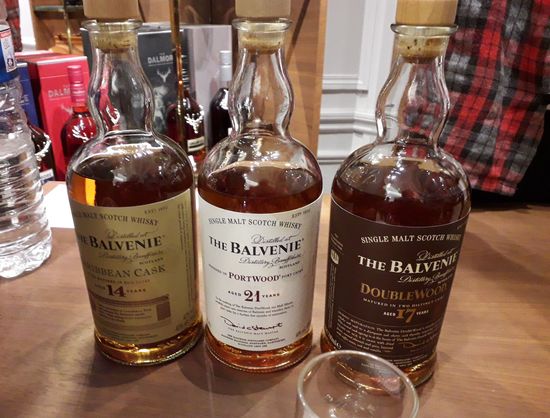 Une partie de l'offre de chez William GRANT & Sons ce jour là (le 21 ans testé est au milieu), il y eu aussi l' AILSA BAY & d'autres The BALVENIE,
comme l'excellent 12 ans First fill Bourbon (Single-Barrel)
-CLYNELISH officiel/The Special Releases (Edition 2014), n.a.s. (environ 16 ans d'ñge), First fill Bourbon casks & French oak casks, 54,9 %:
MĂȘme si ce n'est pas une Ă©dition rĂ©cente, une telle opportunitĂ© de dĂ©gustation ne se refuse pas ! Un nez trĂšs fin, un palais trĂšs lĂ©ger malgrĂ© le titrage plus que dĂ©cent, avec des notes typiques de la distillerie hĂ©las peu prĂ©sentes (cire, moutarde Ă  l'ancienne, herbes sĂšches) ou en tout cas trĂšs fondues entre elles. Un malt complexe, plutĂŽt bon, mais un peu frustrant car je m'attendais Ă  davantage de "spectacle". Si j'avais Ă  l'estimer en termes de notes chiffrĂ©es il irait jusqu'à  90/100, mais sans doute pas au delĂ . En revanche, Ă  695 € (prix indicatif communiquĂ©), c'est totalement excessif et dispensable. L'on peut trouver rĂ©guliĂšrement de trĂšs jolis CLYNELISH chez les nĂ©gociants pour bien moins que cela, et avec un compte d'Ăąge intĂ©ressant.

EN: Even if it isn't a recent edition, this kind of tasting opportunity is so rare one cannot refuse to take! The nose is sharp & refined, the palate is very light despite its more than decent abv, with some typical distillery house style alas not quite there (the wax, the "ancient style" mustard spicy notes, the dried herbs) or a bit too melted together. A complex malt though, rarther good, but a bit frustrating for me (I was expecting more "oomph", more "action"). If I had to rate it, I'll estimate it to 90/100, but probably not more. However, at around 695 € (RPP), it is totally crazy & makes this whisky nonessential, as one can find pretty interesting indie bottlings of CLYNELISH on a regular basis, and baring a decent age statement as well.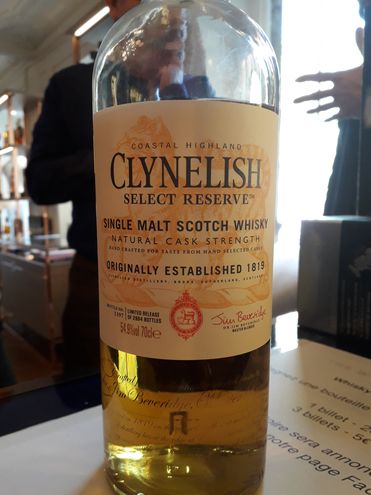 -The SINGLETON of DUFFTOWN officiel/The Special Releases 28 ans (distilled in 1985, bottled in 2013), Bourbon casks, 3816 bouteilles, 52,3 %:
Un whisky trĂšs maltĂ©, marquĂ© par un fondu mi-boisĂ©, mi-cĂ©rĂ©alĂ© qui s'achĂšve sur des notes tanniques dĂ©cevantes. Correct, mais pour l'ñge et le prix (autour de 365 €), franchement,"je passe" sans hĂ©siter une seconde.
EN: A very malted whisky, half-oaky, half-cereal driven that alas has a too oaky (tannic) finish, rather disappointing. It is decent, ok, but for the age & the price (around 365 €), this is without a doubt forgettable.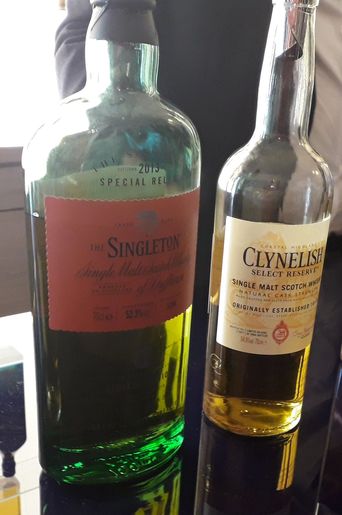 -OCTOMORE 9.1 « Dialogos » 5 ans d'ñge (156 ppm), « Scottish Barley », 42000 bouteilles, 59,1 %:
Jolie version typique, « modĂ©rĂ©ment tourbĂ©e » (voir mes explications exclusives du secret d'Octomore sur le site !- tapez « Masterclass Bruichladdich » dans la barre de recherche), apparemment aussi intĂ©ressante que la 8.1 (que j'avais adorĂ©). Je reste aussi nostalgique de la riche version 8.3...-Autour de 195 €. Cher mais trĂšs bon...
EN: A nice expression, "moderately" peated (see my unique explanations of Octomore's secret on my website !-tape "Masterclass Bruichladdich" & you'll know), apparently as interesting as the 8.1. (which I loved). I'm also nostalgic of the 8.3. Around 195 €. Expensive, but very good.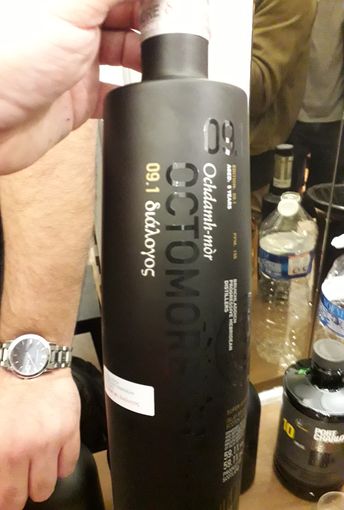 -OCTOMORE 10.1 « Dialogos » 5 ans d'ñge (« Ten Years »-Anniversary Edition), 42000 b., 59,8 %:
PlutĂŽt bonne aussi, mais un peu plus alambiquĂ©e (Bourbon, Porto, Cognac, Virgin oak casks), ça fait un peu beaucoup. -Autour de 229 €, donc tout Ă  fait dispensable Ă  ce prix.
EN: Rather good as well, but a bit more difficult I have to say, with its multiple maturation (Bourbon, Porto, Cognac, Virgin oak casks), it's a bit "too much" for me. At 229 € the bottle, this one is for me nonessential.
-BLACK ART (Bruichladdich distillery) 06.1 de 26 ans (distilled in 1990, bottled in 2018), « Unpeated », recette (type de fûts) secrÚte, 18000 bouteilles, 46,9 %:
Fin, complexe, mais ne se livrant jamais totalement, elle est plutĂŽt bien faite, mais hĂ©las un peu vineuse. Personnellement je n'ai jamais vraiment accrochĂ© Ă  cette sĂ©rie (c'est la troisiĂšme Ă©dition que je dĂ©guste), et ce Ă  tout point de vue (packaging opaque, assemblages avec trop souvent des fĂ»ts de vin rouge, manque d'expressivitĂ©, sans parler du prix excessif, ici autour de 349 €
).
EN: Refined, complex, but never opening up really, it is rather well made, but alas a bit too winey for me. I never really understood all the fuss about this series honestly (and it is the third edition of this series I am tasting), and this about everything (opaque packaging, recipes often including too often red wine casks, lack of expressivity, too hefty price-here around 349 €).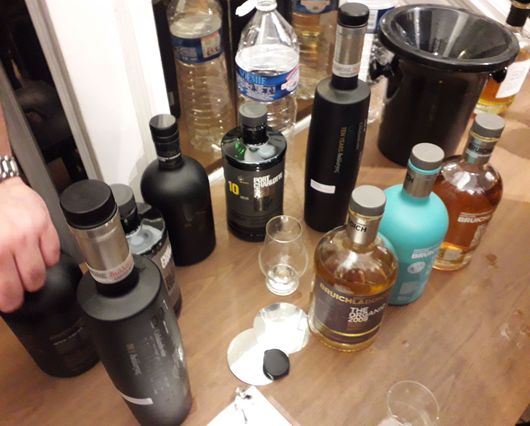 Beaucoup de choses à déguster chez BRUICHLADDICH (le "Black Art" est vers la gauche), comme souvent, j'y reviendrais certainement...
*Cognacs & Armagnacs LHERAUD :
J'ai apprĂ©ciĂ© le Bas-Armagnac « 1987 » TenarĂšze (Baron Gaston Legrand) et son joli rancio, ses profondes notes fruitĂ©es, mais sans doute davantage les Cognacs: Signalons un joli 20 ans « Petite Champagne », 43 %, Ă  environ 125 €, un trĂšs fondu mais floral & fruitĂ© 40 ans d'ñge, 44 %, Ă  225 €, mais sur ce stand, ce que j'ai prĂ©fĂ©rĂ© ce sont les suivants, deux splendides millĂ©simes (hĂ©las bien trop chers Ă  mon avis, comparĂ© Ă  d'autres marques) :
EN: I did enjoy the nice rancio & deep fruity notes in the 1987 Bas-Armagnac quoted above, but probably more the Cognacs: Let's point for instance the 20 years old (details above), nicely made, or this very melted but beautifully floral & fruity 40 y.o. (details above), but my favorite where the 2 following ones, vintages, but alas too expensive compared to other brands):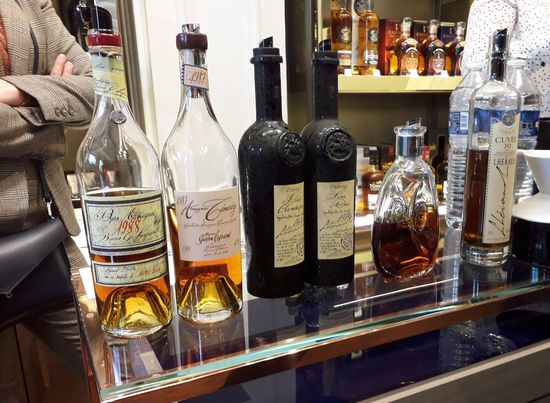 L'offre généreuse de la famille LHERAUD pour ce salon, à gauche 2 Bas-Armagnacs, puis les Cognacs.
-COGNAC LHERAUD « Fins Bois », millĂ©simĂ© « 1979 », mis en bouteille en 2018, S.C. N° 0570, Ă  48 % (450 €) :
Un profil non commercial, un rien austÚre, végétal, mais bien intéressant (thé noir, thé vert, réglisse, fin boisé).
EN: A non-commercial aromatic profile, rather austere, green, but very interesting (black & green tea, liquorice, refined oak).
-COGNAC LHERAUD « Petite Champagne », millĂ©simĂ© « 1969 », mis en bouteille en 2018, S.C. N° 0894, Ă  48 % (539 €) :
Un profil aromatique également non commercial, superbe, complexe, à la fois floral, fruité (orange, abricot), un peu marqué par du solvant, du cuir, tout en étant trÚs végétal également (thé noir & vert, menthol), plus profond, vraiment superbe !
EN: Another one with a non-commercial aromatic profile, superb, complex, green but also fruity (orange, apricot) & floral, with some solventy notes, leather, but also very green as well (black & green tea, menthol), really superb !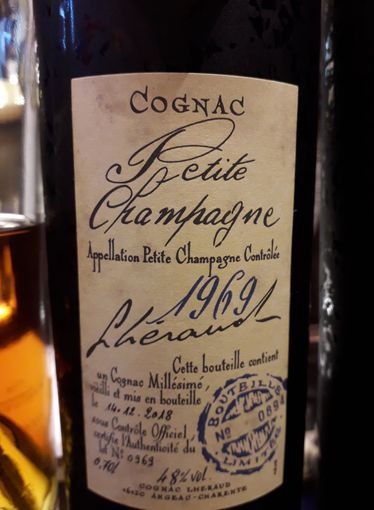 Plus d'articles...