Playlist (Music) March 2021
GREG'S PLAYLIST, or…."Music, Not Muzak!"
La Sélection musicale de Greg's Whisky Guide:
MES DECOUVERTES MUSICALES RECENTES/MA SELECTION:
(MY RECENT MUSICAL DISCOVERIES/MY PLAYLIST)
NOTE to ENGLISH Speaking Readers: I added as much as I could in most recent posts a line or two, or when I had time or for special occasions/highlights in English for you, guys, so I hope it will make it easier....Also please don't hesitate to scroll a lot in this section as it is full of articles & links to other music I did enjoy over the years and wanted to share with you ! Music is part of my life for a long time, i just can't live without it, while I can live without whisky, believe it or not...So I hope you will find at least a few songs you will like here. As usual, i bought the physical records (or mp4 when not possible) of most of the references listed here, because we have to support the artists when we love them, so I encourage you to do the same if their music strike a chord into you. Cheers !
Dernière Mise à jour/Latest Update : 14/04/2021
-MYRKUR : Album « FOLKESANGE » (2020), Genre : Black Metal/Folk (ici 99 % Folk) -Pays : Danemark.
Commentaire (VF): Un tournant pour cette talentueuse artiste danoise Amalie Bruun (chanteuse, multi-instrumentiste, modèle, actrice…) qui habituellement sous le nom de MYRKUR mêle Folk Scandinave (ici chanté en danois, mais aussi en suédois, mais aussi en anglais) et Black Métal & Pagan Métal, choisit sur cet album magistral de prendre quasiment exclusivement (hormis le piano et des percussions contemporaines) l'option Folk traditionnel Scandinave, à sa manière, et c'est une brillante réussite. Dès le premier titre « Ella », le ton est donné. La voix d'Amalie peut s'exprimer de manière plus apaisée et joyeuse, et dans toute son étendue, et c'est envoûtant. Produit par Christopher Juul du groupe folk HEILUNG, l'album regorge d'instrumentation & d'ambiances médievales, renaissance & entre autres, celtiques, avec un joli mariage entre piano et vièle traditionnelle suédoise (Nickelharpa, ou Hurdy Gurdy en anglais). Je n'entrerais pas dans le détail des chansons, pour moi c'est un ensemble et un périple haut en couleurs à se prendre d'une traite...Un vrai bonheur & mon « Album de l'Année 2020 ».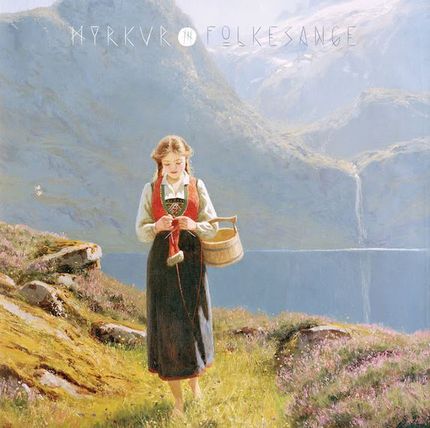 Comment (ENGLISH Summary) : Danish artist Amalie Bruun (who not only sings, but plays a lot of instruments, is a model & actress too) known in the Metal community from her current band MYRKUR, climbs another step here into an almost full non Metal but rather Ancient Scandinavian Folk record, partly with ancient or folkish instruments (Nickelharpa, a kind of Hurdy Gurdy), partly with piano for instance, in a well made marriage, and this is brilliant. Produced by Christopher Juul (from the Folk band HEILUNG), the album is a mix of Celtic, Folk, Medieval & Renaissance, traditional Scandinavian songs, held by Amalie's beautiful & bewitching voice & brings us often a very dynamic range of songs, and of course more joyfully melodies than the beautiful but more somber & metal influenced previous records. This is a real treat & it became quickly my Album of the Year 2020 ».
Titre choisi (selected song) : "Ella"

***
-MADISYN WHAJNE : Album « SAVE YOUR HEARTS » (2020), Genre : Indie-/Dream-Pop-Rock -Pays : Canada.
Commentaire (VF): Le premier album de Madisyn Whajne (une canadienne d'origine amérindienne, et même d'une des plus anciennes tribus-Ojibwe, et avec une histoire personnelle particulière, davantage dans l'excellente interview récente par Graham Coath son podcast & chaîne youtube, voir lien : "A Better Way Of Life"), est un bain de fraîcheur juvénile, plus que bienvenu par les temps qui courent (oui, ça le mot qui commence par un c...), pétri d'influences de girl-bands des années 80/90 (des GO-GO's à The PRIMITIVES, et même une petite touche BLONDIE qui n'est pas pour me déplaire !), mais aussi la Dream-Pop/Rock indé Canadienne contemporaine (ALVVAYS, notamment sur « Summer Love », un des tubes de l'album). L'album est d'une timidité touchante (peut être aussi du à certains choix de production concernant la voix), et plus varié qu'il n'y paraît de prime abord, entre titres au tempo rapide & au ton léger (« One Shot », « Fire », ou le tube « Killing Desire »), aux ballades plus intimistes aux allures parfois de tubes (le splendide « Save My Heart ») ou la gravité n'est jamais loin, mais sans affects (le superbe « Dagger »). Musicalement, c'est un dosage habile de guitares un brin sixties (Madysin est également guitariste), d'une excellente section rythmique & de synthés douillets. Une artiste attachante à suivre !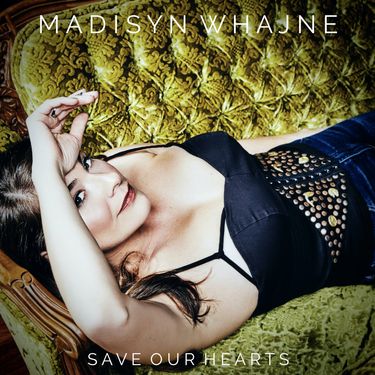 Comment (ENGLISH Version) : Singer-song writer & guitar player Madisyn Whajne (a Native American with roots as old as the Ojibwe tribe, and a very special personal story...More about her in an excellent interview by Graham Coath for his podcast/youtube channel, with the link : "A Better Way of Life") offers us with « Save your Hearts » a more than welcomed by those difficult times (yes, starting by « the c-word » crisis) bath of youthful fresh air, with a lot of influence from Eighties but also Nineties girl bands such as the GOGO's or the PRIMITIVES, a kind of slight BLONDIE touch in it as well, and also some more recent Canadian Dream Pop (such as ALVVAYS, in one of the album's hit, « Summer Love »). The album has a touching kind of shyness in Madisyn's singing (but it can also come from some production choices regarding the vocals), and provides more variety than one could think at first listen, from uptempo & light songs (« One Shot », « Fire », or the hit « Killing Desire »), to more intimate ballades that become hits (such as the splendid « Save My Heart »-link below), in which some gravity isn't so far, but never with affects (the superb « Dagger »). Musically, this is a handy mix between a bit sixties sounding guitars (let's not forget Madysin is also a guitar player), a solid rythmic section & a comfy keyboard/organ. An endearing artist to follow !
Titres choisis (selected songs):
***
-DVNE : Album « ETEMEN AENKA » (2020), Genre : Progressive Metal/Sludge -Pays : Royaume-Uni (Ecosse)/UK.
Commentaire (VF): 2ème album du groupe fan de Frank Herbert, pour moi qui découvre le groupe cette année, l'ombre sludgesque de MASTODON ou NEUROSIS plane au dessus du groupe, mais aussi des passages plus typés Post-Rock, ou l'on passe d'une voix growlée à un chant clair assez haut perché, de passages atmosphériques souvent Post-Rock (voire psyché-Prog 1970's, comme les synthés utilisés), à des passages plus orageux et tendus. Le chant clair peut s'avérer déconcertant au début, mais il s'insère bien dans une logique assez progressive malgré tout, avec des accents, comme sur « Omega Severer » de génie, qui rappèlent, dans l'accélération du tempo du break, mais aussi le chant exarcerbé et haut perché qui s'y joint, et la beauté du solo de guitare, THE MARS VOLTA. Un album impressionnant et, je pense, épique !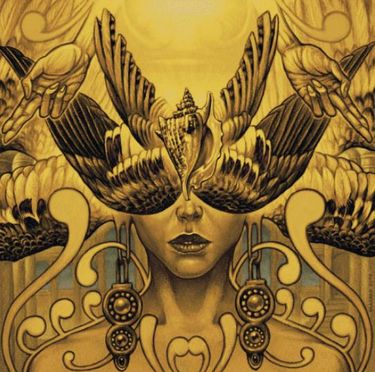 Comment (ENGLISH Version) : This is the second album from this overtly Frank Herbert fan Scottish band. Strongly influenced by Prog/Sludge Metal bands such as MASTODON (most obvious influence here), but also from varied Post-Rock & Post-Metal bands (NEUROSIS comes to mind a bit too), it gets more complicated & interesting when you discover other influences such as psychedelic Prog from the 1970's or Stoner oriented more recent ones (hence the band's visual too). So, yes, lots of contrasts there, musically & voice wise too (growled or clear, sometimes the singing can be challenging, climbing on high notes you won't expect from this genre of music, but reminding me a bit (in the album's probable masterpiece « Omega Severer ») of The MARS VOLTA's exuberance (same style of getting suddenly faster, with a great guitar solo & high pitched singing). An impressive album & an epic one I think !
Titre choisi (selected song) : "Omega Severer"

***
-EXAUGURATE : EP « CHASM OF RAPTUROUS DELIRIUM » (2020), Genre : Death Metal -Pays : Etats-Unis/USA.
Commentaire (VF): Très bien produit, le premier EP du groupe américain EXAUGURATE est une vraie claque de vieux Death Metal caverneux & inspiré, dans la lignée de DEAD CONGREGATION (jusqu'à la pochette!), ou encore de CRUCIAMENTUM (dont provient un des membres du groupe) ou GRAVE MIASMA. Alternant comme eux passages lourds, gras, lents & rapides pour asseoir sa noirceur, le quatuor qui a retenu toutes les leçons des maîtres d'INCANTATION dans l'art de prendre l'auditeur par les tripes, nous délivre 20 minutes de pur bonheur électrique, et j'ai hâte d'en entendre davantage dans un album, et aussi peut être de les voir essayer de se démarquer un peu de leurs influences ? Mon coup de coeur Métal de l'année 2020.

PS: Un disque découvert par l'intérmédiaire de l'excellente chaîne youtube "Kens Death Metal Crypt" que je recommande particulièrement aux amateurs de Death Metal / Lien: "Kens Death Metal Crypt"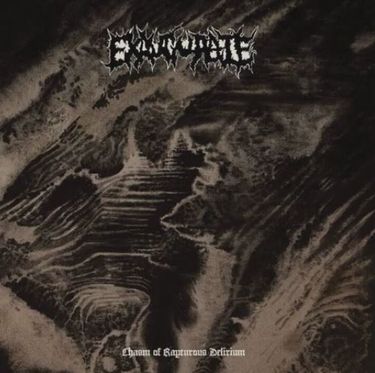 Comment (ENGLISH Version) : Great production here for a start, and this is also what made me highlight this record among others...EXAUGURATE is an American band who plays a cavernous style of Death Metal, as notioriously played for instance by DEAD CONGREGATION, but also, way before them, INCANTATION in the first place. The band comprises members from other bands such as CRUCIAMENTUM, which I also thought about style wise, and I like the way the band manages here to catch us, alternating between slow, thick & heavy passages (dark as…f...) with faster ones, talking to our guts, for a pure electric & dark 20 minutes treat. Sure, I am in a hurry to hear more from them, and maybe to see them go beyond their influences, but this is my Metal Favorite of the Year 2020.
PS: A record I discovered thanks to the excellent Youtube channel "Kens Death Metal Crypt" (see link below) that I recommend to all Death Metal fans out there: "Kens Death Metal Crypt"
EXAUGURATE (Link) (but please, as usual, buy it !): ("Chasm of Rapturous Delirium")
***
-ULCERATE : Album « STARE INTO DEATH AND BE STILL » (2020), Genre : Death Metal Technique -Pays : Nouvelle-Zélande/New Zealand.
Commentaire (VF): Déjà le 6 ème album en 17 ans, les néo-Zélandais impressionnent toujours, autour de leur exceptionnel batteur Jamie Saint Merat, sans qui le groupe ne serait pas ce qu'il est tant ce batteur est la véritable colonne vertébrale et sans aucun doute une grande partie de l'âme du groupe. Les batteurs ayant réagi sur youtube à son travail soulignent par ailleurs une approche Jazz. Il ne faudrait pour autant pas négliger les autres membres du groupe, Michael Hoggard, le guitariste, et Paul Kelland (chant, basse) qui effectuent un travail encore une fois remarquable. L'album est très bon, toujours avec ce sentiment d'urgence qui n'appartient qu'à ce groupe, blastbeats & ambiance de fin du monde garantie, mais aussi des passages plus lents et atmosphériques avec, de sublimes résonances de guitares qui permettent à la fois des respirations salutaires chez l'auditeur, et l'ancrage dans un univers plus personnel. Ceci étant dit je préfère la production du précédent album « Shrines of Paralysis », notamment pour le mixage du chant plus clair & un côté moins étouffé. Un grand album, malgré ces légères réserves.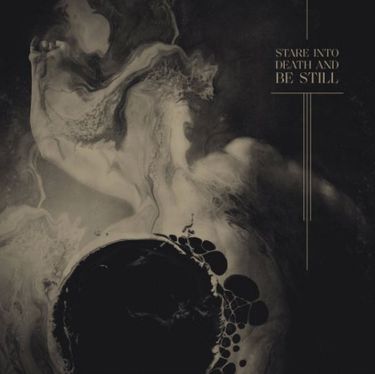 Comment (ENGLISH Version) : New Zealand's « End of the World's Music » combo (I like to think that) strikes back with another (& the 6th one!) powerfull but, as always, full of contrasts (shall I call them « ambient or atmospheric moments » ? Maybe a question to think about…) record. Jamie Saint Merat's drumming is, as always too, the skeleton and/or the heartbeat of ULCERATE's music, and the band won't be what it is without him...Drummers say he has some Jazz reflexes, and reviewers often point out the intensity of his playing, but we might all forget to underline how the other members talented are...Michael Hoggard's riffing is brilliant & the singer Paul Kelland (who also plays the bass, discretely but efficiently) is growling strongly all the way, but there are a lot of instrumental passages that makes it an easier pill to swallow & help to install a dramatic ambience...sustained by some sublime guitar resonances. Though I like this album & respect all the hard work there, I have to say I prefer the previous one, « Shrines of Paralysis », probably because of the singing mix & the general mix, that I found a bit too compressed or say a bit muffled here. Still a great album, mind you.
Titre choisi (selected song) : "Dissolved Orders"

« NOT SO OLDIES, BUT ALREADY GOODIES » :
-GRAVENHURST : Hommage/Tribute overview:
Genre : Indie-Rock/Folk/ShoeGaze/Electronic Music -Pays : Royaume-Uni/UK.
Commentaire (VF): Difficile à classer, le groupe de Nick Talbot (décédé en 2014 à seulement 37 ans), devenu bien plus qu'un projet solo, m'a touché par son tissage unique de mélodies intimistes et « discrètement écorchées » (même les instrumentaux!), mêlant ou alternant rudesse & extrême subtilité d'arrangements & d'ambiances, qu'elles soient acoustiques, électriques, avec synthé ou orgue, et quelque part entre Rock 1960's US, Kraut-Rock 1970's, voire même un rien Bluesy, Rock alternatif typique des années 90 (Lo-Fi, Slow-core, parfois limite Noisy Pop), ballades Folk/Pop éthérées, voire Dream Pop, etc...et le plus souvent chantées & jouées avec une grande délicatesse, et d'une mélancolie infinie. J'ajouterais que le morceau qui peut être représente le mieux toute la complexité du groupe est le long & complexe "Song from under the Arches", sur l'album "FIRES IN DISTANT BUILDINGS" (2005). Coup de coeur « rétro » 2020 pour ce groupe que j'ai découvert qu'en 2020.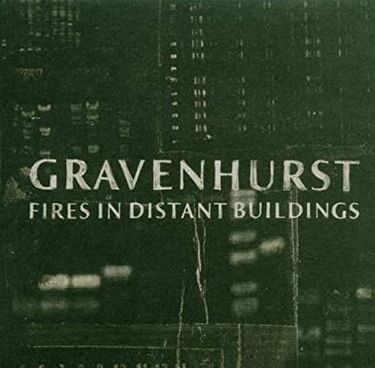 Comment (ENGLISH version) : Hard to categorize, Nick Talbot's band (who died in 2014 at 37 yo only), has become over the years way more than a solo project, and did touch me by its unique weaving of intimate melodies & « discretely tormented » songs (even the instrumental pieces), mixing or alternating strong rock riffing with much subtlier arrangements & ambiances, whether they are acoustic ones, electric ones, using keybooards or an organ, somewhere between 60's US Rock, but also 70's German Kraut-Rock, a touch Bluesy as well, Alt-Rock from the 90's (Lo-Fi, Slow-core, even sometimes some Shoegaze & Noisy Pop), ethereal Folk/Pop ballads, maybe some Dream-Pop too...and most often sung & performed with a great delicacy, and of an infinite melancholy. I will add that the song that maybe represents the most GRAVENHURST's complex & contrasted style might be this beautiful & long piece that is the "Song from under the Arches", on the album "FIRES IN DISTANT BUILDINGS" (2005). GRAVENHURST is my Favorite « Retro » 2020 discovery for me (& I know I've been late !) :
Voici un aperçu en 5 morceaux/Here is an overview in 5 songs :
1/ "Down River" (album: « Fires in Distant Building », 2005)
2/ "Cities Beneath The Sea" (album: « Fires in Distant Building », 2005)
3/ "Song from under the Arches" (album: « Fires in Distant Building », 2005)
4/ "The Western Sands" (instrumental) (album: « The Western Lands », 2007)
5/ "Hourglass" (album: « The Western Lands », 2007)
A ECOUTER AUSSI/ALSO RECOMMENDED (2020):
-DRACONIAN : Album « UNDER A GODLESS VEIL » (2020), Genre : Gothic-Doom Metal -Pays : Suède/Sweden.
Titre choisi (selected song) : « The Sethian » :
https://www.youtube.com/watch?v=YvXXxuHkNxg
-MY DYING BRIDE : Album « THE GHOST OF ORION » (2020), Genre : Doom-Death Metal -Pays : Royaume-Uni (Angleterre)/UK.
Titre choisi (selected song) : « Tired of Tears » :
https://www.youtube.com/watch?v=sBEU0jZYohA
-IN CAUDA VENENUM : Album « G.O.H.E. » (2020), Genre : Progressive Black-Metal -Pays : France.
(Album) : https://www.youtube.com/watch?v=aHf_hqARccs&t=174s
-HARAKIRI FOR THE SKY : Album « MAERE » (2020), Genre : Melodic Black Metal -Pays : Autriche/Austria.
Titre choisi (selected song) : « Us Against December Skies » :
https://www.youtube.com/watch?v=p9X46XCF7vA
DECOUVERTES D'ALBUMS MOINS RECENTS A SIGNALER :
(LESS RECENT RELEASES DISCOVERIES TO HIGHLIGHT)
-DEATH GRIPS : Album « NO LOVE DEEP WEB » (2012), Genre : Experimental Hip-Hop -Pays : Etats-Unis/USA.
Titre 1 choisi (first song selection): « NO LOVE » :
https://www.youtube.com/watch?v=2MHhLDCJ57E
Titre 2 choisi (second song selection), LIVE du titre/title « GUILLOTINE » (extrait initialement de l'album « EXMILITARY », 2011) :
https://www.youtube.com/watch?v=BinKCtUTWBA
-BLACK CROWN INITIATE : Album « SELVES WE CANNOT FORGET » (2016), Genre : Death Metal Progressif & Technique -Pays : Etats-Unis/USA.
Titre choisi (selected song): « Belie The Machine » :
https://www.youtube.com/watch?v=0BjNpW-6aZY
-HELIOSAGA : Album « TOWERS IN THE DISTANCE » (2014), Genre : Métal Symphonique -Pays : Etats-Unis/USA.
Titre choisi (selected song) :: « Hide Away »
https://www.youtube.com/watch?v=UXnvQkYk_9E