Editorial No 33
LE WHISKY FRANCAIS, UNE SERIE A VENIR SUR LE SITE
& SUR MA CHAINE YOUTUBE
(FRENCH WHISKY : SERIES of Videos & Articles to be coming soon
in this website & on my Youtube channel as well)
Sujet publié le : 16/12/2020-Mise à Jour du : 08/01/2021
First published : 16/12/2020-Updated : 08/01/2021
INTRODUCTION :
L'année qui s'écoule a été particulièrement dure pour moi, que ce soit sur le plan familial, de la santé, etc.…mais elle l'a été également pour nombre d'entre vous, j'en suis conscient, aussi, il me/nous faut aller de l'avant, notamment dans la perspective de l'année 2021 à venir. Je vais vous présenter progressivement des sujets sur des whiskies de divers pays (que ce soit l'Ecosse ou le reste du monde), en français et/ou parfois en anglais, que ce soit sur mon site internet ou sur ma chaîne Youtube. Vous l'aurez compris, en cette année 2020, j'ai du faire le choix de publier principalement des vidéos (et le plus souvent en anglais) et très peu sur le site, car c'était devenu intenable pour moi (…), mais en 2021, je vais reprendre la rédaction d'articles concernant mon site internet, pour des raisons pragmatiques, ils seront cependant désormais divisés en deux catégories: 1/ Des articles sur le whisky français & en français uniquement. 2/ Des articles sur des whiskies écossais & du reste du monde, et suivant leur disponibilité & également mes propres impératifs, ces articles pourront n'être rédigés qu'en anglais, directement. J'espère que vous comprendrez cette petite mais significative évolution.
Par ailleurs, je vous souhaite de passer DE JOYEUSES FETES DE NOEL en famille ou pas, comme vous le pourrez, avec responsabilité, que ce soit concernant la maîtrise de votre consommation d'alcool (n'oublions pas le vieil adage « Buvons moins, mais buvons mieux! », et prenons le temps de déguster…), mais aussi les précautions à prendre concernant la crise sanitaire.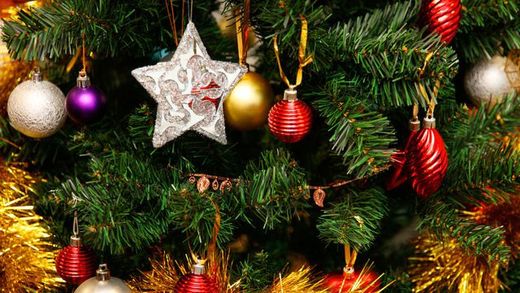 ENGLISH SUMMARY : The year that was has been particularly tough for me, family wise, health wise, etc...but I know it has been so as well for many of you as well, I know that, so I have to go forward, as we're arriving in year 2021. So I will present you progressively topics about several countries whiskies, in French & sometimes in English, in my website & in my Youtube channel as well. You might have understood it, while this year 2020 I had to choose to publish mainly videos (& most often in English), et very few articles on my website, and it was hard to continue like that. But in 2021, this will change, and for practical reasons, and about my web site, I have decided to divide my articles into 2 categories: 1/ Articles about French whiskies in French only 2/ Articles about Scottish whiskies & more generally, World Whiskies, and according to their availability (market wise, but not only) & my choices, these articles might be written directly & only in English. I hope you will understand this little but significant evolution.
Besides, I would like to wish you to have A MERRY CHRISTMAS, in family or not, as you can & wish, responsibly, not only about alcohol consumption (let's not forget the famous motto « Drink less, but drink better », and take the time to enjoy our tastings…), but also about the precautions to take according to the current sanitary situation & risks.
YOUTUBE:
En attendant mon prochain article, voici une VIDEO que je vous recommande de visionner, car elle annonce ce qui va suivre concernant notamment le WHISKY FRANCAIS, sachant que des sujets bien sûr vont encore être tournés en vidéo, sur ma chaîne Youtube au sujet du whisky français, mais aussi sur d'autres sujets (whiskies écossais & autres), liés à des sujets de fonds ou d'actualité, et aux nombreux dons ou échanges de samples (voire bouteilles, mais c'est plus rare) reçus ou en cours (des whiskies de plusieurs pays différents), mais aussi de mes acquisitions de ces derniers mois...(merci de cliquer sur le titre en violet).
ENGLISH: While waiting to my next article to come, here is a VIDEO I recommend to you (if you are understanding French) to announce you my next videos about FRENCH WHISKIES. I did invest quite a lot lately to expand my French whisky collection & I did receive some samples as well (not only about French whiskies, but also about Scottish ones & other countries ones), so a lot of work to do in the end of this year & beginning of the next one...This will be coming as videos but also some articles mainly in French, but I wanted to let you know that I will also do some videos in English to summerize the French whisky scene with some recommended references with tasting notes. Stay tuned ! (to see my current video, please click on the violetlink below the picture).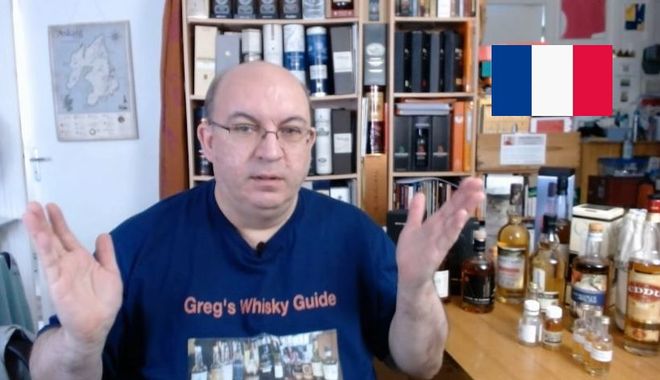 Greg's Whisky Guide Video / Whiskies FRANCE
WHISKIES FRANCAIS /FRENCH WHISKIES:
Voici une LISTE DES WHISKIES FRANCAIS (liste non exhaustive, et qui va être complétée prochainement, ici entre parenthèses les noms des whiskies communément disponibles) qui seront chroniqués l'an prochain (voir certains déjà d'ici la fin de l'année) sur ma chaîne Youtube & mon site internet, classés par distillateur & par négociant/affineur, avec mention de leur produit le plus connu le cas échéant) :
ENGLISH Summary: Here is the (for now non exhaustive, to be completed) LIST OF FRENCH WHISKIES that should be covered next year (& some maybe by the end of the year) on Greg's Whisky Guide, sorted by producer & then by indie bottler/refiner (with a mention of their most famous brand or expression, in case of need to identify the producer/I.B.):
DISTILLERIES :
Wambrechies, Warenghem (Armorik, diverses versions), Glann Ar Mor (nombreuses versions & idem pour Kornog, sa version tourbée), Distillerie des Menhirs (Eddu "Gold"), Northmaen ("Thor Boyo", "Kenning", etc...), Hepp ("The Johnny Hepp", "Tharsis/Sherry"), La Rouget De Lisle (BM "Macvin"), Miclo (Welche's Whisky), Bercloux, J. Michard, Lehmann ("Elsass Whisky"), Moon Harbour ("Dock 1"), et peut être d'autres à venir...
NEGOCIANTS/AFFINEURS (I.B.) :
Benjamin Kuentz (3 versions), Aymeric Roborel De Climens (au moins 3 versions), et peut être d'autres à venir…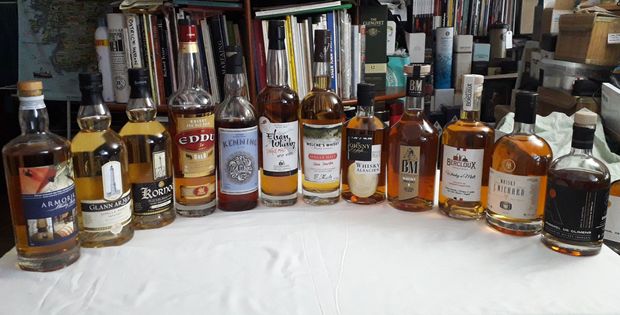 Vue de l'essentiel de ma collection de whiskies français, avec ici une bouteille par nom de marque différent (autrement j'ai plus de 20 bouteilles différentes).
Photo: © Grégoire Sarafian
AVIS aux Producteurs & Négociants/Affineurs de Whisky Français :
Pour des raisons évidentes, je ne peux couvrir la totalité de la production du marché français & même pas sa moitié: Aux dernières nouvelles, il y aurait 82 producteurs de whiskies français, rassemblant distilleries & négociants/éleveurs. Si certes tous ne sont pas encore en production/activité (je pense que seule une quarantaine de distilleries peut déjà présenter un 3 ans d'âge, par exemple, tandis que d'autres débutent à peine leur première saison de distillation), l'offre s'est considérablement accrue ces dernières années, et la distribution de ces whiskies n'est pas forcément encore optimale, nombre d'entre eux demeurant confidentiels à l'échelle déjà nationale. Personnellement, mais j'ai pas mal investi dernièrement dans l'acquisition de whiskies français, mais j'ai également reçu des samples & parfois des bouteilles & comme je l'ai dit dans ma vidéo (voir lien ci-dessus), j'ai préféré attendre jusqu'à maintenant pour traiter le sujet, même si, bien évidemment, il ne pourra être exhaustif, je n'en ai pas les moyens, mais je ferais mon maximum pour vous donner un aperçu significatif de la production française au travers d'exemples choisis pouvant représenter un intérêt pou l'amateur de whisky écossais, par exemple, mais pas seulement.
Aussi, pour ceux d'entre vous qui seraient intéressés par une revue de leurs whiskies, je suis à votre disposition (merci de me contacter sur la page contact du site, ou via mes comptes Twitter & Linkedin, détails en fin de chaque vidéo) et accepterais un éventuel échantillon, aux conditions habituelles :
1/ Acceptation d'avance avant d'envoyer l'échantillon que ma critique ne sera pas nécessairement favorable.
2/ Acceptation que celle-ci ne sera pas publiée immédiatement après réception, mais dès que possible, étant donné le nombre d'échantillons ou bouteilles « à couvrir » en retard.
3/ Acceptation, pour cause de transparence aussi grande que possible concernant mon approvisionnement en whisky, lorsqu'il ne s'agit pas d'un achat, de la mention du don de l'Ă©chantillon,
dans le cas d'un don de la part d'un professionnel.
Important: En cas de coup de coeur, soyez assurés que votre whisky recevra le maximum de couverture possible, associant article, vidéo, mention éventuelle dans un direct, réseaux sociaux...
UN GRAND MERCI à ceux & celles qui ont déjà répondu présent bien avant cet appel (que ce soit des producteurs, des négociants/affineurs ou encore des particuliers partageant leur collection française), c'est important, surtout en cette période sans salons & ou même avant cela, c'était parfois compliqué pour moi d'y assister.