ARRAN Officiel « Miss Black », Private Cask, 1997-2014, C.S., 51,6 %
Note confirmée (confirmed score) : 92,5/100

Notice détaillée voir plus bas (for comments see below)
Description du produit
ARRAN Officiel « Miss Black », Private Cask, 17 ans (1997-2014), Edition limitée,
2014, Cask Strength, 51,6 %
Catégorie: SINGLE-MALT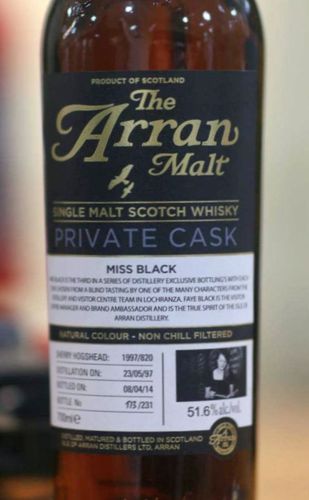 Pays & Province: Royaume Uni, Ecosse
RĂ©gion : Isle of Arran
Version : Officielle
Gamme : Edition limitée en vente qu'à la distillerie (Arran « visitor center exclusive »)
Age: 17 ans
Date de distillation : 23/05/1997
Date de mise en bouteille : 08/02/2014
Millésime (Vintage) : 1997
Maturation (en fûts de): Ex-Sherry Hogshead
Affinage : Non
Remplissage : Premier (« 1st Fill ») et plusieurs remplissages (« Refill »)

Nombre de Fûts : Non précisé (nombreux)
Numéro(s) de Fût(s) : 1997/820
Nombre de bouteilles : 231
A.B.V. (% d'alcool) : 51,6
Filtration (type de) : Non filtré à froid
Coloration (caramel ajouté) : Non
Contenant (remarque) : Tube ou Ă©tui
Contenant (volume) : 70 cl
Fourchette de Prix: n.c. (autour de 80 €/Epuisé)
A Noter : Il s'agit d'une édition spéciale destinée à célébrer le mariage de Faye, responsable du centre d'accueil (« visitor center ») de la distillerie. De plus, c'est Faye elle-même qui a sélectionné le fût en question.
_____________________________________________________________________________________________________________________________________
Résumé:
Note confirmée: 92,5/100
Un single-cask riche, très bien sélectionné (bien joué, Faye !), d'une complexité certaine et d'un bel équilibre entre le boisé et le fruité, avec une palette incluant pas mal de fruits, de fleurs, de notes diverses, végétales et pâtissières. Une édition assez différente de la gamme régulière, mais qui laisse augurer de belles choses et une amplitude de saveurs larges dans les chais de cette distillerie…dans lesquels on aimerait bien se perdre pour faire de même, c'est-à -dire choisir son fût !
A rich & complex single-cask, unusual compared to regular bottlings, but splendid. Very well hand-picked by visitor center manager Faye, it was a cask selection in order to celebrate her wedding. Well done, Faye ! This is a remarkable well balanced bottling, with lots of fresh, candied & dried fruit, heady flowers, sandal wood, oriental spices & leafy notes (tobacco, Earl Grey & Black tea). Fully sherried but never overpowered by winey notes, it has a kind of pastry profile as well (Christmas pudding with brownies ?). Makes you wanna sneak into the distillery's warehouses to pick your own cask !
_________________________________________________________________________________________________________________________________________
Description:
(Merci encore à Franck pour ce sample, j'espère que tu as apprécié le mien en échange de celui-ci...-l'intéressé se reconnaîtra !)
Couleur: Cuivrée.
Nez: Capiteux, avec des notes de sherry à l'ancienne (laurier, thym, cerises au marasquin, avec une note aigre-douce), bois précieux, une note de vieille bibliothèque, un peu de cuir, mais aussi des fruits secs (dattes, raisins de Corinthe), des fruits frais (prune, mûres).
Bouche: Complexe, splendide, faisant illusion un temps d'avoir affaire à un vieux malt de 30 ou 40 ans. Reprend les notes du nez, florales (fleurs capiteuses) et fruitées (fruits confits, secs et frais variés), avec même un caractère par moments pâtissier (pudding de Noël, avec un soupçon de brownies). Notes de tabac également, de vieux thé noir (et Earl Grey), de chocolat noir, voire de vieux rhum. Puis quelques notes d'oranges amères, mêlées de notes plus sucrées (les cerises, les mûres, la prune). A la longue, « reprend son âge initial », mais évoque un AMRUT (encore plus jeune), par son caractère profondément boisé (bois de santal) et ses épices orientales. Du rancio également, et pas trop de tannins, ni de caractère vraiment vineux. Longue et équilibrée, la finale est remarquable.
Tenue à la dilution: Belle tenue à la dilution, mais ne pas trop diluer. La note de rancio est renforcée, mais le boisé serait trop prononcé avec plus d'eau.
Conclusion: Atypique, ce single-cask est étonnant, assez différent des éditions régulières à compte d'âge (précision pour ceux qui n'ont jamais dégusté un « Private Cask » marqué par le Sherry), et différent du « Private Cask » présenté au Whisky Live Paris 2013. Une édition qui laisse augurer de belles choses et une amplitude de saveurs larges dans les chais de cette distillerie…dans lesquels on aimerait bien se perdre pour faire de même, c'est-à -dire choisir son fût !