MY 10 WHISKIES OF THE YEAR 2019
MES 10 WHISKIES FAVORIS DE L'ANNEE 2019
MY TOP 10 WHISKIES OF THE YEAR 2019 :
Sujet publié le : 29/12/2019-Mise à Jour du : 26/01/2020
First published : 29/12/2019-Update : 26/01/2020
Photos: Tous droits réservés © Grégoire Sarafian (pour la majorité des photos, sauf la première, merci à The Whisky Exchange).

Pictures: Copyright © Grégoire Sarafian (for all of them except the frst one, courtesy of The Whisky Exchange).
Dans ce nouveau numéro des LISTES THEMATIQUES, vous trouverez mes 10 whiskies favoris de l'année 2018 (plus 2 whiskies hors liste numérotée...), avec cette fois l'accent porté sur le rapport qualité/prix (d'ou ces 2 hors liste), mais aussi bien sûr les whiskies les mieux notés parmi ceux dégustés cette année. Bien entendu, j'ai conscience que de très bons whiskies (à lire certaines critiques) ne figureront pas dans cette liste, car je n'ai pas pu avoir accès à ces whiskies, donc ce n'est pas une liste exhaustive. Par ailleurs, par souci de simplification, j'ai choisi de ne pas créer de catégories de whiskies, ils sont donc tous sur le même plan, quel que soit leur type.
Vous trouverez ici de brèves notes de dégustation en français & en anglais, et pour ceux qui ont été dégustés dans les meilleures conditions possibles (sur échantillon ou bouteille, hors contexte de salon), une note plus complète le cas échéant (désolé pour le retard du publication de certains reportages, du à des raisons de santé depuis plus d'un mois), ou un renvoi vers un article ou cette note figure déjà.
Merci encore aux personnes (particuliers & professionnels) qui ont pu contribuer à fournir des échantillons pour ce sujet, pour les bouteilles qui ne sont pas encore dans ma collection. C'est apprécié à sa juste valeur, mais, je puis vous l'assurer, n'a en aucune façon pu altérer mon jugement au sujet de ces whiskies.
ENGLISH SUMMARY: In this new THEMATIC NOTES number, you will find my Top 10 favorite whiskies of the year 2019 (actually more than 10 as they were 2 runners up-mentioned because they are very good, but disqualified from the numbered list as they were way too overpriced in my opinion). This time I have chosen to focus on the best quality/price value whiskies in my opinion, so, even if their ranking is lower than some others on the same list, they could be ranked higher on my list. Of course I guess there are other very good whiskies that do not appear in this list, some with often great reviewers from other people, but, as I have not been able to taste these ones, this isn't a "complete" list. Besides, in order to make things more simple, I have chosen this time to erase all categories or types of whiskies, so they are all rated equally whatever type they are.
You will find here brief tasting notes in French & in English (right after the French notes, in blue as often) about all the whiskies of the list, and for those tasted in the best conditions possible (after a sample or a bottle, outside a show context), a full tasting note when possible (sorry for being late to publish some articles or show reports, this due to health problems since more than a month), or a link to an article where a particular tasting note already appear.
Thanks again to the professionals or amateurs contributions for their samples, when it wasn't the case of purchase bottles. It is much appreciated, but I have to precise I assure you that it doesn't mean my opinion on these whiskies has been biased in any way here.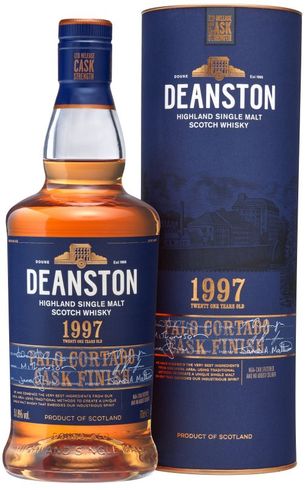 The winner of this list, for me, the gorgeous & with a unique style DEANSTON 1997 Palo Cortado Cask finish...
WHISKIES HORS LISTE / RUNNER-UP WHISKIES:
*/ PORT CHARLOTTE « 2004 » (13 yo), Château Yquem Sauternes cask, Single Cask (N°1053), bottled by SPIRITS SHOP SELECTION (Eric Huang selection, from Taïwan), Don Fang Ming Hua Yang, 53,7 % :
Un sublime embouteillage de négoce pour ce PORT CHARLOTTE très équilibré, très riche, très délicat, exceptionnel, avec des notes de tourbe cendrée, d'agrumes confits (citrons, coing), de pâte d'amandes allégée en sucre & de badiane. 94/100 En revanche, son prix insensé le disqualifie pour figure dans le palmarès des 10 meilleurs whiskies (272 €, Mdw !). Dégusté la première fois au Whisky Live Paris 2019, puis sur échantillon en réunissant 2 verres, le mien et celui d'un ami. L'un des tous meilleurs PORT CHARLOTTE jamais dégustés.

ENGLISH Note : A sublime independent bottling for this rare PORT CHARLOTTE matured in a French sweet wine cask, very well balanced, very delicate, very rich, exceptional, with beautiful ashy peat smoke notes, candied citrus fruit (lemon, quince), diet almond paste, star anise. 94/100 Great rating (honestly this is for me one of the very best P.C. ever tasted), but, as it is insanely overpriced, it makes it get off the numbered list with a price tag of 272 € in France (£ 232, US $ 303, CAN £ 395, this to give you an idea!)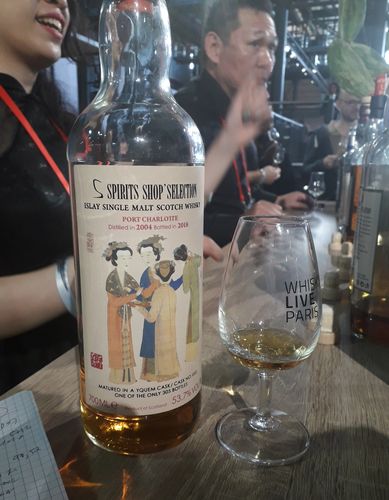 **/ WHISTLEPIG 12 yo « OLD WORLD CASK FINISH » 100 % RYE, 43 % (63 % Madeira drums, 30 % Sauternes barriques, 7 % Port Pipes)/ Distilled in Alberta, Canada, but bottled in Vermont, USA) :
Un whisky de seigle puissant, très riche et complexe, au nez & au palais totalement exubérants : Fruits confits, note très précise de loukoum à la rose, bois de rose, rose (fleur), pivoine, miel, vanille, vin cuit, très oriental. Une version plus « folle » du 10 ans d'âge, mais aussi plus chère (entre 156 € officiellement, mais souvent vendue au-delà de 210 -230 € en ligne) et en plus c'est une fausse nouveauté (la version existe depuis 2015 au moins) alors que présentée comme telle en salon. Une autre raison, avec le prix, de mettre ce whisky hors liste, malgré ses qualités. 94+/100 -Dégusté la première fois au salon "Club-Expert Dugas" 2019, puis sur sample (autorisé par la distillerie, merci au personnel présent, à savoir Savannah).

E.N. : Extraordinary almost perfumy style. Rose flowers syrup, all-flowers honey, peonies, orange & apricot liqueur, mulled wine, lots of dried fruit, also on an oriental side. On the palate, it is an explosion of flavors, wether they are floral or fruity (faithful to the nose), with a dense mouthfeel, and the oriental side gets very sexy & exuberant, pushing a familiar note ahead, a mind-blowing note of rose perfumed Turkish delights, yes ! Its is simply superb, incredibly complex rye whisky. The French distributor's website states that it took 4 years and the help of 500 bartenders to create this expression. I don't know if it is true, but the result is very impressive I have to say. With a little of water, it gets even more surreal, aerial, a fantastic stuff! Conclusion: One of the most exuberant & complex rye whisky I have come across. Confirmed rating: 94/100 to more, but priced from 156 € to around 230 €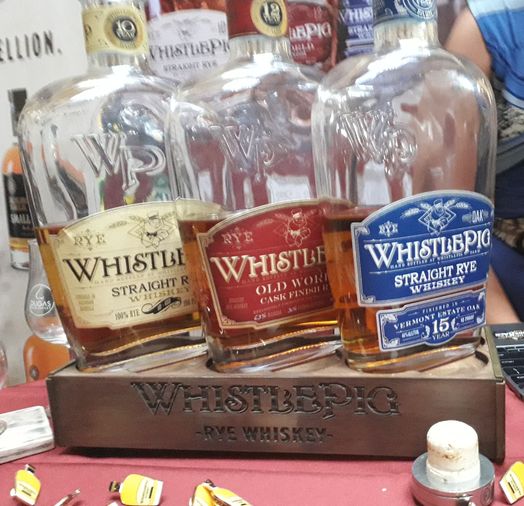 Great expressions from WHISTLEPIG this year again (here at Salon Club-Expert Dugas, Paris) but expensive. The 12 yo is the one with the red label.
MES 10 WHISKIES FAVORIS DE L'ANNEE 2019
MY TOP 10 FAVORITE WHISKIES OF THE YEAR 2019:
10/ BIMBER officiel « 1st Release », 3 yo (matured in Solera-20 to 30 yo P.X. Sherry casks), 1000 b., 54,2 %:
Une belle robe ambrée, à reflets orangés. Un nez floral, fruité, riche : Abricot, mangue, divers fruits confits, belle note de rancio, note un peu vineuse évoquant du Porto, glaçage vanillé/pâte d'amandes pour mille-feuilles, toutes neuves que l'on retrouve en bouche accompagnées d'épices douces variées (poivre 5 baies, piment doux), d'une note de chêne neuf, une pointe d'aigreur, des oranges, de la bergamote. Joli également avec une légère dilution. Un tour de force pour un premier single malt de 3 ans d'âge. Superbe ! Note confirmée : 91,5/100 Prix : 130-140 € (épuisé)/ Dégusté la première fois au Whisky Live Paris 2019, puis sur échantillon (merci à la distillerie).

E.N. : A nice amber color, with orange hues. A floral nose, fruity, rich nose : Apricot, mango, varied candied fruit, a nice rancio note, a bit winey as well, but it evokes rather Port than Sherry at this point. Nice French pastry called « Mille-feuilles » (« a thousand leaves ») icing (sugar icing, almond paste, vanilla) notes you get also on the palate, along with others : Varied rather sweet spices (sweetened hot pepper, « 5 berries pepper »), new oak, sour note, oranges & bergamot. Beautiful as well with some drops of water added. A tour de force for such a young single malt. Superb ! Confirmed rating : 91,5/100 Price : Around 130-140 €, but sold out (tasted first at Whisky Live Paris 2019, then after a sample kindly allowed to take there by the distillery, thanks to them).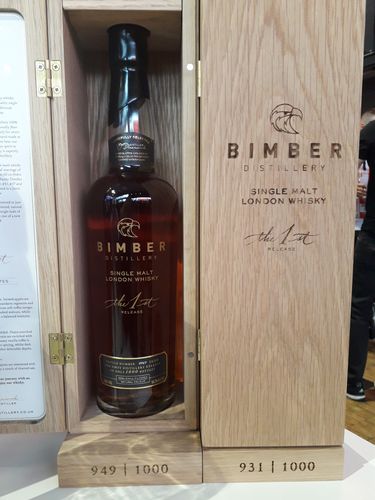 9/ COMPASS BOX « MYTHS AND LEGENDS », N°1 (BALBLAIR of 16, 18, 22 yo), 2019, 394 b., 46 %:
Très floral & fruité, délicat au nez et subtil en bouche, avec un beau développement des notes d'agrumes (les oranges surtout), une acidité inhérente au distillat maîtrisée et un bel équilibre. Un des meilleurs BALBLAIR dégustés à ce jour. A faire rougir les versions officielles. Le prix, un peu élevé, en revanche, lui fait perdre quelques places. (169 €, MdW). Dégusté la première fois au Whisky Live Paris, dans le cadre de la Masterclass John Glaser (Compass Box) consacré en grande partie à cette nouvelle gamme/trio.

E.N. : Very floral & fruity, delicate on the nose & subtle on the palate, with a beautiful developpment of its citrus fruit notes (oranges mostly), it manages to tame the usual acidity one can find in the house style & shows a great balance. One of the best BALBLAIR tasted so far, it could even make official expressions blush. Price is alas a bit too high for me, which makes it lose a few ranks here. 169 € in France.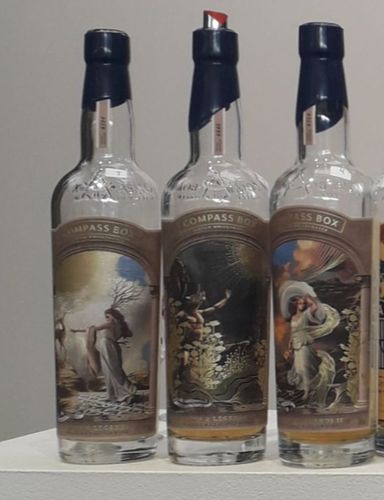 The three "Myths and Legends" expression from COMPASS BOX, the one I prefered is the first one on the left.
8/ « AEROLITE LINDSAY » (10 yo ISLAY Single Malt), from ATOM Brands, 46 %:
Un excellent single malt de 10 ans d'âge, sans défauts, très bien fait, très facile à boire, avec ce qu'il faut de notes de tourbe & de fumée, d'agrumes (joliment citronné), de délicatesse et boisé maîtrisé, rien à dire ! Excellent rapport qualité/prix également (dès que j'en trouve une bouteille, je complèterais ces notes). Autour de 55 € en France. Dégusté la première fois au Whisky Live Paris 2019.

E.N. : An excellent 10 y.o. single malt, with no flaws, very well made, easily drinkable, with all it takes of peat, smoke, citrus fruit (nicely lemony), delicacy & wood mastery, nothing else to say ! Oh, just one thing, it is an excellent value (as soon as I'll found a bottle of this, I'll complete these notes). Around 55 € in France.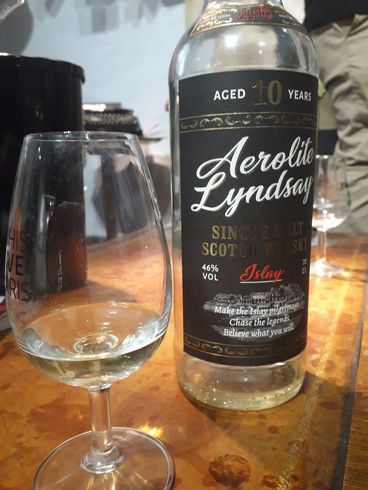 7/ KINGSBARNS officiel/Limited Release « DREAM TO DRAM », LOWLAND SINGLE MALT, 2019, (90 % F.F. Bourbon, 10 % Re-charred STR casks), non filtré à froid, non coloré, 46 %
Un très joli premier single malt, aux belles notes de vanille, d'agrumes, glorifiant l'orge maltée. Bel équilibre, prometteur pour la suite. Là encore, rien à lui reprocher...Davantage de précisions si j'arrive à acquérir une bouteille. Prix : Autour de 55/60 €, mais pas toujours facile à trouver en France maintenant. Dégusté la première fois au Whisky Live Paris 2019. D'autres notes de dégustation et une note chiffrée également à venir (car j'ai pu en acquérir une bouteille récemment).
E.N. : A quite nice first single malt release, with beautiful vanilla, citrus fruit notes, and glorifying malted barley. Beautiful balance, promising for the future releases. Again, no flaws here. More if I manage to find me a bottle of it (which is sometimes difficult here as it is a limited release). Around 55/60 € here. More precise notes & a rating to follow as I could recently buy me a bottle of this one..stay tuned !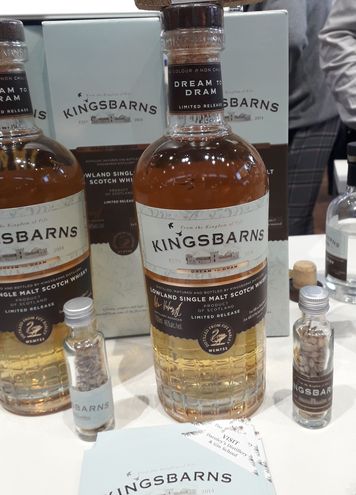 6/ DEANSTON « 2002 » (16 yo), 2019, « ORGANIC OLOROSO CASK FINISH » (matured in recharred casks, finished 2 years in Organic Oloroso Sherry casks), limited edition (3492 bottles), 50,6 %:
Un superbe DEANSTON, au nez riche, avec des notes de pâtisseries orientales, de sherry puissant, aux belles notes de fruits rouges, pas mal d'épices (mais cela reste appréciable), et une belle longueur en bouche...Délicieux de bout en bout. Avec un peu d'eau, il devient un peu vineux mais pas assez pour s'en écarter. Une puissante bombe de sherry, avec même un côté crémeux (comme dans le sublime 1997) dans la texture que j'aime beaucoup. A tester de nouveau, mais pour l'heure c'est une note de 90+/100 que j'attribue. Autour de 120 € (d'autres notes à venir, car j'ai pu en acquérir dernièrement une bouteille). Dégusté au salon Club-Expert Dugas 2019.

E.N. :Rich nose, full of oriental pastries & strong sherry, beautiful red fruit notes, bags of spices (but staying "affordable"), and a great length on the palate...yummy all the way. With a few drops of water, it gets a bit winey but not enough to make you (or me, at least) go away from it. A strong & very well made sherry bomb. It has also some creamy texture I loved a lot. Another winner of the show, worth over a 90/100 rating for sure. Around 120 € (more precise notes coming up, from my own recently acquired bottle).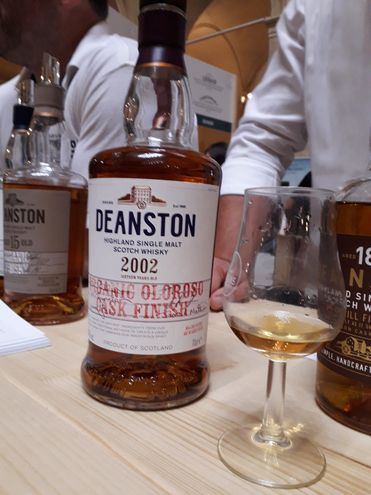 5/ MICHTER'S « STRAIGHT RYE/BARREL STRENGTH », 2019 (Batch/Lot : L19C490), 55,9 %:
De belle couleur ambrée, à reflets orangés. Nez somptueux, avec cette belle note épicée de pain de seigle, mâtinée d'une note d'érable. En bouche, elle rappelle un peu le 10 ans d'âge (un sommet), en moins fondu (c'est sans doute plus jeune), mais avec de belles notes de fleurs capiteuses et un beau boisé. Beaucoup de suavité et d'équilibre, encore plus mis en valeur avec quelques gouttes d'eau. Remarquable (94+/100). Entre 90 & 150 € (hors frais de port) en vente en ligne, mais, pour l'heure, malheureusement, impossible de trouver ce lot en particulier...Dégusté la première fois au Whisky Live Paris 2019, puis sur sample (merci à Dan).
E.N. : Nice amber color, with orange hues. Somptuous nose, with this beautiful rye bread noe, with an added maple note. On the palate, this one reminds me a bit of the 10 y.o. (a summit), but a bit less melted (probably because it is younger), but this bottling shows beautiful heady flowers notes & nice oak. Lots of smoothness & balance here, even more apparent with a few drops of water. Remarkable (94+/100). Price between 90 & 150 € on line (delivery & vat non included), but alas, I was unable to find that particular batch so far...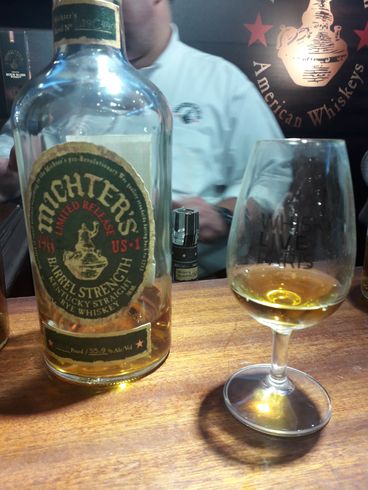 4/ WHISTLEPIG 10 ans, 2019, 100 % RYE WHISKEY (Distilled in Alberta, Canada, partly or totally-it is hard to know-matured & bottled in Vermont, USA), 50 %:
Couleur : Vieil or, à reflets dorés. Au nez : Belles notes de solvant (si, si), fibres diverses, dont du lin, de nombreuses nuances de seigle, difficiles à décrire, à la fois fruitées, épicées & florales. En bouche, belle présence du seigle, là encore avec des nuances (florales, fruitées & épicées) difficiles à décrire (rose & pivoine à coup sûr, peut être aussi de la rhubarbe), beaucoup de finesse, le tout dans un équilibre parfait. Le palais évolue avec de subtiles nuances de du bois (très noble) & de fleurs (rose), mais aussi de la vanille, du caramel au second plan, bref, un vrai délice. Belle souplesse avec un peu d'eau. Un pur chef d'oeuvre. Cependant, je n'apprécie guère le fait que ce whisky devient environ 40 € plus cher en franchissant l'Atlantique. Autour de 110 € en France, mais il en vaut malgré tout la peine. 96/100 (Note confirmée, après dégustation sur sample, en 2016, puis en salon-Salon Club-Expert Dugas 2019, puis sur bouteille).

E.N. :Golden color, with golden hues. The nose shows beautiful solvent like notes (yes, I know), diverses fiber including linen, numerous nuances of rye, hard to describe, both floral, fruity & spicy. On the palate, beautiful rye presence, with a lot of subtle nuances of the rye I can barely describe, such the balance & subtlety is huge here : Flowers (rose, peony), fruits (orchard fruit, rhubarb too maybe), spicy & with a very subtle & noble oak note. The palate evolves to notes of rosewood (noble), rose flower, but also some vanilla & caramel on the second ground. A pure treat. Gets some nice suppleness with a few drops of water. A masterpiece. However, I don't like the fact this bottling costs around 40 € more when it crosses the Atlantic sea. Still worth every penny, though. Rating : 96/100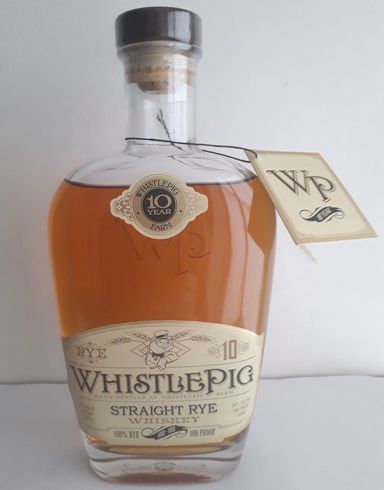 3/ JACK DANIEL'S « SINGLE BARREL/BARREL STRENGTH », Batch ? de 2018, 64,5 %:
Belle couleur acajou. Le nez est absolument dément, d'une exubérance totale, florale, fruitée, épicée, l'érable dans tous ses états en somme, avec des fruits variés (dont des fruits secs-noix nobles) et des fleurs capiteuses en un parfum exquis, intense & sans fin. Peu de notes de solvant (cela arrive dans certains Tennessee whiskeys ou Bourbons), ou en tout cas agréables. En bouche, c'est le même festival, et, malgré un titrage très élevé, c'est tout à fait buvable sans eau pour un dégustateur expérimenté, même si c'est plus facile à appréhender et à assouplir avec. La texture en bouche hésite entre le soyeux et une fluidité liquide bluffante. Le plus beau JACK DANIEL'S dégusté à ce jour. A noter, présenté comme une nouveauté, j'apprends par la suite que cette version (titrant toujours à un 64,5 % que je présume légèrement dilué) existe depuis au moins 2017...J'ai d'ailleurs eu la chance de déguster un batch plus ancien (le 17-5565, L 18…) qui s'est avéré un peu plus « dur » de profil aromatique, plus sec (avec un boisé un rien poussiéreux), mais très joli également (92/100-merci au passage à Guillaume pour la bouteille offerte, presque pleine). Ce batch du Whisky Live Paris, donc, plus récent (j'ai cru déchiffrer finalement 2018 sur le col de la bouteille, et non 2019 comme je le croyais) vaut sa note de 96/100. Prix : Autour de 90 € en France. Dégusté la première fois au Whisky Live Paris 2019 (merci au personnel de Brown-Forman pour l'échantillon que j'ai pu faire).

E.N. : Nice mahogany color for this one. The nose is absolutely insane, totally exuberant, floral, spicy, fruity, the maple coming on the front in all its nuances, with lots of fruit & heady flowers like an endless exquisite & endless intense perfume. On the palate it is all the same, a real festival of full flavors of flowers, spices & fruit. No unpleasant solventy notes, as it might happen in some Tennessee or Bourbon whiskies sometime. Despite its very high strength, this whisky is amazingly affordable without water, at least for the experimented taster. Of course a dash of water helps this one, giving it more suppleness. The texture of this whisky is hesitating between silk & a fluidity that is impressive. The most beautiful JACK DANIEL'S tasted so far, I have to say. I was surprised this was presented as a novelty in Whisky Live Paris where I first tasted it, as afterwards I discovered this expression did exist for years, at least since 2017. I had the chance to taste (thanks to Guillaume for his offer of an almost full bottle), an older batch (17-55565, L 18…) from 2017, and its profile was a bit different I have to say (dryer, a bit dusty) but still very nice (rated 92/100). This 2018 bottling but released in 2019 batch from the French show is worth a rating of 96/100. Priced arounds 90 € in France.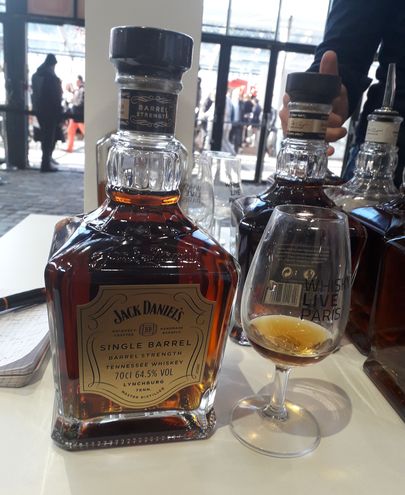 2/ BENROMACH « 2008 » CASK STRENGTH, Batch 1 (First Fill Bourbon & First Fill Sherry casks), Limited Edition (5500 bottles), 57,9 %:
Je savais en « nosant » ce whisky avant même de le déguster que ce serait un coup de coeur pour moi. Très belle combinaison déjà au nez entre tourbe & sherry (même si des fûts de Bourbon sont impliqués), avec une belle tourbe grasse, une pointe de bacon fumé, des fruits rouges au second plan, des esters, des fruits mûrs, quelques épices, au-delà d'une vague de note soufrée liée au sherry au premier nez, mais pas gênante. L'équilibre prévaut également en bouche, autour de ces mêmes notes, bien fondues entre elles...Très agréable et dégustable presque sans eau. L'eau apporte plus de profondeur et de liant, mais exalte un rien aussi les notes d'épices. Je reviendrais sur ce whisky dès l'obtention de ma bouteille, commandée il y a peu...(d'autres notes à venir, car j'ai réussi récemment à en acquérir une bouteille). Une très belle référence ! Prix : Autour de 80 €, un peu moins au Royaume-Uni. Dégusté la première fois au Whisky Live Paris 2019.
E.N. : Nice nose, and yes I knew instantly nosing this one I will love it, and so it became one of my favorite of the year, though I struggled to get me a bottle (I finally managed to order a bottle only a few days ago, so you will get more tasting notes details once I get it). On the nose, gorgeous combination between the peat & the sherry (even if some Bourbon casks are involved), with grassy peat, a hint smoky bacon, some red fruit on the second ground, some esters (those one come from the 1st fill Bourbon casks), some ripe fruit, some spices, beyond a slight but not annoying sulphury note at first nosing. On the palate, it is almost the same combo, with a nice melting of these notes, with a great balance. It is almost drinkable without water, but water will sure help to get more depth, but it will also increase a bit the spicy notes. A really beautiful expression. Other tasting notes will follow asap (from my new acquired bottle!). Price : Around 80 € in France, a bit less in the UK.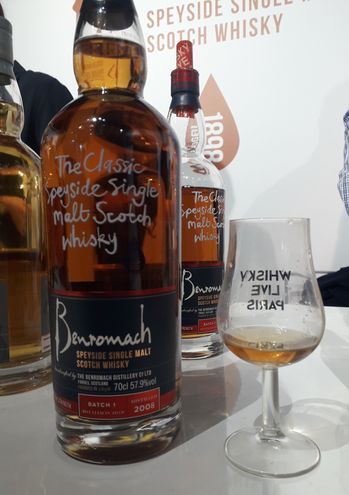 MON WHISKY FAVORI DE L'ANNEE 2019:
FAVORITE WHISKY OF THE YEAR 2019
1/ DEANSTON Officiel « 1997 » (21 yo), bottled in 2019, « PALO CORTADO FINISH » (Sherry), 51,8 %:
J'ai eu la chance de déguster cette version en marge du salon « Club Expert Dugas » 2019, lors d'une soirée de présentation à la presse de leurs nouveautés (heureusement car cette version n'était pas disponible en dégustation au salon qui a suivi…) et j'ai eu un vrai coup de coeur pour cette merveille, hélas difficile à trouver en France (et à l'heure ou j'écris épuisé ici, donc à voir en vente en ligne à l'étranger...bien plus cher, entre 230 & 270 €). Une cascade de saveurs décadentes et délicieuses, avec un nez séduisant, lacté, chocolaté & fruité, et un palais résolument pâtissier, avec une texture crémeuse, des notes de chocolat (au lait, Suisse), de café au lait (le meilleur « cafe latte » auquel vous pourriez penser), du praliné, de l'orge maltée, du chêne doux & des épices douces, et que sais-je encore. Un régal pour vos papilles si vous aimez ces notes. Une priorité sur ma liste d'achats, mais ayant trop tardé (le prix initial de 175 € est un peu élevé, mais justifiable, les prix en ligne quelque temps après, dissuasifs pour nombre d'entre nous hélas). Ceci dit, pour moi c'est un chef d'oeuvre, et atypique, vraiment spécial. Note chiffrée autour de 92-94/100. A noter : Notes de dégustation plus précises à venir (notamment pour la note chiffrée), car j'ai pu en acquérir un échantillon récemment...à suivre !

E.N. :This wonder was only available at the "Press Evening Salon Club Expert Dugas Novelties launch" and isn't easily available in the French market (sold out here at the moment I'm writing this, sorry). For me one of the TOP 5 bottles of the show this year, if not the best. An absolute blast of creamy, lazy, sexy luxuriant (milk & Swiss) chocolate & cream (almost the best "café latte" you've ever had), "praliné", malted barley, sweet oak & sweet spices & whatever again I don't know. Just a major treat for your tastebuds. A top priority on my wishlist, though prices did vary a lot, from 175 € (initial RPP price) to around 230-270 € nowadays). More tasting notes to come from a sample I recently bought on line asap (so more precise rating as well). Rating around a 92-94+/100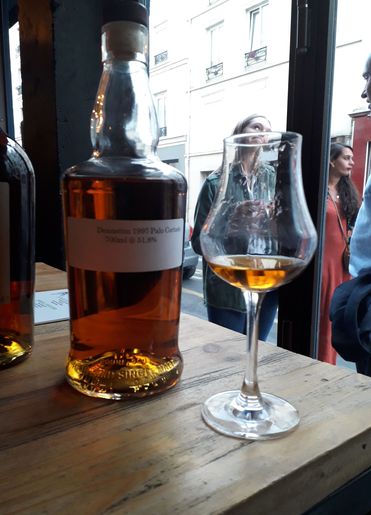 The fabulous DEANSTON "1997" (21 yo) Palo Cortado cask finish, as it was presented (no official label yet here) as an advanced sample, in a Press Novelties of Salon Club-Expert Dugas 2019 launch were I was invited (in the House Garden bar, Paris, September, 17), prior to its French market release & exclusively available to taste that night ! (not at the show).