Editorial No 31
COMMUNIQUE :
(Public Release)
Mise à jour du (update) : 18/05/2020
Vous avez sans doute constaté depuis quelques mois un ralentissement important des publications d'articles sur le site, indépendant de ma volonté, vous m'en voyez navré, mais cela va reprendre progressivement, dès que possible. Vous trouverez cependant un article récent concernant un dîner thématique d'associations culinaires ou j'ai été invité, autour des single malts de la distillerie ABERLOUR (lien ci-dessous).
Par ailleurs, étant donné l'actualité difficile, j'ai décidé durant cette période d'orienter mon travail critique & informatif davantage sur la production de vidéos ainsi que de diffusions en direct ("Live") sur ma chaîne Youtube "Greg's Whisky Guide" (voir lien plus bas), en espérant que cela convienne à mes lecteurs. J'ai reçu avant le début du confinement nombre d'échantillons que je dois désormais évaluer (sans parler des bouteilles de ma collection récemment ouvertes), en parler sur des vidéos et/ou en publier la version écrite pour ce site. J'aviserais au cas par cas. Je vous invite donc à visiter régulièrement spécialement la rubrique "EXPRESS NOTES" (notes de dégustation) de mon site et bien sûr prioritairement ma chaîne Youtube (svp, n'oublier pas de lire aussi le texte de description, car jy consacre souvent du temps et cela complète la vidéo). Merci de votre compréhension et prenez soin de vous !

ENGLISH Version: You probably note that I didn't publish a lot of articles since a while, this due to personal reasons linked to my health, and I am sorry about that but I'm resuming little by little the writing. However you will find a recent article about a dinner with food pairings I was invited to, about the ABERLOUR distillery single malts (see link below).
Besides, regarding the difficult news, I have decided during that time to focus more on producing videos & live streams than articles on my Youtube channel called « Greg's Whisky Guide » (see link below as well), hoping that this will suit my readers.
I have received before this lockdown time a lot of samples I have to assess (& opened also some bottles from my collection), but I will decide on a case-by-case basis which ones will go on my website (watch this space, and on the « EXPRESS NOTES » section especially (tasting notes) & which ones will rather be reviewed on my Youtube channel. So, please check out both. Thanks for your understanding & take care !
Lien vers le reportage sur le dîner ABERLOUR / Link to the ABERLOUR Diner report below :
Dîner ABERLOUR 06/02/2020, Le Loft du Pianiste, Paris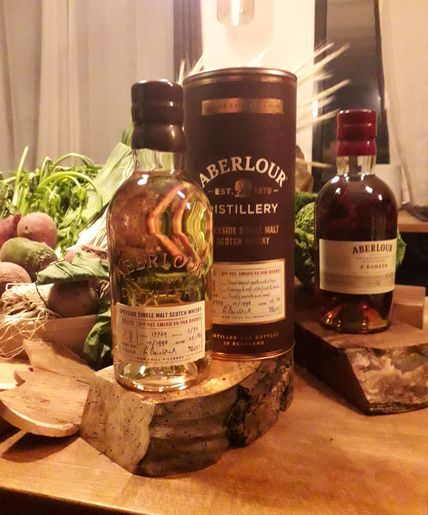 Rappel/Reminder :
GREG'S WHISKY GUIDE est également sur YOUTUBE,
voici le lien vers mes VIDEOS et Diffusions en DIRECT:
GREG'S WHISKY GUIDE is also on YOUTUBE,
here is the link to my VIDEOS & LIVE STREAMS:
Greg's Whisky Guide on Youtube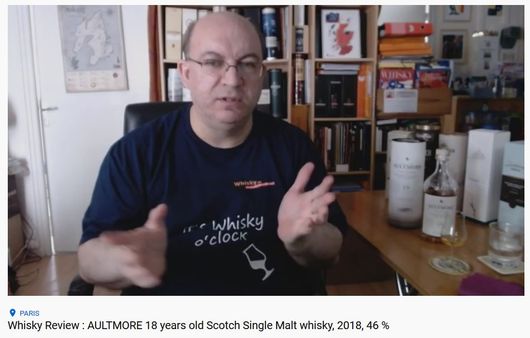 NOTE : Si vous avez apprécié une vidéo de ma chaîne, n'hésitez pas à mettre un pouce « j'aime » à la vidéo, à éventuellement laisser un commentaire (ces 2 actions aident au référencement des vidéos par youtube), ainsi que de vous abonner si pas déjà fait, et, enfin, pour vous tenir au courant des prochaines vidéos ou directs, de cliquer sur la cloche de notification située à droite de la mention « s'abonner ». Vous pouvez aussi me retrouver (et me contacter si besoin) sur ma page Twitter : "GregsWhiskyG".
NOTE (ENGLISH) : Thanks for watching & if you like the video, please click the like button & subscribe to my channel if not already done & also to click on the notification bell to stay tuned about my next videos & live streams. Reminder : My Twitter handle is « GregsWhiskyG ».
EVENEMENT/EVENT:
J'ai eu le plaisir d'être récemment invité sur la prestigieuse chaîne Youtube américaine de Mark Gillespie, écrivain, bloggeur, radio & vidéo bloggeur également WHISKY CAST, sous titrée "Cask Strength Conversation" le 8 Mai 2020 avec d'autres invités, voici l'annonce sur Twitter de cet événement, puis le lien avec un visuel & une capture d'écran avec tous les invités :
I was recently honored to be invited on prestigious Mark Gillespie's American Youtube channel "WHISKY CAST", subtitled "Cask Strength Conversation" on May, 8 of tihs year 2020, among other guests. Mark has a podcast, a blog & a Youtube channel. Here is the advertising picture on Twitter (below) the link to the live & a screen save with all the guests :
LIEN/LINK:
Greg as a guest on Mark's channel, click here/cliquez ici