CAOL ILA "1996"(2008), emb. Berry Bros & Rudd, Single-cask, 56,7 %
96/100 -NOTE CONFIRMEE / CONFIRMED RATING
Description du produit
CAOL ILA Millésimé "1996 (Bottled 2008), emb. Berry Bros & Rudd,
single-cask (Cask N°12245), 56,7 %
Catégorie : SINGLE-MALT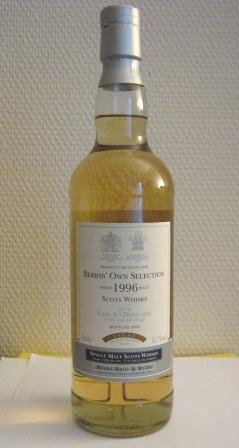 Pays & Province: Royaume Uni, Ecosse
RĂ©gion : Islay
Version : De négoce : Berry Bros & Rudd
Gamme : « Berry's Own Selection »
Age: 12 ans
Date de distillation : 1996
Date de mise en bouteille : 2008
Millésime (Vintage) : 1996
Maturation (en fûts de): Bourbon
Affinage : Non
Remplissage : Refill Bourbon (nombre de fois non précisé)
Nombre de Fûts : 1 seul (Single-Cask)
Numéro(s) de Fût(s) : 12245
Nombre de bouteilles : Non précisé
A.B.V. (% d'alcool) : 56,7 %
Filtration (type de) : Non filtré à froid
Coloration (caramel ajouté) : Non
Contenant (remarque) : Pas d'étui
Contenant (volume) : 70 cl
Fourchette de Prix: 65-75 € (prix à sa sortie)

A Noter :
Ne pas confondre avec sa version réduite, issue elle du fût N° 12243. J'ai perdu mes notes pour ce whisky là , mais pas totalement la sensation. Par ailleurs, sur l'étiquette des whiskies de cette gamme, chez cet embouteilleur, la mention historique rare, "Scots whisky", évoquant les tribus parlant autrefois ce dialecte, qui est ni gaélique, ni anglais, et était parlé dans les Lowlands, les îles Orcades et les îles Shetlands, entre autres, mais aussi en Irlande.

______________________________________________________________________________________________________________________
Résumé :
Note confirmée chiffrée : 96/100
Un grand CAOL ILA, subtil et équilibré: Puissamment aromatique, marqué par de belles notes d'agrumes, de badiane, de fumée de tourbe (délicate), herbes sauvages, épices, tourbe grasse, et au boisé très fin.
A great CAOL ILA, subtle and well balanced. With a lot of oopmh, this one displays rich grassy peated notes, wild herbs, star anise, citrus fruits, and its woody notes have a lot of refinement.
_______________________________________________________________________________________________________________________
Description :
Couleur : Or clair, assez pâle. On est bien sur Islay.
Nez : Absolument divin ! D'un équilibre qui laisse rêveur. Les notes de tourbe et de fumée sont si bien intégrées au reste (notes marines, florales, fruitées, pointe anisée) que l'on pense à un 20 ans d'âge…
Bouche : Succulente et sublime. Atmosphérique…L'équilibre est tellement parfait et l'attaque si peu agressive que l'on doute du titrage sur la bouteille (56,7 % !). Epatante aussi, la palette ce de CAOL ILA de premier ordre, tout en finesse et en majesté : Tourbe fine, fumée délicate, agrumes, notes marines discrètes et équilibrantes, de l'anis étoilé également, à peine perceptible, un soupçon de notes herbacées et épicées, etc… D'un boisé extrêmement fin, il semble que ce CAOL ILA ait été élevé dans un berceau de bois vénusien (avec beaucoup d'amour je veux dire !), plutôt qu'ici bas…La Finale est à l'avenant, exceptionnelle, longue et rassasiante, sûre d'elle et sans avoir besoin de le prouver, d'une grande classe.
Tenue à la dilution : A peine nécessaire, elle doit être bien dosée pour ne pas rompre le charme. Lorsqu'elle est bien faite, c'est le Nirvana, il devient très aérien et un crémeux très féminin et très suave apparaît alors, et que le monde périsse, on s'en moque, car le paradis est désormais dans votre verre, so just enjoy it !
Conclusion : Un grand CAOL ILA, très expressif et équilibré, qui mérite un coup de chapeau à Doug McIVOR pour cette sublime sélection une fois encore, trop fort ! Hats off, Doug…once again.