MACKMYRA « BRUKS » (The Swedish Whisky), 09/2012, 70 cl, 41,4 %
Résumé:

Note confirmée (confirmed score): 90 /100

Voir notes plus bas (see tasting notes below)
Description du produit
MACKMYRA « BRUKS » (The Swedish Whisky), Bottled 09/2012,
70 cl, 41,4 %
Catégorie: SINGLE-MALT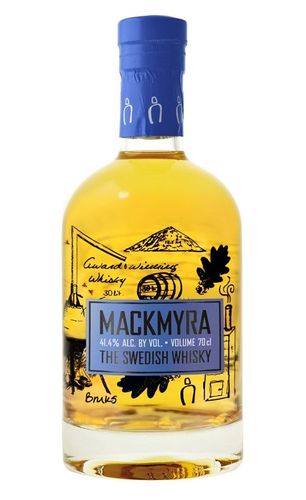 Photo: © courtesy of La M.d.W.
Pays : Suède
Région : Gästrikland, comté de Gävleborg
Version : Officielle
Gamme : Régulière
Age: Non précisé (environ 4 ans).
Date de distillation : Non précisée
Date de mise en bouteille : 09/2012
Millésime (Vintage) : Non
Maturation (en fûts de): Ex-American Oak casks and Sherry casks
Affinage : Non
Remplissage : Non précisé
Nombre de Fûts : Non précisé (nombreux)
Numéro(s) de Fût(s) : (assemblage)
Nombre de bouteilles : Non précisé
A.B.V. (% d'alcool) : 41,4 %
Filtration (type de) : Non filtré à froid
Coloration (caramel ajouté) : Non
Contenant (remarque) : Etui carton
Contenant (volume) : 70 cl
Fourchette Prix: Environ 50 €
A Noter :
Cette version est désormais la première référence permanente d'entrée de gamme pour la distillerie. Sortie en Suède en 2008, elle ne fût commercialisée à l'international qu'en 2010 et en France qu'à l'automne 2012 (la bouteille dégustée par votre serviteur est issue des premiers lots disponibles via La Maison du Whisky, et présentée officiellement notamment lors du salon « Whisky Live Paris » 2012). Cet embouteillage (de 70 cl) est un assemblage de fûts ayant contenu du Bourbon, mais aussi du Sherry. Il est, comme tous les autres, pas filtré à froid, non coloré et est mis en bouteille au degré naturel.
_____________________________________________________________________________________________________________________________________
Résumé:
Note confirmée (confirmed score): 90 /100
Cette nouvelle version permanente, assez légère, apéritive, est plutôt bien faite, équilibrée, douce et sexy (d'où le prix que je lui ai accordé en 2013) autour des esters, dont la poire (signature de la distillerie), l'ananas, mais aussi de jolies notes de crème d'amandes et de pomme verte. Elle a le mérite de se rapprocher un peu de la « FIRST EDITION », autre excellente référence permanente, pour un prix abordable. D'autres notes à venir.
This recent permanent (& unpeated) edition is probably the lightest MACKMYRA expression ever, but also the sweetest & the sexiest (that's why I gave it an Award in 2013!). It is yet expressive (with delicious estery -the pear, as always- pineapple, green apple & marzipan notes), perfectly balanced (please do not dilute it more as it is reduced at 41.4 %-though I guess it could be interesting in cocktails as well). In a way a more affordable proposal (though close to it) than another excellent permanent expression, the "FIRST EDITION". Other notes (& revised rating) will follow.
_____________________________________________________________________________________________________________________________________
Description:
Note de 2013, révisée courant 2014, complétée fin 2014 (décembre):
Couleur: Or clair.
Nez: Léger, avec des notes d'esters, et ces notes d'eau de vie de poire typiques de la distillerie. Egalement d'autres
notes (ananas, pomme verte, vanille)

Bouche: Légère, fine, sur les esters, notamment l'eau de vie de poire, l'ananas, mais aussi la pomme verte, le tout
sur un beau lit de vanille (modérée) et d'épices douces. Se termine par une belle note de crème d'amandes.
Tenue à la dilution: Bonne, mais ne pas trop diluer, car la réduction est déjà importante.
Conclusion: Une version permanente de qualité, sans doute plus jeune que les éditions disponibles en France
ces dernières années, mais qui a le mérite de se rapprocher un peu de la « FIRST EDITION », autre
excellente référence permanente, et ce pour un prix abordable. Une jolie nouveauté, à déguster plutôt en apéritif.