Editorial No 29
EDITORIAL N °29
A VENIR sur le site/COMING SOON on the website...:
-Mes impressions de Retour d'ECOSSE.../ My Feelings about my SCOTTISH Trip...
***
Bibliographie WEB (Addendum):
Spécial VIDEOBLOGS / MES 12 « VLOGS » FAVORIS DE WHISKY de l'Année 2018 :

(en fait il y en a 15, et en langue anglaise seulement **)
TOP 12 - WHISKY VLOGGERS OF THE YEAR 2018:
(in fact they are 15)
A NOTER : Pour les sites plus classiques sur internet (blogs & sites internet-mise Ă  jour en cours...merci de votre patience), voir ici:
http://www.gregswhiskyguide.com/liens/sur-la-toile-web-links.html
NOTE : For more classical websites & blogs (the update isn't made yet, please be patient), please see the topic linked above.
Mise Ă  jour du /Update : 08/10/2018
** Pourquoi en anglais seulement ? J'en suis navré, mais pour le moment, je considère qu'aucun vlog en français n'est satisfaisant en l'état, de mon point de vue. C'est dommage, j'en conviens, mais c'est aussi clairement un défi à relever...à bon entendeur ! / No French Vlog satisfying, so I didn't select any, sorry.
Voici donc mes 12 sites favoris de type"vidéo blog" pour l'année 2018 (j'en ai ajouté 5 depuis l'an dernier, car mon intérêt pour le genre s'est accru, et j'ai découvert plusieurs autres chaînes intéressantes) plus 3 conseillés , soit en fait 15 sites, chacun dans son style, ils vous apprendront beaucoup de choses, vous divertiront aussi parfois, et vous seront vite quasiment indispensables pour vous renseigner sur tel ou tel whisky, marque, style de whisky, mais aussi sur les problématiques (déontologiques, techniques, révolutionnaires, etc...du moment). Mes félicitations aux 15 sélectionnés, mais mon coup de chapeau avant tout au premier, la chaîne youtube deJason Vaswani (Jason Whisky Wise), déjà nommée site de vidéo blog de l'année 2017, et à suivre pour l'année 2019 sans aucun doute!
J'ai ajouté cette année une indication de style pour chaque vlog, avant la présentation du vlog, qu'il ne faut pas la prendre trop au sérieux, car il s'agit souvent d'une indication de tonalité générale des vidéos, avec parfois des jeux de mots...J'ai également révisé certains commentaires concernant les vlogs déjà nommés l'an dernier, notamment afin de mieux coller à leur actualité.
A Noter : Il s'agit ici uniquement de vidéos postées sur YOUTUBE.
English Summary : Last year I did choose 7 Vlogs (video blogs, for those who don't know this style of reviewing whiskies or topics about whiskies, mainly on Youtube channels). This year, having more time to watch them and getting also more interested by them than before, I have added 5 others which seem to me interesting to mention & to advise to the audience, plus 3 that I'm not fully used to yet or didn't watch enough, but interesting to mention & to advise to my readers. So yes there are now 15 videos blogs recommended here, 12 ahead of the others, and one of them awarded, the same as last year, so congrats to him, Jason Vaswani, from Jason Whisky Wise (to be followed for year 2019!).
NOTE: This time I have added a style indication before the vlog description, please do not take it too seriously, it's more to give an idea to people who don't know you than a judgement. Besides, it may include some silly (or not) jokes... I did also revise some of the comments about previously awarded vlogs, in order to be more in phase with their news.

JASON WHISKY WISE (Royaume-Uni : Angleterre):
Style : « Dynamique » :
Jason Vaswani est un bloggeur anglais basé à Londres (il a aussi son propre club de whisky) qui a démontré la pertinence de son travail notamment en vidéo en utilisant toutes les ressources possibles ou presque (notamment de très utiles inserts de cartes géographiques, photos de bouteilles, diverses références utiles, etc...), avec dynamisme, grande concision (d'autres vlogs sont bons, mais leurs sujet souvent trop longs, ou mal filmés, etc...) et avec un format souvent inférieur ou égal à 10 mn, l'idéal pour faire le tour d'une bouteille ou sujet au moins pour l'essentiel. Comme les autres vlogs, c'est subjectif, mais très pertinent, et il y a toujours quelque chose à retirer de ses vidéos, une information, des comparaisons pertinentes, etc...Il se distingue aussi par le nombre de videos éditées, et les intéressantes verticales qu'il couvre. C'est pourquoi je le nomme à nouveau "Vlogger of the Year" (2018), en plus de l'année 2017: Voici (ci-dessus) sa chaîne sur youtube ou il poste l'essentiel de ses vidéos...
Jason a Ă©galement un site internet ou il compile notamment ses notes Ă©crites : https://whiskywiseblog.wordpress.com/tag/jason-whisky-wise/
English Summary : Jason Vaswani is an English vlogger based in London (who also has his own whisky club) who proved in my opinion the relevance of of his work, using for instance pictures, maps, bottles reproductions, distillery views insertions to dynamise his talking about whiskies, which is very useful to give a context to his reviews, a thing that not many others do. Also I think the efficiency of his style is that he barely goes beyond 10 minutes, which prevent often the video to be difficult to follow for many people who are not all necessarily whisky anoraks, and he is very concise in his tasting description & presentation, to give us the essential things we want to know. Also the number of reviews he posts is huge, plus the fact he does often interesting vertical tastings. As for other vlogs, this is of course subjective, but for me again very relevant, with always something interesting to learn from his videos, wether it is informations, argumented opinions, prices comparisons, etc...That is why I wanted to nominate him once again « Vlogger of the Year « for 2018. Please see the link above. Also recommended, his website (link above as well).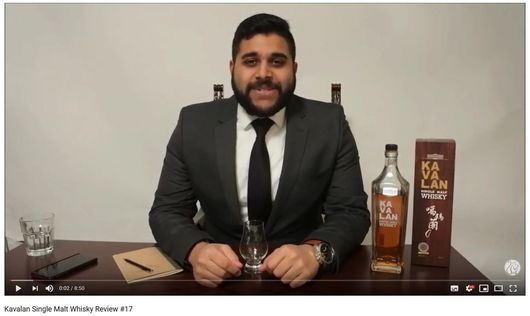 LES 6 AUTRES VLOGGERS DEJA PRIMES EN 2017 ET A NOUVEAU PRIMES CETTE ANNEE:
(sans ordre particulier)
THE SIX OTHER VLOGGERS NOMINATED IN 2017 & NOMINATED AGAIN THIS YEAR :
(in no particular order)
WHISKY.COM (Allemagne):
https://www.youtube.com/channel/UCnCE0-pPZuit8aud1l9rhkA

Style : « Didactique » :
Chez la famille Luening, au delà du commerce (elle dirige depuis l'Allemagne une boutique de vente en ligne de whisky), la passion du whisky s'est transmise de père en fils. Le père, Horst, publie depuis un moment déjà des vidéos de dégustation, tantôt en anglais, tantôt en allemand. Le fils, Benedikt, l'a rejoint depuis peu et, chacun avec son style, voire parfois ensemble sur la même vidéo, font des dégustations, des visites de distillerie, des palmarès annuels, avec franchise et parfois une certaine ironie par rapport au marketing. Souvent intéressant. Le défaut ? Outre le parti pris parfois affiché (anti-tourbe marquée) de Horst, les visites de distillerie de Benedikt sont parfois encore un peu trop froides à mon goût, avec notamment l'absence de tout personnel de ces distilleries (le plus souvent), pour donner un peu d'humanité à l'ensemble. Malgré cela, c'est un sacré survol d'une partie non négligeable de la production actuelle.
English Summary : In the Luening family, beyond the trade (they run a big online retailer whisky shop), the whisky passion is pretty much a family story : The father, Horst, who started it all, publishes for quite some time tasting videos on youtube, in German language, but also in English. He has been recently rejoined by his son Benedikt, and each one has his style, plus they are sometimes together to assess whiskies or to evoke different subject matter or answer to FAQ. They visit distilleries and report about their favorite whiskies of the year, withan outspokenness & a bit of irony that can be surprising, but prevent them to just follow the marketing assessments. It is often interesting, even if in my opinion it's brought out that Horst hates heavily peated whiskies (so his reviews about these whiskies may be less relevant), and Ben's visits to distilleries may sometimes be too cold, as he often visits them alone (with no distillery staff), but despite these critics, this vlog is impressive by the fact it gives a huge overview of (mainly) the current official bottlings production.
RALFYDOTCOM (Ile de MAN):
https://www.youtube.com/channel/UCp0k3OKqfkPW0HdRLA8JWZg
Style : « Malice au pays du Whisky » :
Le « vlog » comme il aime bien le dire, de l'écossais Ralfy Mitchell (basé sur l'île de Man),ludique et utile, remarquable par ses plus de 500 notes de dégustation de whiskies, mais aussi parfois d'autres spiritueux, et par les conseils et points de vue qui sont exprimés depuis quelques années désormais en plus de la note de dégustation, et parfois en visite en Ecosse ou ailleurs, ce durant 15 à plus de 20 minutes (Ralfy a aussi un site internet dont vous verrez le lien sur sa chaîne youtube. Plutôt recommandé...Le défaut? Avec le temps, pour les connaisseurs en tout cas, une certaine lassitude nous prend devant des répétitions, des longueurs et gimmicks attendus, mais souvent c'est aussi parce qu'il s'adresse à un large public à qui il faut rappeler les fondamentaux du whisky. Mais on l'aime, le Ralfy, avec ses "there we go, now you know..", ses clins d'oeil, mais aussi, plus sérieusement, pour ses parti-pris et soutiens sans compromission aux professionnels du whisky qui privilégienrt la qualité & la transparence par dessus tout....
English Summary : Based on the Isle of Man, Scottish whisky vlogger Ralfy Mitchell runs a remarkable blog (aside of his website, also recommended), with more than 500 tasting notes on whiskies, but not only (he reviews from time to time other spirits), videos in which he also explains how whisky is made, produced, sold, or will speak about several full topics about whisky. It last often 15 to more than 20 minutes, often starting by a whisky review, and then opinions and/or facts about topics that may be related to this whisky or not. For connoisseurs, though, as Ralfy wants his channel to be as democratic & educational as possible, one may get sometimes bored by some repetitions, gimmicks or too general opinions expressed. But we love « our Ralfy », with his leitmotives like « there we go, now we know ... », his winks about this or that, and also, more seriously, for his constant & uncompromised support to whisky producers who choose quality & transparency over anything else...
THE GOOD DRAM SHOW (Royaume-Uni : Angleterre):
https://www.youtube.com/channel/UC273sF8hCpQXuFo3YN9RUiw
Style : « British Steel » :
La chaîne youtube de Chris Goodrum, un anglais passionné de whisky, et consultant/sélectionneur de whisky pour la boutique & boutique en ligne The Gauntleys à Nothingham qu'il dirige (il est aussi passionné de musique, de Hard-Rock en particulier, genre que j'apprécie également, et il diffuse cette musique en introduction de ses vidéos, et...son look aussi, qui va avec, pour le moins atypique dans le milieu du whisky). Il est aussi juge dans différentes compétitions liées au whisky (notamment le World Whisky Awards), mais aussi collaborateur de Whisky Magazine (UK). Son analyse critique courtoise mais sans concessions de whiskies par thèmes (distilleries, négociants, styles ou types de whiskies) est détaillée, passionnante (certes un peu longue pour les néophytes) et l'on oublie souvent qu'il exerce aussi un métier commercial, c'est donc pour moi le signe d'un vrai passionné.
English Summary : Chris Goodrum is an English whisky consultant & professional selecting whiskies for his shop & an online shop called The Gauntleys in Nothingham. But he is also a whisky expert who collaborates with Whisky Magazine UK, a judge for several international whisky related competitions such as World Whisky Awards...He is also a music fan & Hard-Rock fan in particular, a genre which I like a lot, and he always begins his whisky reviews by an extract of some music of that genre, and bear a band's T shirt as well, long hair, etc.… An unusual look that is a breath of fresh air in the often a tad too strict whisky circle. But, aside from his look, more seriously, his whisky analysis abilities (in a polite but uncompromising style), using often verticals, horizontals & general topics to explain important themes aside of his tastings, makes it a whole experience (ok, a bit long for some, but rewarding) which makes you forget he works in trade, a thing that proves for me he is a genuine passionate man.
LIQUOR HOUND (Etats-Unis):
https://www.youtube.com/channel/UC8PCi4DwwI5stiYK3YcPm_g
Style : « American ! » :
La chaîne youtube d'un grand collectionneur américain basé au Texas(plus de 2000 bouteilles, dont plus de 300 différents Bourbons), Chris Trevino (à l'origine plutôt passionné de Tequila), qui aime commenter durant 10 à 15 minutes (en général) les whiskies de sa collection, mais aussi d'autres, et travailler par thèmes et comparaisons horizontales ou verticales souvent très pertinentes. Sobre et concentré sur son analyse, il va à l'essentiel pour parler de sa passion avec une capacité très intéressante à comparer les whiskies (il connaît l'art de la distillation). Une chaîne majeure pour mieux connaître les whiskies d'Amérique du Nord, et des Etats-Unis en particulier, y compris du point de vue historique.
English Summary : Chris Trevino is an American whisky collector (but also other spirits collector, with more than 2000 bottles, including more than 300 different Bourbons), who started by Tequila, and then got interested by whisky, that he likes to comment during 10 to 15 minutes videos (in general), mainly whiskies from his collection, but not only. He works by themes, horizontals & verticals, and his analysises are often very relevant. Very concise and focused on the tasting, Chris gets to the crux of the matter to talk about his passion and he great abilities to compare whiskies (by the way, he studied the art of distillation). A major channel to know better the Nord American whiskies, and the U.S. Whiskies in particular, but also on a historical point of view.
**
Bons compromis entre un site informatif à vocation encyclopédique et un site publicitaire de marques (certaines marques internationales sponsorisant le site de Mark Gillespie, tandis que dans le deuxième cas, il apparaît que les principaux groupes producteurs de whisky écossais sont partenaires ou commanditaires de certains sujets), avec une approche résolument différente et moins critique, ce ne sont pas des vidéo-blogs à proprement parler, mais deux autres sites de grande qualité que je recommande:
English Summary : Here are 2 websites about whisky that are, in my opinion, a good compromise between an encyclopedic channel (very educational) and an advertisement channel (some international brands for instance sponsor the second one, while it is clear that the Scottish whisky industry is linked to the first), so that their approach is different from the previous ones (less into whisky reviewing), these are not exactly videoblogs in the sense of the others, but I do recommend them, as the quality is really high :
SINGLE MALT TV (Grande-Bretagne) :
https://www.youtube.com/channel/UC5ZzrkyDmz207YwJFNyS1Ng
Une télé du whisky avec de beaux reportages sur différents pays et styles de whisky, mais aussi des analyses en profondeur de thématiques spécifiques au whisky. Charles MacLean, le célèbre historien, écrivain du whisky (et consultant pour les distilleries) y intervient régulièrement, notamment lors de visites aux distilleries en images...De quoi s'instruire et se divertir. Plutôt recommandé!
English Summary : It is more a television on internet than a vlog for me, but it has beautiful reports about whisky countries, whisky styles, as well as more in depth various whisky topics analysis. The famous whisky writer & historian of whisky Charles MacLean (also a consultant for many distilleries), is often there to interview distillery people or explain whisky, brands and specific to whisky topics, with beautiful images & reports.
WHISKY CAST (Etats-Unis) :
Au départ une radio sur internet, la chaîne a évolué avec aussi des visuels, des vidéos, des photos & des notes de dégustation. Ce site créé en 2005 par Mark Gillespie, un journaliste américain, réalise des articles de fond et interviews de personnalités du whisky. Il peut se targuer d'avoir plus de 40000 auditeurs pur son Podcast, et ce dans 150 pays...
English Summary : At the beginning more a whisky related Podcast (radio on internet) than a whisky vlog, it has evolves to a wider channel since it beginning in 2005, with American whisky journalist Mark Gillespie on charge, including in depth articles, reports (including distillery visits) & interviews of people from the whisky industry. Mark can be proud of his channel which has more than 40000 listeners for his Podcast and this in 150 countries...
**
ET LES NOUVEAUX VIDEO BLOGGERS CHOISIS CETTE ANNEE (par ordre alphabétique):
AND THE NEW VLOGGERS CHOSEN THIS YEAR (in alphabetical order) :
-AQVAVITAE (Royaume-Uni :Ecosse):
https://www.youtube.com/channel/UCYTM0afACsqCQxvSvf3VqRg
Style : « The Link» :
La chaîne youtube d'un écossais passionné de whisky, Roy, basé à Glasgow, qui fait honneur à son pays, en réunissant souvent sur ses vidéos différents vloggeurs ou professionnels du whisky pour en parler (autour de la notion de partage), en faisant aussi des reportages sur des événements ou voyages. Roy a mis les rendez vous en direct (« live stream ») au coeur de son œuvre (même s'il fait aussi de brèves & originales notes de dégustation compilées sous le vocable : « recycled reviews »). Pour moi Roy, c'est un peu le trait d'union entre tous les vloggeurs de whisky, et les amateurs de whisky ? Par ailleurs, ses quiz sur le whisky sont redoutables !
English Summary : Roy is a Scottish whisky passionate based in Glasgow who makes his country proud, as he has the ability to unite in his channel different whisky vloggers and whisky lovers from around the world to spread the word (he even calls it « whisky evangelism ») about whisky and the essential sharing of it. Roy does many interesting livestreams, but also do reports about whisky journeys, meetings in whisky events, and very short whiskies reviews called « Recycled Reviews », with an original approach. For me, Roy is « the link » between all whisky bloggers and beyond that, whisky lovers. Besides, his quizzes in his livestreams are impressive !
-MALTMAN MIKE & FRIEND'S SHOW (Royaume-Uni : Angleterre):
https://www.youtube.com/channel/UCo5VYYtoBtFCm3FhlpalCAA
Style : « Unchill filtered & as from Home» :
La chaîne youtube d'un passionné du whisky, Mike, qui, comme un peu comme Chris Goodrum, est aussi associé à la vente de whisky, au sein de la société House of Malt, en Angleterre, mais n'a pas cédé pour autant son libre arbitre, ce qui est louable, quitte à avoir des avis très tranchés, sans filtre ni compromissions. Dégustation de whiskies, sujets généraux, dans une ambiance bon enfant « comme à la maison », voire même « comme au pub », on ne s'ennuie jamais, même si on ne comprends pas toujours tout : Signalons d'ailleurs, dans « l'équipe Maltman Mike », également d'autres intervenants, plus ou moins concentrés sur leur ouvrage (je me comprends, lol !) et très divers (Brian Malt Musings, Gentleman Grim, Mr T, The Whisky Viking), mais souvent attachants. Une belle bande de joyeux drilles, là aussi. Dernière chose, Mike & Mr T ont récemment subi de dures et injustes attaques anonymes sur l'une de ses vidéos que je considère comme l'une des meilleures, à savoir une revue de presse sans concessions des publicités vidéos sur le whisky, très décapante et salutaire. Alors, soutenons-le de plus belle !
English Summary : This is an original channel held by Mike, who also (a bit like Chris Goodrum) works in a whisky shop (House of Malt) in Cumbria. But, as Chris, Mike has not given up his free will, and often speaks « unchill filtered » about whiskies he likes and do not like, even if he can sometimes be extreme in his critics, but important to mention, with no bias at all. Mike & his fellows will discuss of a new whisky, of a whisky topic, occasionnally go live while cooking, and in fact he makes you feel « as from home » to « as from your local pub » ! One never get bored with his videos, even if I do not understand always everything that is said. Well, I have to say that there are other people taking part on this channel (Brian « Malt Musings », « Gentleman Grim », « Mr T », « The Whisky Viking ») who would review whiskies along with him or without, and, some are be really focused on what they are analysing, while others may sometimes not...(it's just a wink to some memorable moments, folks, don't get upset !). They are all different & all in all endearing people. A beautiful strip of revelers, I have to say ! A last thing about this channel I wanted to say: Recently Mike & Mr T have been severely slandered anonymously for one of their videos which I consider among the most interesting ones, a video press review about whisky advertisings, analysing them all with no double speak (as we love in Greg's Whisky Guide!), a hilarious but also educational, salutary video. So let's support him & his team even more after that !
Parmi les intervenants sur ce site, plusieurs tiennent des blogs que je vous recommande également (ne pas se fier à leur humour, ce sont aussi des dégustateurs expérimentés!):
Most of the people taking part of the vlog above also run blogs I recommend to you as well (ok they like to do jokes, but they are also trained whisky tasters!):
MALT MUSINGS (Brian) : http://malt-musings.blogspot.com/
GENTLEMAN GRIMM (Thomas): https://gentlemangrimm.com/
THE WHISKY VIKING (Daniel): http://thewhiskyviking.blogspot.com/
-TRENNY AND C (Canada):
https://www.youtube.com/channel/UCde0QQ7qq-2DbhL0ZwRi8eA
Style : « Whisky & Fun » :
La chaîne youtube de deux joyeux lurons de Colombie Britannique, surnommés "Trenny and C", qui m'intéressent car ils ont trouvé un joli compromis original entre critique sérieuse de whisky (notamment nord-américain) et humour & jeux potaches (leur « Drinko Plinko » est unique & hilarant, même si à mon avis c'est le plus mauvais moyen d'arriver à créer « le cocktail idéal » qu'ils recherchent !) à gogo. J'aime leur état d'esprit, leur amitié visible, et j'ai grand plaisir à les suivre.
English Summary : Run by 2 rather cool people from British Colombia (yes, West coast), this channel is unlike many others in terms of presentation & self challenges. I think these guys have found an original compromise between serious whisky reviewing (mainly of Northern American whisky) & humour and schoolkid games (their « Drinko Plinko » is hilarious & unique, even if in my opinion it's probably the worst way to create the « ideal cocktail » they are looking for, lol!). I love their state of mind, their visible friendship and it's a great pleasure to follow them.
-WHISKY IN THE 6 (Canada):
https://www.youtube.com/channel/UCRbdcQkwdDrXgZxmkb9lLhw
Style : « The Whisky Exchanger » :
La chaîne youtube de Rob, un canadien de la côte Est (Toronto plus exactement), un véritable passionné du whisky nord-américain, mais pas seulement, car c'est un vrai communiquant. En quelques minutes, avec un esprit ouvert, Rob décortique avec application des nouveautés et donne des tuyaux sur l'accessibilité des whiskies, quand il n'invite pas d'autres bloggeurs à dialoguer avec lui sur divers sujets liés au whisky (son interaction avec ses les réseaux sociaux notamment est remarquable, et c'est probablement avec Roy du vlog AQVAVITAE le plus en pointe sur le dialogue avec son public). Un vloggeur attachant et, contrairement à d'autres, réellement intéressé par les réactions des spectateurs de sa chaîne, pas seulement pour obtenir des contributions. Chapeau à lui pour cela !
English Summary : It was hard to find an expression to summerize Roy's channel, I have to say, as he covers several ways to speak about whisky & approaches of « social-media-invading-youtube » (as others in my selection, by the way, Roy from AQVAVITAE vlog, could be along with Rob maybe the most representative vloggers of this social oriented trend). Rob is a Canadian guy passionate about whisky from the East Coast, and Toronto at the moment. Unlike others, he seems as interested by Scotch whiskies as by North American whiskies, and he reviews these whiskies always with an open mind, giving tips about how to find whiskies, the price tag, but also invites other vloggers and people to dialog around varied topics about whisky. A quite endearing vlogger also because, unlike others, he is really interested by the interactivity of his channel during the livestreams he does, and this not only in order to win more subscribers or patrons. Kudos to him for that !
-WHISKY WHISTLE (Canada):
https://www.youtube.com/channel/UCopCLQzG_SWU9aQSyduyiGw
Style : « Whisky & A Smile» :
La chaîne youtube de Mark, qui depuis Winnipeg, dans l'état du Manitoba (après avoir vécu longtemps en Corée du Sud, ce qui peut être intéressant quand à son approche aromatique, enrichissant probablement sa propre « banque d'arômes » plus que le bloggeur qui ne voyage pas aussi loin), publie ses chroniques avec malice et bonne humeur. Mark donne des informations, des opinions, des notes de dégustation, toujours dans un bon esprit de convivialité.
English Summary : Mark has been long time living in Korea, but is now back in Canada, in Winnipeg, Manitoba (in the center of the country). I guess that it may influence his tastings as he has a palate trained to Eastern food probably more than the average whisky blogger who may not travel so far, but who knows. His channel is about whisky reviews, but also general of particular whisky topics and I like the fact it is always made in a good mood, with a smile, even if it is to put some mischief in it. You will find there informations, opinions, tasting notes in a good conviviality spirit.
**
QUELQUES AUTRES VLOGS CONSEILLES QUI POURRAIENT VOUS INTERESSER :
A FEW OTHER RECOMMENDED VLOGS THAT COULD INTEREST YOU :
ERIK WAIT (Etats-Unis):
https://www.youtube.com/channel/UCj50S0foLel2STOgQh2vi3g
Style : « Dr Whisky & Mister Hi » :
Spécialiste américain en vins, ce bloggeur atypique qui nous vient de Californie est en train d'évoluer rapidement pour casser un peu son image de sympathique mais trop sérieux professeur avec des vidéos intéressantes mais assez longues vers quelque chose de plus fun et plus carré pour parler du whisky. Je ne doute pas qu'il va vite intégrer ce TOP 12 à force de persévérance et de sujets ciblés sur les questions fréquentes du public...Le nouveau format court est d'ores et déjà une réussite !
English Summary : A trained specialist about wine, and more recently about whisky, this American coming from California has been until a few videos mainly a kind of quite serious teacher with an educational approach of whisky, long videos & also a whisky voyager interesting to follow. Recently, Erik decided to break this image of a serious guy to focus more on doing entertaining videos about whisky in shorter size, for more efficiency but also fun (probably not to fall in a certain routine). I have no doubt he will soon enter the « TOP 12 » as he will for sure persevere on this new approach and also answer to the people's questions even more… For me this new short video size is already a success !
MALTED IN MONTREAL (Canada) :
https://www.youtube.com/channel/UCwDslrS2AWslWqeIVastYCg
Style : « Unchill filtered & Black Aled » :
Avec une approche atypique également, mais plus décontractée encore (certains diraient trop?), Swami, basé à Montréal, et dont j'ai découvert les vidéos plus récemment, vous propose des chroniques sur des sujets divers (incluant la bière et les cocktails) et des notes de dégustation souvent passionnées (dont la mémorable critique du HAZELBURN 13 ans Oloroso sherry), mais traite parfois aussi de sujets plus sensibles, sur lesquelles il apostrophe parfois public & autres bloggeurs sans filtre aucun, et pour lesquels j'ai du mal à le suivre. Mais la plupart du temps, c'est sa passion du whisky et du dialogue qui ressort.
English Summary : I discovered only recently this channel. Swami has also another original approach. He is from Montreal, and makes whisky reviews but also other topics related to it or to other spirits but also mentions his beer or cocktail interests, with reviews that can be very passionate, « unchill filtered » and mouthwatering (just check out his memorable review of the HAZELBURN 13 yo Oloroso), but sometimes also speaks about more sensitive topics, on which he can call out to other vloggers or people, and there are times I'm not necessarily in the mood to follow him on that. But for the most videos, it is his passion for whisky & for dialog which stands out.
SCOTCH TEST DUMMIES (Etats-Unis) :
https://www.youtube.com/channel/UCL9FwyDiy_LCIRVLWP9fngg
Style : « Unchill filtered & Fully naturally colored » :
Scott & Bart sont de joyeux lurons (basés à Wichita, au Kansas), cela ne fait aucun doute, et j'ai plaisir à les écouter régulièrement, mais j'avoue avoir parfois du mal à les comprendre, entre argot et chevauchements de dialogues, leur discours n'est parfois pas audible pour le français que je suis, ce qui dessert leur travail de critique...A noter cependant, cette année pour moi une de leurs meilleures émissions, en direct de la distillerie TOMATIN, passionnante...
English Summary : Scott & Bart are happy fellows and probably great people to hang out with, that's for sure, and it's my pleasure to hear & see them on their channel, but sometimes I have to confess I struggle to understand what they say, between some local slang & maybe the fact they are 2, and me French (yep, apologies, guys, not to be French but not to be able to get everything !), which is a pity because it veils the background, the tasting itself. However, I have to say that one of the best broadcasts/videos about whisky this year has been the livestream from TOMATIN distillery, absolutely captivating...