Cocktail Spirits 2018
NOTA : Vous retrouverez mon reportage sur le Whisky Live Paris 2017 après le reportage ci-dessous :
My report about Whisky Live Paris 2017 follows this one, please scroll to read it below :
COCKTAIL SPIRITS Show, 3 & 4 Juin 2018 :
Sujet publié le : 03/07/2018-Mise à Jour du : 19/05/2019

First published : 03/07/2018-Update : 19/05/2019
Toutes photos © Grégoire Sarafian /Droits réservés sauf si précisé
All pics: © Grégoire Sarafian/Copyrighted, except some that are specified
La nouvelle édition du salon COCKTAIL SPIRITS se tenait cette année pour la première fois au Palais de Tokyo. La 11 ème édition du salon voulant faire le trait d'union avec l'art contemporain. Les conférences ont toujours lieu dans l'enceinte du Bar Rouge, conférences sur lesquelles j'ai à nouveau du faire l'impasse afin de mieux couvrir les nouveautés whiskies et quelques nouveautés spiritueux (mais aussi faire honneur à quelques-uns des bartenders présents dans ce salon en dégustant quelques cocktails), même si j'étais désolé d'avoir manqué celle de l'écrivain du whisky Dave Broom, sur « The Joy of Imperfection ». Comme à l'accoutumée, le Bar des Innovations, désormais dirigé par Thierry (un grand coup de chapeau à Alexandre, qui quitte l'aventure…) s'avère indispensable pour tester les nouveautés et/ou ce qui a été déjà primé cette année.
Pour des raisons de facilité de lecture, j'ai fusionné mes notes de dégustation en un seul corpus, sans distinguer ce qui était au « Bar des Innovations » de ce qui était proposé sur les stands du « Brand's Corner » attenant… Par ailleurs j'ai fait l'impasse sur la « Bakerey » (joli stand associant les créations de l'artisan boulanger Gontrand Cherrier à des whiskies), car ayant été récemment invité à une soirée dégustation organisée par BROWN-FORMAN autour du seigle et des whiskies de cette société (JACK DANIEL'S « Rye » et « Single Barrel Rye », ainsi que WOODFORD RESERVE « Rye »), l'expérience proposée dans ce salon était identique et j'avais entre temps publié mes notes de dégustation dans ma rubrique « EXPRESS NOTES N°5 » : Lien
Petite précision déontologique : J'ai préféré, puisque je l'ai promis (même si je le regrette un peu au vu de la teneur de la discussion sur le stand) ne pas mentionner ici une société ou distillerie dont j'ai trouvé les whiskies particulièrement « problématiques », mais sachez que cela existe aussi, parfois, des offres à mon avis franchement pas à la hauteur, comme probablement dans d'autres salons.
Par ailleurs vous y trouverez aussi quelques notes succintes sur d'autres spiritueux que le whisky (essentiellement du cognac, un peu de gin et de rhum, ainsi que plusieurs spiritueux parfois à vocation d'être des whiskies-autrement dit, des « new make »).
Le sujet sera complété au fur et à mesure par des notes de dégustation essentiellement issues de la dégustation de samples, dès que cela sera possible.
Merci encore aux professionnels qui ont contribué à fournir, le cas échéant, des échantillons (parfois ils peuvent provenir également de mes propres acquisitions). Merci donc de consulter cette page régulièrement. Cependant le sujet contient des notes provisoires sur chacun.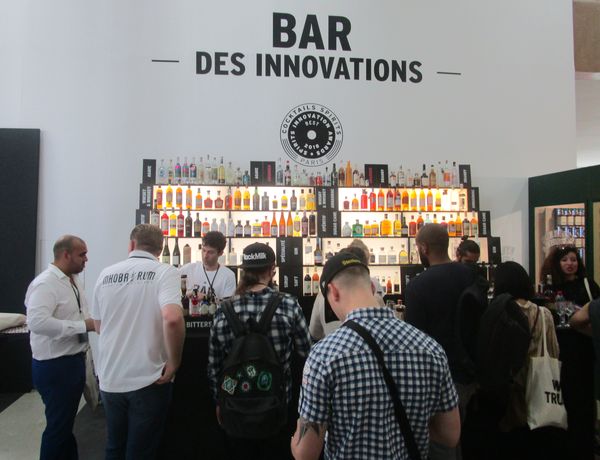 ENGLISH SUMMARY (Presentation) :
This COCKTAIL SPIRITS new Edition of the French show held this time in Palais de Tokyo, Paris. I didn't go to varied conferences proposed in the Bar Rouge area (though I would have liked listen to the Dave Broom's one called "The Joy of Imperfection"), but rather straight to the "Innovations Bar" (fully held this year by Thierry instead of Alexandre who left-Good luck to him) and then to the "Brand's Corner", a vital place to try new bottlings (& trends) in whisky & other spirits coming out, and recent ones awarded as well.
For practical reasons, I have decided to melt my tasting notes in a unique body of notes, without distinguishing every time what was presented in the Innovation Bar from what was in the Brand Corner. I also mentioned only briefly the Bakerey" stand presenting 3 Brown-Forman bottlings (2 JACK DANIEL'S & 1 WOODFORD RESERVE) matured and/or finished in Rye casks along with some breads made with different levels of rye grain, because because I have already reviewed the bottles in another section of the website ("Express Notes No 5").
Nota (on an ethical point of view): As I have promised it to the marketing team of 2 brands of the same provenance (and even if I regret it now a bit), I chose not to mention a distillery or indie bottler whose whiskies were too much dealing with a quality issue problem. But one has to know here that these kind of bottlings do exist, as probably in other shows too...
Besides, you will also find a few short notes about other spirits than whisky (mainly Cognac, but also some Gin & Rum), or else (for instance whisky new makes) and of course some cocktails. The topic will be completed on a regular basis when I will be able to save time to taste some samples I brought back from the show.
Thanks again to professional staff of many stands for their welcome & for letting me get a sample sometimes (even if sometimes it will be samples from my own collection). Please check the updates.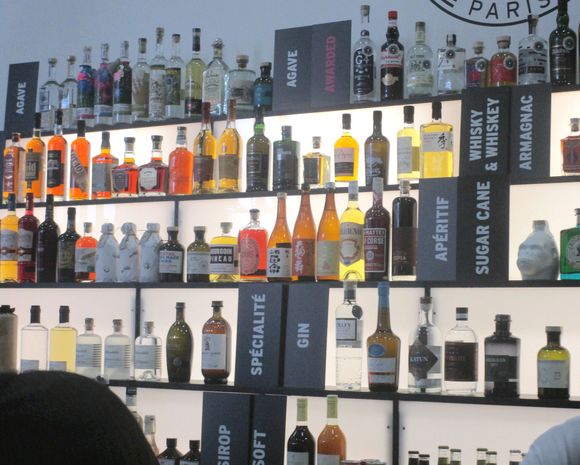 NOTES DE DEGUSTATION/TASTING NOTES :
-ARDBEG officiel « Groove » (fûts de vin rouge fortement brûlés & autres types de fûts non précisés), Edition limitée 2018, 46%: Joli nez au début, puis vite l'alcool, le boisé et le côté fumé s'imposent. En bouche je m'attendais à pire, mais c'est pas mal, relativement équilibré, mais tendu sur des options marquées (boisé & fumé importants), certes avec une vinosité malgré tout contrôlée (contrairement à ce que la couleur, un rien orangée, le laissait entendre). Encore un flacon sans compte d'âge, réduit et à plus de 100 € pour la marque….Note chiffrée (sous réserve): Au jugé, je le noterais 84 ?/100 (estimation)
ENGLISH SUMMARY: This new limited ARDBEG edition is a mix of heavily charred wine casks & other unspecified types of casks. TN: I liked the nose in the beginning, but quickly the alcohol, the wood & some smoky notes are overpowering any other kinds of notes. I was expecting an even worst palate, as it manages to maintain a certain balance, but it's not so bad. Don't trust that kind of orangey color, it's not so winey as some could expect, it under control. No, the down side comes from the wood & the smoke that tend to cover everything powerfully. For me it's just another n.a.s. ARDBEG bottling, reduced to more or less 46 % abv, and again a bit more than 100 €. For a first estimation, I'll rate it around 84/100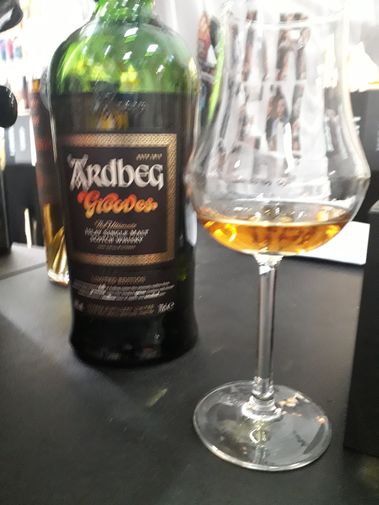 -BOWMORE officiel nas "N°1" (1st Fill bourbon casks), 40 %: Un BOWMORE joli, typé, équilibré, mais vraiment léger...Demeure une belle alternative au "Legend" pour débuter très gentiment (beaucoup diront "trop...") sur la tourbe, mais bien plus cher que celui-ci (45 €). Note estimée à 82-84/100
E.S.: A nice BOWMORE, sweet, typical, balanced, but really light. A decent alternative to the "Legend", to discover very gently (some will say "too much…") the world of peated whiskies, but I found it a bit expensive for what it is. Rating (under reservations) around 82-84/100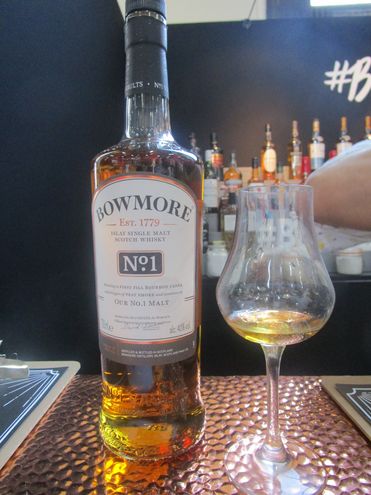 -BRUICHLADDICH/Port Charlotte officiel 10 ans nouvelle édition régulière « Heavily Peated », 50 % (nouveau packaging):
A Noter: Cette nouvelle version du 10 ans d'âge est toujours tourbée à 40 p.p.m. Les fûts composant cet assemblage sont à 65 % d'anciens fûts de premier remplissage de JACK DANIEL'S Tennesssee Whiskey, à 10 % de second remplissage de JACK DANIEL'S également, mais aussi de 10 % de fûts ayant contenu du vin français ("Refill French oak wine casks").

La chaleur du deuxième jour et le fait que je l'ai dégusté après l'ARDBEG ont sans doute un peu émoussé celui-ci et faussé la donne...Donc mon commentaire est sous un peu plus de réserve que pour d'autres whiskies...Ceci dit, il m'a semblé bien plus équilibré que l'ARDBEG et bien plus fondu aussi, non sans une certaine complexité. En partie médicinal, en partie végétal, il est aussi floral & fruité, mais ces dernières notes sont en retrait. Note estimée à 87/100
E.S.: A nice new "squarish" look PORT CHARLOTTE (and new "Heavily peated" 10 y.o. batch as well, entering the core range-with 40 p.p.m. as usual, and here from 65 % first fill JACK DANIEL'S Tennessee Whiskey, 10 % second fill of same cask content & 25 % of refill French oak wine casks"). T.N.: I struggle to give it a serious rating here, because of the heat during the show that day, and because I have the impression that the ARDBEG previously tasted had a bit modified my palate. A bit medicinal, floral, fruity, green, but all these not are a bit too much on the background, under a grassy & dense peat. It sounds complex, though. Rating (under reservations): 87/100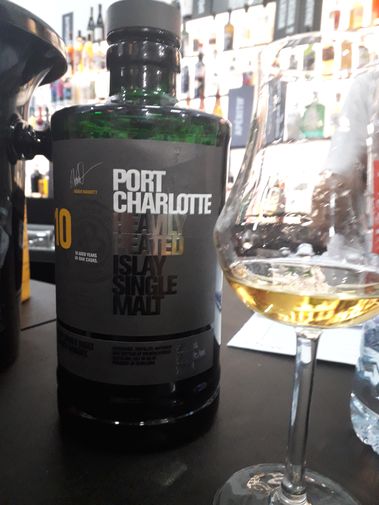 -DALMORE (The) officiel nas "Portwood Reserve" (Bourbon matured, Tawny Port finish), 2018, 46,5 %: Bien fait, mais la chaleur a probablement faussé la dégustation. Du fondu, un certain fruité, des notes maltées, une certaine profondeur pour un n.a.s., il se défend bien, mais j'ai l'impression qu'il manque de personnalité. A revoir... Pas de note chiffrée (impossible)
E.S.: Another tastinga bit altered by the heat, I'm afraid. Quite some melting of flavors here, a few fruity notes, some malted barley notes as well, some deepness too for a n.a.s.. A good whisky, but I had the impression it lacked some personality. To try again. Rating: Sorry, it's impossible, due to tasting conditions.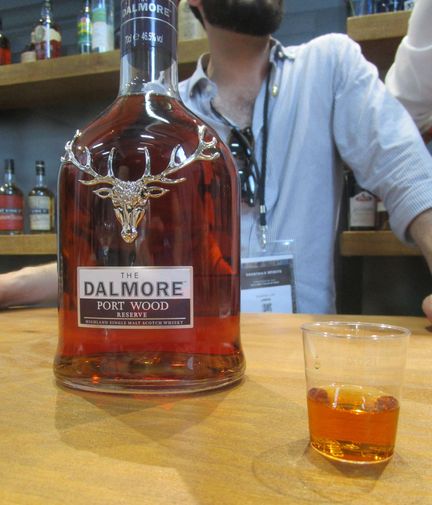 -GLENMORANGIE officiel nas "Astar" (nouvelle édition 2017), Bourbon & Missouri New oak, Cask Strength, 52,5 %: Je connaissais et appréciait beaucoup la version précédente. Celle-ci m'a l'air relativement fidèle, peut-être présente-t'elle un peu moins d'esters, mais il y en a, ainsi qu'une certaine sécheresse boisée, un côté net, mais pas désagréable. Je l'ai bien apprécié. Note estimée à 88/100
E.S.: I knew the previous expression called "Astar", probably a bit older than this one. I did like it a lot. This new bottling seem to have a bit less esters this time, and some more dryness coming from the wood,but it's not unpleasant at all. It is a straight forward whisky and I liked that.Rating estimation: 88/100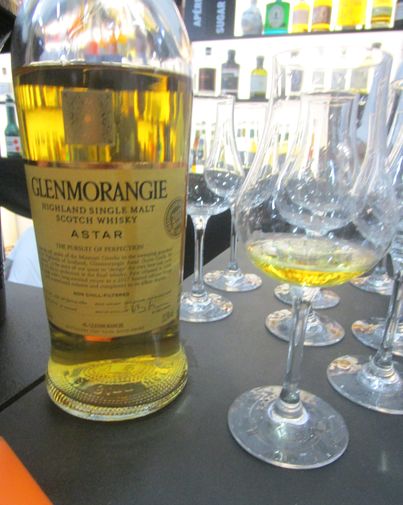 -GLENMORANGIE officiel/Private Edition "Spios" (1st Fill Rye casks maturation), 46 %:
A Noter: J'apprends que dans le passé, le seigle ("rye") était bien plus utilisé que de nos jours en Ecosse…GLENMORANGIE, précédé par d'autres (notamment le blend JOHNNIE WALKER Blender's Batch finish « Red Rye finish »), se colle à l'exercice, avec une maturation intégrale en fûts ayant contenu du seigle.
Couleur: Or, à reflets vieil or. Nez: Fin raffiné, épicé (le seigle se fait connaître déjà au nez), avec des notes de fleurs capiteuses (dont l'habituelle note de lys), de l'angélique, des fruits confits, des fruits secs, mais aussi une petite sucrosité résiduelle. Il est par ailleurs légèrement alcooleux. Bouche: Puissante, relativement sèche, avec un boisé ferme (mais pas forcément beaucoup de tannins), elle est marquée par le seigle, avec un fruité modéré (agrumes, pêches, abricots) et des épices qui le sont un peu moins (girofle, cannelle, muscade, et poivre 5 baies). Elle conserve cependant un remarquable équilibre. Le seigle apporte également une petite amertume, tout à fait acceptable, contrebalancée par des notes d'esters (bonbons anglais, fruits exotiques), tandis que des notes de caramel viennent compléter le tableau. Intéressant. Tenue à la dilution: L'ajout d'un peu d'eau fait ressortir les esters & les fleurs capiteuses, l'angélique aussi. Une fine note de bruyère apparait alors. Conclusion: Une édition un peu plus audacieuse que les précédentes et qui suscite un intérêt certain. Une fois apprivoisée, cette version s'avère délicieuse. Indication de Prix : Autour de 85/90 €, quelques cavistes/Note confirmée : 91/100
E.S.: This very unusual bottling, even in the Private Edition (a bit experimental) range, is a maturation in first fill rye casks (which haven't been done for years I think in the Scottish whisky industry). T.N.: Golden color. A refined nose, spicy (the rye speaks already on the nose), with also heady flowers notes (including the usual GLENMORANGIE lily in the valley note), some typical angelica as well, candied fruit, dried fruit, a bit of residual sugar. It is also a bit spirity. On the palate, a relatively dry one, it is powerful, dry, with a tight wood (not necessarily tannic though), shows rye notes, moderate fresh fruity ones (citrus fruit, peaches, apricots), and more front row spices (cinnamon, nutmeg, cloves & 5 berries pepper). It manages to keep a certain balance though, which is amazing. The rye brings also some bitterness, but it's not overwhelming, and is complimented by nice estery notes (English liquorice all sorts sweets, exotic fruit), while natural caramel notes are coming through on a second ground. A few drops of water makes it more seductive around the esters & heady flowers notes. A thin heather note is now coming through. Conclusion: This Private Edition seems to be more adventurous than some others, but it is a quite interesting experiment. Once you get used to its special profile, you may find this delicious. Confirmed rating: 91/100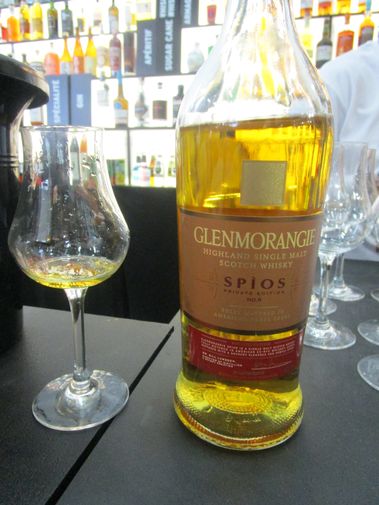 -HIGHLAND PARK officiel "Full Volume" (1999-2017), 1st Fill Bourbon casks, 47,2 %:
A Noter : Il s'agit d'une édition limitée sortie en 2017, afin de rendre hommage à la musique (et la musique rock en particulier puisque l'étui reproduit des amplificateurs et autres boutons de réglage...entre autres choses faites pour lancer le concept ; comme créer un morceau de musique rock instrumental...plutôt sympa d'ailleurs, un rien post-rock*). Il s'agit sinon d'un assemblage de 481 fûts de Bourbon de premier remplissage, tantôt de 200 litres, tantôt de 250 litres (hogsheads).
*Lien vers le morceau de musique composé pour l'occasion par 3 musiciens dirigés par Saul Davies en collaboration avec Gordon Motion, maître-assembleur de HIGHLAND PARK (link to the track composed to illustrate this expression): Full Volume soundtrack
Couleur: Or, à reflets vieil or. Nez: Un nez fin, marqué par le vieillissement en fûts de Bourbon (épices douces, vanille), mais aussi par quelques notes de plantes aromatiques, un peu de fruits & de fleurs, l'orge maltée, mais aussi un boisé discret, bien fondu dans l'ensemble. Bouche: L'on retrouve cette même harmonie boisée, maltée et modérément épicée, avec aussi quelques notes florales discrètes, quelques notes de fruits frais (agrumes) et fruits secs (raisins, noix de coco), puis un boisé fin, délicat avec un léger rancio. Une vague trace de fumée de tourbe vient souligner une finale à peine vanillée et délicatement boisée. Tenue à la dilution: En plus du boisé délicat, des épices douces, de la vanille et de quelques agrumes, l'on perçoit maintenant de délicates notes de nèfles, d'abricots, de pêches jaunes, quelques herbes fraîches, ainsi que l'exaltation de notes de lys et de bruyère. Conclusion: Une belle surprise que la présence de ce whisky dans ce salon. Une belle version 100 % Bourbon d'une grande délicatesse, finesse et équilibre...avec juste une légère trace de tourbe. Plusieurs versions de négoce récentes, notamment chez CADENHEAD-non encore chroniquées sur le site-avaient déjà démontré pour moi que ce type de maturation pouvait plutôt réussir au style de la distillerie. Indication de Prix: Autour de 100 €, voire davantage (disponibilité limitée). /Note confirmée: 91,5/100
E.S.: This special 2017 limited edition of HIGHLAND PARK is a tribute to music & to rock music in particular, as the box showcases pictures of 2 speakers & on the side different buttons for tuning the sound. The distillery also commissioned some musicians to write an instrumental song for the occasion. T.N.: Colour: Gold. On the nose, it is refined and showing obvious signs of Bourbon maturation (vanilla, sweet spices), but also some botanical notes, some fruit & flowers but as everything is melted it is difficult at this stage to be more precise. There is a discrete wood, some malted barley as well, but I didn't felt really the peat (very moderate) on the nose. On the palate, promises from the nose are fulfilled, with the same harmony than the nose, if not more complex. It is moderately woody & spicy, with some malted barley notes quickly coming through, some discrete floral notes, fresh fruit notes (citrus fruit mainly), some dried fruit (raisins & coconut), then again some discrete & elegant wood, with some rancio. The finish is elegant with just a trace of peat smoke, upon vanilla & delicate oak wood. A slight dilution with water is recommended, as it will add help understand its complexity: Delicate oak, sweet spices, fresh grass, citrus fruit are coming on together, while delicate notes of medlar, apricots, yellow peaches will come through & notes of lily in the valley shine through. Conclusion: A nice surprise, even if this whisky isn't easily available now (in fact, it's coming a bit late in the French market). This HIGHLAND PARK is also the proof that Bourbon matured expressions from this distillery can also be very good, as some indie bottlings from CADENDEAD I have been recently tasted (but not reviewed yet) proved it as well. It can work very well with the distillery style, and here gives a HIGHLAND PARK of a great delicacy, refinement and balance. Around 100 €, or more (limited eidtion). Confirmed rating: 91,5/100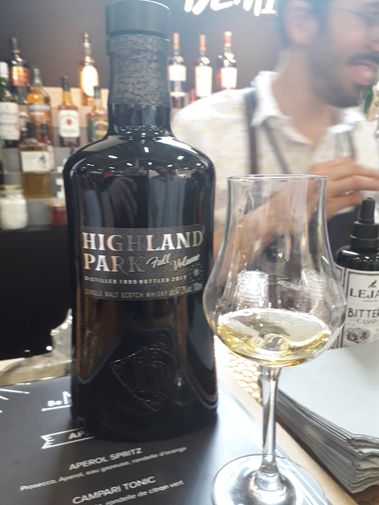 -HIGHLAND PARK officiel "Valkyrie", nas, 2017, Bourbon & sherry casks, 45,9 %: Deuxième essai (1er au WLP 2017), après le Full Volume, il s'est avéré toujours aussi bon (subtil, légèrement fumé et sherry, super équilibré mais un peu timide), mais moins direct et "plein" ou "dense" que le Full Volume, qui l'a comme anesthésié...Ceci dit pour l'avoir déjà dégusté avant (et même si rien ne remplace une dégustation au calme chez soi), c'est un whisky très subtil, délicatement boisé, floral, fruité, miel, fumé (modérément) et de qualité, qui rappelle un peu le 18 ans d'âge en plus timide. Note estimée à 90/100, voire davantage
E.S.: This one is part of new series launched in 2016 to replace the "Dark Origins" expression. T.N.: I have tried it already during Whisky Live Paris 2017 & a second time, but it's not enough to give you definitive notes because it's a very subtle bottling and even the decent abv isn't helping getting all the flavors easily if you don't have a sample of it to assess home. All I can say is that it reminds me partly of the 18 y.o., but a bit subdued, with complex notes of honey, flowers, dark fruits, delicate wood, and a hint of smoke. Rating (estimation): 90/100 to more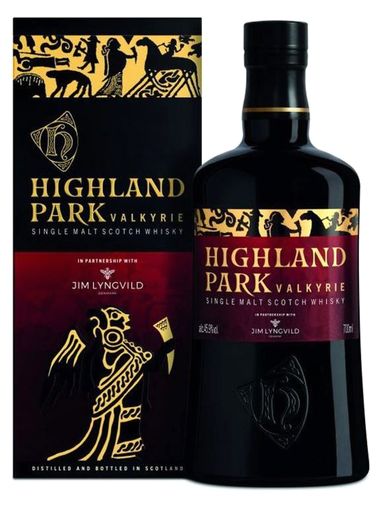 (Merci à la Maison du Whisky pour la photo)
*Stand « The BAKEREY » (Brown-Forman):
Sur ce stand, construit comme une cabane-boulangerie & épicerie, l'on pouvait y retrouver (pour moi qui en avait déjà fait l'expérience lors d'une présentation de presse) une dégustation de pains de seigle (avec différents taux de seigle dans le mélange) de chez Gontrand Cherrier, associée aux 3 whiskies à majeure de seigle du groupe, à savoir JACK DANIELS « Barrel Aged RYE », et « SINGLE BARREL RYE » (à 70 % de seigle), mais aussi le WOODFORD RESERVE « RYE » (à 53 % de seigle). Je ne reviens pas en détails sur mes dégustations (chroniquées dans « EXPRESS NOTES N°5 »), mais je dirais juste que parmi les JACK DANIEL'S c'est la version assemblée que j'ai préférée au « SINGLE BARREL » (moins équilibré sur le seigle, plus sec et plus austère, avec un peu d'amertume), versions toutes deux, une fois n'est pas coutume, à 45 %, et que j'ai trouvé le WOODFORD RESERVE « RYE » plutôt bien faite, mais un peu timide sur le seigle.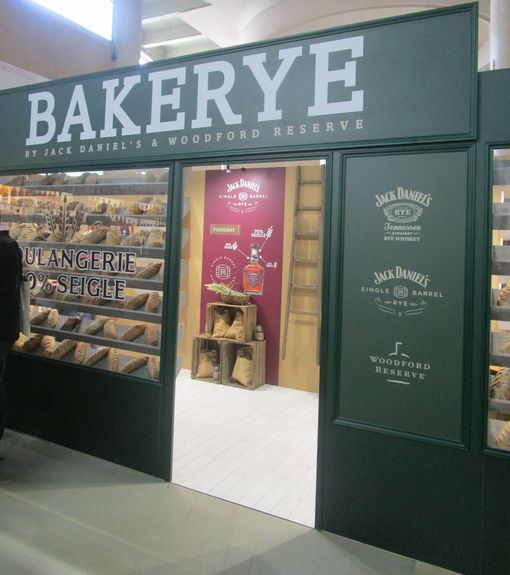 E.S.: This shack-like stand was presenting 3 different BROWN-FORMAN whiskeys around the rye theme, paired with 3 different rye based breads made by French craft baker Gontrand Cherrier. I have already reviewed these 3 whiskeys in my "EXPRESS NOTES No 5" section, so I'll be short about them here. First there was a delicate WOODFORD RESERVE "Rye", with 53 % of rye in the mash bill, so not a so big influence, and rather on the sweet side of rye, while the 2 JACK DANIEL'S where 70 % rye based, one being for me in a perfect combination of (probably numerous) casks (it's the "Barrel Aged RYE"), with the enough amount of rye to give it a spicy kick, and the other with the same recipe but from only a cask (it's the "SINGLE BARREL" one), which made, in my opinion, less approachable, more austere, a bit drying & with some bitterness.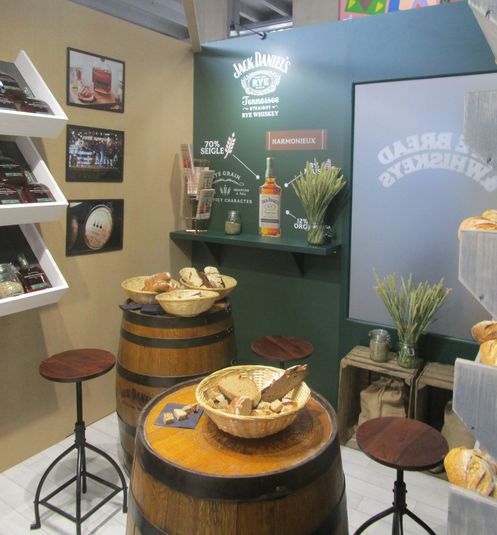 -JURA officiel nas "Seven Wood" (7 types de fûts de différents pays & régions incluant la France), 42 %: Nouveauté très "marketée" qui s'avère finalement assez insignifiante, on a envie de dire "tout ça pour ça" ? Faudra t'il, comme le laisse sous-entendre Serge (Valentin) se tourner à l'avenir plutôt vers les négociants que vers la distillerie pour avoir une mise en bouteille de JURA digne de ce nom ? L'on peut sérieusement se poser la question…Pas de note chiffrée.
E.S.: This one is part of the new core range just launched a few ago, with 5 (?) new expressions, this one using no less than 7 types of casks from different countries & areas including some from France. This very "marketed" expression didn't express much if I may say, except some boredom. All this fuss for such a standard average whisky doesn't make sense for me. Shall we, as recently Serge Valentin was wondering in his blog, rely now more on independent bottlings than to official ones to find a decent and interesting JURA ? I'm afraid yes…No rating for this one.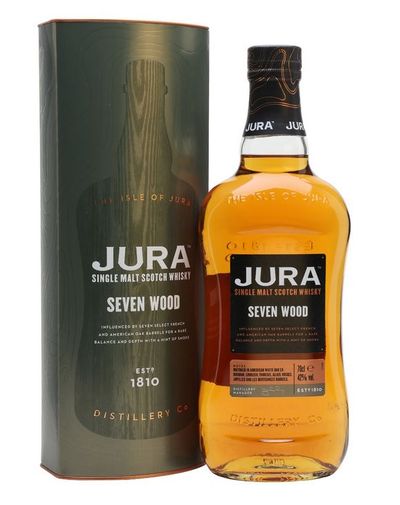 (Merci à The Whisky Exchange pour la photo)
-LINDORES Abbey Distillery "Aqua Vitae" (Spices & Herbs added New Make), Ecosse, 40 %:
A noter : Les premiers traces de production de whisky écossais sont officiellement celles enregistrées dans des rouleaux de parchemins de recensement des ventes de céréales destinées à la réalisation de boissons fermentées et distillées. Elles remontent à 1494 et situent la production d'eau-de-vie apparentée au whisky dans les Lowlands, entre Perth et Edinburgh, non loin du parcours de golf de Saint Andrews, dans le comté de Fife, à l'abbaye de LINDORES. L'abbaye est aujourd'hui en ruines, mais un couple d'Ecossais, les McKenzie-Smith a décidé de la faire revivre et a fait construire une nouvelle distillerie juste à côté, ainsi qu'un centre de préservation de ses ruines, de la faune et de la flore locale (dont une petite production apicole). La nouvelle distillerie a débuté sa production en 2017 (elle a prévu de ne sortir son single malt qu'en 2023), et commercialise en attendant une eau-de-vie de malt aromatisée d'épices et plantes médicinales locales :
Couleur : Or clair, à reflets dorés. Nez : Le nez est jeune, typique d'un distillat pur (ou « new make »), marqué par des notes d'eau-de-vie de prune, d'artichauts bouillis, mais aussi par des notes complexes de plantes aromatiques (certaines étant rares et locales, je n'ai pu les identifier), mais aussi d'épices douces. Notes sucrées d'orge proches de celles d'une vergeoise, voire de genièvre. Bouche : Douce, délicate, évidemment jeune et non vieillie, mais agréable et délicate, additionnée de notes variées d'épices douces, de plantes aromatiques (souvent locales et rares) dont je n'ai pu reconnaître que le cerfeuil. Mêmes notes qu'au nez d'eau-de-vie de prune & d'artichauts bouillis, mais atténuées par une douce note sucrée liée à l'orge maltée (vergeoise, genièvre?), voire de sirop d'orgeat. Cette sucrosité (moderée) étant fondue avec des notes florales & végétales, elle est n'est pas gênante. Belle fusion des saveurs avec des notes d'esters qui commencent à s'exprimer au second plan. Finale élégante et fine, sur ces mêmes notes fondues. Tenue à la dilution : L'eau accentue la fusion des saveurs. Une des recettes de long drink proposées par la distillerie suggère d'ajouter un peu de miel et de servir l'Aqua Vitae sur glace. Cela fonctionne, pour ma part. J'ai également essayé d'autres recettes dont une des plus rafraîchissantes a semblé être avec du thé matcha & du concombre à la menthe. Conclusion : Le new make, additionné d'herbes, épices et de plantes aromatiques, mis en bouteille à l'ancienne, comme les premiers « whiskies » de l'histoire, apparemment...J'en saurais davantage sur ses composants sur place, en visite à la distillerie en Septembre. En attendant, je peux déjà vous dire que certes il est jeune, mais agréable sec, et intéressant sur glace ou en cocktail, grâce aussi aux herbes & épices locales qu'il contient. Recommandé, si l'on ne pense pas « whisky » mais spiritueux à base de whisky. Indication de Prix : Autour de 50 €, MdW & certains cavistes./Pas de note chiffrée (comme c'est toujours le cas pour un new make pour ma part).
E.S.: For those who may not know it yet, the first historical (recorded in some exchequers roll) traces of whisky distillation in Scotland are located in 1494 in Newburgh, in the Fife County, between Perth & Edinburgh, not far from St Andrew's golf course & nearby distillery, KINGSBARNS. The LINDORES Abbey distillery is a new distillery as well a center for the preservation of the ancient abbey ruins, as well as local flora & fauna (including some beekeeping). The new distillery opened in 2017 and started to produce what is at the moment only a new make available for sale as a spirit drink unaged but with local herbs & botanicals added. The first single malt is said to be ready for 2023 only.
Tasting Notes: Color pale yellow (as there is no ageing at all it is due to the natural ingredients added). The nose is typical from a new make, with plum spirit, boiled artichokes, but also some complex botanical notes (some being local & rare, I couldn't identify them). I get also sweet spices & malted barley sugar notes, some close to juniper & vergeoise (syruped sugar used in pastry but some also call it « cassonade »). The palate is sweet, pleasant & delicate, wit some added sweet spices, botanicals (often local or rare) of which I could only recognize chervil. The palate has also the same plum spirit & boiled artichokes notes than on the nose, but they are sweetened by malted barley sugar notes (same as on the nose), which brings some light sugary notes that do not interfere with the overall balance. There is a nice melting of the flavors with now some estery notes on the second ground. The finish is elegant, on the same notes. Water softens things even more, and the distillery's tip, to add some ice & honey to it, for instance to make it a long aperitive drink, works well. I tried myself my own mixing recipes, one of which I prefered was with cold matcha tea drink which contained also cucumber juice & mint. Conclusion : This whisky spirit from yesteryear-like recipe seem to be the way it was consumed in the early years of whisky (always unaged & with botanicals added). I shall learn more about its components in September, where I will visit the distillery. For now I can say it is sure young, but nice & easily drinkable, excellent on nice with these local herbs & spices, and interesting to combine as a cocktail base. Price: Around 50 €. No rating (as I never rate new makes), but recommended !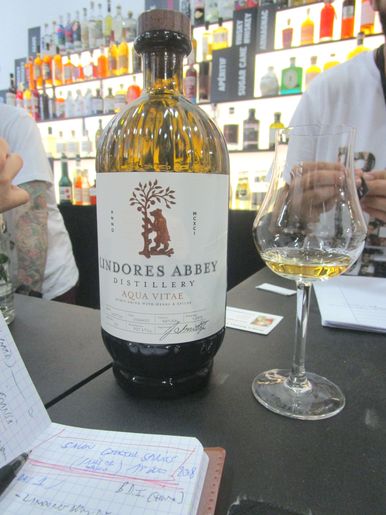 -The MACALLAN officiel nas "Rare Cask", 43 %: Deuxième dégustation, en début de salon, pour lui donner une meilleure chance. Un whisky sans compte d'âge mais apparemment contenant des whiskies en partie d'un âge adulte (+ 18 ans). Dominante de fûts de sherry, mais du sherry en partie "contemporain"...La vinosité du sherry me semble correcte, présente, mais pas excessive. Le fruité est correct (fruits mûrs, raisins secs), il y a un léger côté chocolaté même (au lait & noir), mais cela demeure tout de même un peu léger (j'aurais été curieux de la tester en version cask strength). Au final un bon whisky, au-dessus des propositions contemporaines officielles de la distillerie (hormis le "Ruby", plutôt bon aussi), mais manquant un peu de puissance et de relief. Note estimée à 87/100, ce qui est décent, mais pour un whisky à 225/250 €, non...Par ailleurs, dans un registre en théorie proche, le KAVALAN "Sherry Oak" dont le prix est autour de 95 € le bat à plate couture !
E.S.: This is the second time I'm trying this, again in a spirits show context (not always the best way to assess subtle or difficult whiskies…) and again a n.a.s. with quite a hefty price tag (around £ 200 to 220), and presented as "rare". Ok it's bottled at 43 % (why not 46 %, by the way, if the price is so high?) & is supposed to contain some casks over 18 y.o. (an unofficial & under reservations assumption). T.N.: The sherry casks are dominating, but not old fashioned sherry, rather at least partly "contemporary" sherry…(hear probably "seasoned oak"). The winey side of this sherry seem to be tamed & is there but not overpowering the other notes, so it's a good point for this one. Some fruity notes come through as well, even some chocolate notes (milk chocolate as well as dark chocolate), but the general profile stays a bit too light for me (I would have loved to try it at Cask strength). To conclude I would say it is a good whisky, and a decent The MACALLAN (over many contemporary expressions from the distillery, over the core range ones especially, except the "Ruby" maybe that's probably better), but it lacks a bit of power & some depth. Besides, this one is easily beaten by another n.a.s. sherry cask which is even not Scottish, the KAVALAN "Sherry oak" at 46 % (besides twice less expensive !). Rating (under reservations): 87/100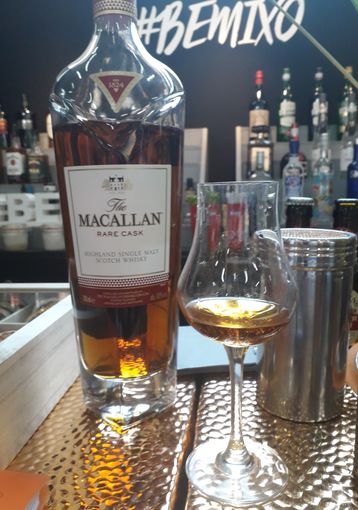 -STAUNDING CURIOUS, Peated Rye & Barley (New Make), Danemark, 50cl, 43 %: Une bizarrerie testée en fin de salon, sur recommandation de Tony Vanaria de chez Tuthilltown Spirits (HUDSON Whiskey), un new make jeune mais pas mal fait, avec une séduction intéressante des choix de céréales (et la tourbe, superbe, reste modérée) pour un équilibre impressionnant...à suivre certainement...Pas de note chiffrée, mais mes encouragements !
E.S.: This U.F.O. (if I may say) is an experimental Danish creation, a good surprised presented in the "Innovations Bar" section (recommended by Tony Vanaria-HUDSON Whiskey ambassador) and is a peated rye & malted barley new make spirit bottled at 43 %. Yes you read well…A young but well-crafted whisky with some personality already (with nice complex cereal notes & superb peat) & an impressive balance. No rating (as usual for new makes), but.... One to watch !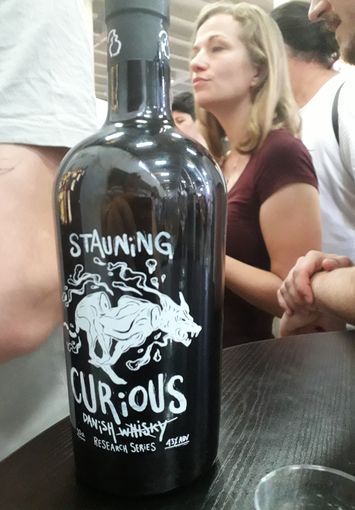 *Négociant français "MOSSBURN" (distribution Marussia):
E.S.: I also tasted two independent whiskies from a new French company distributed in France by Marussia beverages.
-BLAIR ATHOL 10 ans (2007-2017), SC, 46 %: Un single malt léger et équilibré, correct, mais sans beaucoup de personnalité. Note estimée à 83/100
A light & decent single malt that remains balanced, but not with a big personality. Rating estimation: 83/100
-LINKWOOD 10 ans (2007-2017), SC, 46 %: Un single malt joliment fait, même si un peu trop léger, avec tout ce que j'aime chez LINKWOOD, cette élégance florale et fruitée (touche de lys & pointe d'orange), ce côté presque « rancioté » du bois...Je n'ai pas eu d'indication de prix ou de disponibilité... Note estimée à 85/100
A well-crafted single malt, a bit too light, but very subtle, with some of the distillery's trademarks (that orange & lily of the valley elegant notes), that almost rancio woody note. Sorry no price indications. Rating (under reservations): 85/100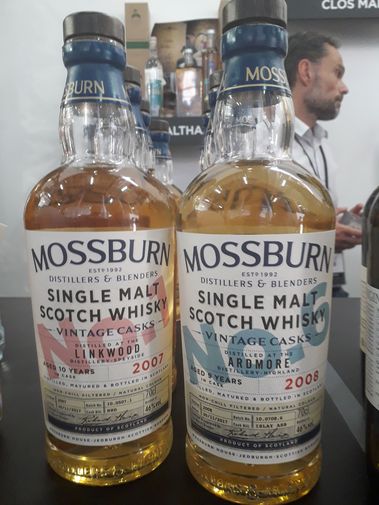 *Négociant français "Les Nouveaux Distillateurs" (ci-dessous d'abord un 100 % rye whisky canadien):
-LOT 40, distillerie Hiram Walker & Sons, 100 % Rye whiskey (distilled in Pot stills), 43 %:
A Noter: LOT 40 est "la" marque emblématique de whisky de seigle appartenant à Hiram WALKER & Sons, actionnaire de CORBY Spirits & Wines, propriété de PERNOD-RICARD. Elaboré à la fois en alambics de type continu ("column still", pour le premier passage) et en alambics à repasse ("Pot Still", pour le deuxième), il est composé à 100 % de seigle ("rye") malté et non malté, puis vieillie dans des fûts neufs ("Virgin oak" matured). Cette version, la version permanente, régulière, réduite, est de nouveau disponible depuis peu grâce à la société française de distribution "Les Nouveaux Distillateurs" (qui propose par ailleurs des whiskeys des Etats-Unis-voir mon sujet imminent sur le site au sujet de salon COCKTAIL SPIRITS 2018).

Couleur: Vieil or, reflets dorés. Nez: Suave, fin, et capiteux. Un rien oxydatif, avec une pointe d'acidité & d'aigreur, il est très vite d'une grande expressivité à la fois sur le fruit (dont des fruits rouges-rhubarbe, cassis, mûre), les fleurs capiteuses (pivoine & rose) et la céréale (le seigle) et son cortège d'épices, et une note maltée de seigle. Bouche: Puissante, très fruitée, marquée par le seigle (qui me rappelle les pains allemands "Kornbrod" rectangulaires), le malt, les épices. La bouche s'adoucit lentement et les notes de seigle deviennent plus acidulées et douces au fur et à mesure (note de groseille à maquereau). La rhubarbe domine alors, puis comme une note de pivoine et de rose (voire du bois de rose). Il se passe beaucoup de choses en même temps, même si tout converge vers un seul point. Superbe et très sexy ! Après plusieurs dégustations, je constate une certaine baisse de longueur en bouche, qui met fait finalement lui enlever un demi-point. Tenue à la dilution: Avec un peu d'eau, le seigle ressort, avec une certaine autorité, mais le whisky demeure cependant équilibré et terriblement séduisant. Conclusion: Ce whisky si particulier, si unique dans sa manière de lier une céréale (recette liant seigle malté et non malté) à une double distillation (en alambic à colonne, puis en alambic à repasse), mais aussi à un vieillissement particulier (fûts de chêne neuf), donne un résultat qui peut diviser (en général on adore ou on déteste, pas de demi-mesure), mais que je trouve d'une remarquable cohérence et expressivité, malgré une apparente simplicité, un côté direct qui surprend. J'ajouterais que pour moi, tous types de whiskies & tous pays confondus, c'est un des 3 ou 4 meilleurs rapports qualité/prix de ces dernières décennies (LOT 40 fut lancé à la fin des années 1990 par Hiram Walker & Sons). Indication de prix: Entre 35 et 40 €, cavistes spécialisés. Note confirmée: 93/100
T.N.: Golden color, with partly orange hues. On the nose, it is smooth (sensual), refined & heady (as heady flowers notes are, not spirity ones). A bit oxydizing, with some acidulous & sour character, but quickly showing a huge expressivity of both its fruity notes (including varied red fruit, rhubarb, blackberry, blackcurrant) and its floral notes (rose & peony), plus its cereal notes (the rye & its spices) and a malted rye note. On the palate, it is powerful, very fruity, dominated by the rye (reminding me a bit of rectangular German bread called "Kornbrod"), then the malted rye & the spices. The palate slowly sweetens & the rye notes are becoming now acidulous & sweeter the more it evolves, with a note of gooseberry (a bit sour cherries) coming through. The rhubarb is then dominating, in company of flowers (peony & rose again), and a beautiful rosewood note. There are a lot of things going on there, even if all these notes converge towards a unique arrival point. This is superb & very sexy ! After a few tastings though, I noticed that the palate's finish tends to fade a bit too quickly, which makes me lower the rating of half a point. With a few drops of water: The rye comes through, with strength, but the balance is still good & the taste terribly seductive. Conclusion: This is such a special whisky, unique in its way of combining a cereal (besides it is malted & unmalted rye combined) to a double distillation process (plus using a column still then a pot still), but also to a particular maturation (virgin oak). The result is very special (one will love it or hate it), but for me pretty remarkably coherent & expressive, beyond its apparent simplicity, and its direct kick that may surprise the taster. To conclude, I will like to add that, regardless all types of whisky & all countries, it is for me one of the 3 or 4 best quality/price ratio whisky on the market of the last decades (Lot 40 was launched at the end of the 1990s by its distillery Hiram Walker & Sons). Indication of price: Around 35 to 40 € in France. Confirmed rating: 93/100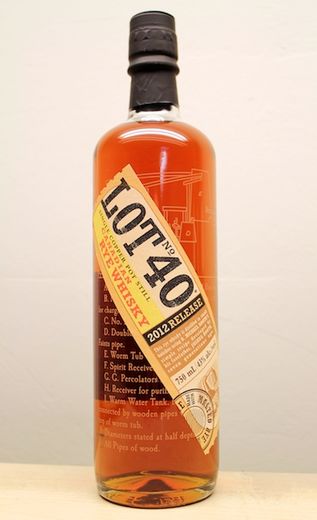 (Merci à K & L Wine merchants pour la photo)
-SMOUTH AMBLER Co Spirits (en partie propriété de Pernod-Ricard/*Négociant français "Les Nouveaux Distillateurs" ) :
A Noter : Il s'agit apparemment d'une micro-distillerie de l'état de Virginie, aux Etats-Unis, créée en 2009 : J'ai dégusté 3 versions, avec différentes quantités de céréales pour la recette/mashbill-maïs, seigle, blé), même fournisseur que ci-dessus-Dégustation très rapide donc sous réserve:
Nota (addendum du 19/05/19): Bien après ma visite j'apprends que ces whiskies sont sourcés en fait auprès de l'immense complexe en Indiana du M.G.P. (Midwest Grain Products), qui alimente en whiskies de toute sorte (bourbon, rye et autres) nombre de distilleries & négociants de par le monde (environ 130 !), ce sans obligation légale (pour l'instant) de citer ou les whiskies sont produits. Cela n'enlève en rien par contre de mes compliments ci-dessous, car il se trouve qu'ils produisent régulièrement des whiskies de qualité, et notamment de très bons Bourbons & Rye, histoire de compliquer la chose !
E.S.: SMOUTH AMBLER Co Spirits is (as I understand) a boutique distillery from Virginia, USA. I did try 3 different expressions, a bit too quickly and not always with the good glass, so my notes here are short & the rating under reservations too.
1/ « Contradiction », 50 % (American Whiskey): Très bon whiskey, gourmand (avec une certaine densité du fruité), subtil, et long en bouche, bravo ! (et...comment font-ils?). Note estimée à 90/100
A very good whiskey, gourmet, with some fruity density, subtle, and with a long finish ! Congrats (& how the hell did they do that???). Rating estimation: 90/100
2/ « 707 », 49,5 % (American Whiskey) : Là aussi très bon, avec de belles notes de caramel, de boisé, quelques épices, mais également du fruité, tout est là...en un bel équilibre. Note estimée à 88/100
This one is also very good, with wonderful caramel notes, some spices & wood, but also some fruity notes ? Everything is there, well balanced. Rating estimation: 88/100
3/ « Old Scout », 53,5 % (American Whiskey) : Un peu plus sec, avec un peu plus de notes de solvant (se rapproche du profil d'un rye sec), mais c'est bien bon quand même ! Note estimée à 86/100
This last one of them for today is a bit different, also good but drier and with more solvent notes (as often in a dry rye profile), but it is nevertheless very good. Less sexy maybe. Rating estimation: 86/100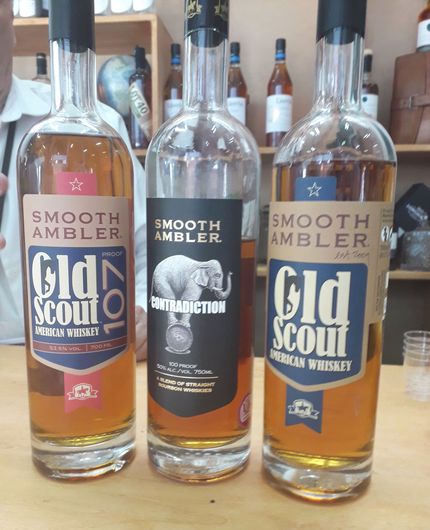 *SUNTORY (Beam-Suntory):
-TOKI (Blended whisky), 3 différents types de fûts, incluant ex-vin rouge, bourbon, sherry, 40 %: Une nouvelle référence, un joli whisky apéritif, fin, léger, très équilibré, pas très expressif, mais bien fait (vanille, agrumes, céréales, miel, herbes sèches & épices douces), et clairement conçu pour être consommé en mode highball... Indication de Prix : L'ambassadeur de la distillerie parle de 35 € environ. Note estimée à 85/100
E.S.: TOKI is a new n.a.s. blended whisky reference at SUNTORY. A nice aperitive whisky, refined, light, well balanced, not very expressive, but decent (vanilla, citrus fruit, cereals, honey, dried herbs & sweet spices , and clearly crafted for highball serve. A quite affordable whisky around £ 30. Rating estimation: 85/100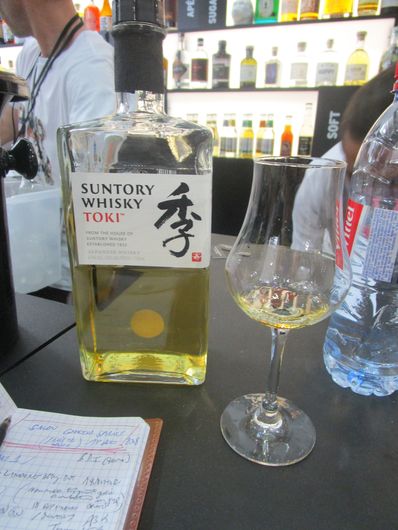 -The CHITA (Single Grain),3 différents types de fûts, les mêmes apparemment que pour le "TOKI", 43 %:
A Noter : Il s'agit du single-grain de la distillerie CHITA, fondée en 1972 par le groupe SUNTORY (devenu depuis peu Beam-Suntory). Cette version, qui ne fut pas la première commercialisée par la distillerie, date de 2015, et la maturation est mixte, avec des fûts ayant contenu de Bourbon, du Sherry, mais aussi du vin rouge.
Couleur : Or clair, à reflets légèrement dorés. Nez : Somptueux, ultra-pâtissier (crème d'amandes, praliné, noisettes), notes de miel, d'angélique, d'épices douces (cannelle, muscade), mais aussi de caramel naturel. Bouche : Tout aussi somptueuse, gourmande (elle reprend la même palette pâtissière qu'au nez), complexe, fine, d'une délicatesse incroyable...Des notes de noix de pécan s'ajoutent à la palette initiale, en milieu de bouche, puis quelques épices douces, un soupçon de crème anglaise, de crème brûlée, de maïs grillé, de pommes cuites au four, et des notes boisées d'une complexité certaine (il y a aussi de belles notes florales, mais que je n'ai pu identifier), mais sans domination. La vanille est également présente, mais elle est parfaitement intégrée à l'ensemble, qui est véritablement magistral et d'un équilibre parfait (un grand bravo au maître-assembleur Shinji Fukuyo!). Par ailleurs, le toucher en bouche est soyeux et d'une grande finesse. Tenue à la dilution : L'ajout d'un peu d'eau renforce encore sa séduction soyeuse. Je n'ai pas essayé ce whisky sur glace, mais cela pourrait être intéressant. Conclusion : Certes il y a là une combinaison de fûts différents dans le but de construire un profil complexe, un rien technologique (ce n'est clairement pas un whisky de grain ordinaire, mais de la « haute couture »!), mais que c'est subtilement fait (le fameux savoir-faire japonais), gourmand, onctueux, complexe, presque laiteux, avec un boisé, un maïs, un caramel splendides ! Pour moi à l'heure actuelle, il s'agit du plus beau single grain sans compte d'âge disponible sur le marché, tous pays confondus…Indication de Prix : Autour de 65 €, cavistes et certaines grandes boutiques spécialisées. Disponibilité irrégulière./Note confirmée : 94/100
T.N.: Color : Gold. Nose : Sumptuous ! The pastry character of this whisky is huge, with notes of almond cream, praline, hazelnut, but has also nice notes of honey, angelica, sweet spices (cinnamon, nutneg), but also natural caramel. Palate : As sumptuous as the nose, gourmet (fulfilling all the nose promises about the huge pastry notes), complex, refined, and of an incredible delicacy. Notes of pecan nut are now coming through, as well as sweeet spices, custard, creme brulee, roasted corn, baked apples, and some complex oaky notes. I think there are also some floral notes, but I struggled to identify them. Vanilla is there too, but not overwhelming. The ensemble is masterfully crafted & the balance is perfect (congrats to Suntory's master-blender Shinji Fukuyo!). Besides, on the palate, the mouthfeel is almost silky & shows a great refinement. Adding some drops of water makes it even more sexy. I didn't try it on ice, but I'll be happy to try it on an iceball. I'm sure it could be interesting. Conclusion : Of course there is some wood technology involved there, and different cask types to get a certain result & some complexity (this is by no means an ordinary grain whisky, but rather « haute couture » !), but it is so well crafted (yes, that famous Japanese « know how »), so gourmet, so complex, with almost a milky & onctuous mouthfeel, with this splendid caramel, corn and oaky notes ! For me it is simple, it is in my opinion the most beautiful no age statement grain whisky on the market, and this worldwide… Confirmed rating : 94/100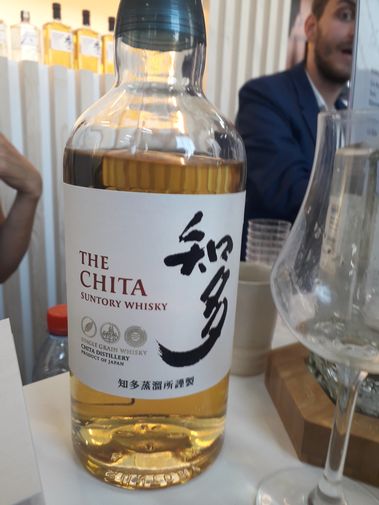 *EXPERIENCE "Whisky Chaser" chez JAMESON:
J'ai eu ma première expérience de « Whisky Chaser » (dégustation parallèle d'une bière et d'un shot de whisky) lors de ce salon au stand JAMESON, qui proposait d'associer leur excellent « CASKMATES » (affiné en fût de STOUT, bière très brune et en principe un peu amère, tout en évoquant une saveur caramélisée) et une « Black IPA BA2 » de chez OUTLAND (bière vieillie en fûts de JAMESON, bourbon & sherry). Les notes chocolatées & maltées du whisky s'accordent parfaitement avec la générosité de la bière OUTLAND et ses notes de douce amertume, et de caramel épais et dense. Une belle expérience !
E.S. : I had my first « Whisky Chaser » experience ever and I had to say it was great ! To combine a JAMESON casks matured beer from OUTLAND (a « Black IPA BA2 ») with the excellent JAMESON « Caskmates » was a great idea : I enjoyed the chocolate notes & maltiness from the whisky that were complimenting those from the beer (dark & thick caramel & sweet bitterness). A beautiful experience !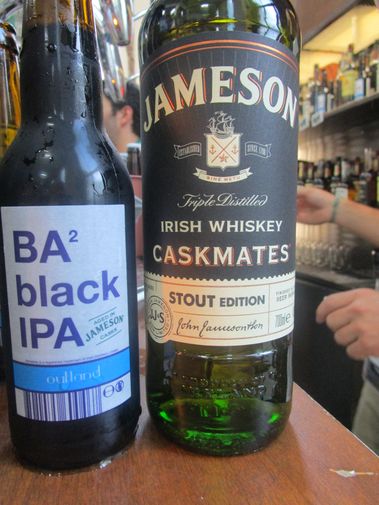 -BUSHMILLS "Red Bush", (dont 3 ans en fûts de bourbon de 1er remplissage), 40 %: Une jolie nouveauté, bien faite, légère, avec un boisé intéressant, relativement complexe, bien sûr différent de ce qu'on connaît, mais avec quand même quelques repères. Note estimée à 84/100
E.S. : A nice new BUSHMILLS, ok rather a light one, well made, with some interesting woody sides, relatively complex & a bit different from « BLACKBUSH », but partly familiar though. Rating estimation : 84/100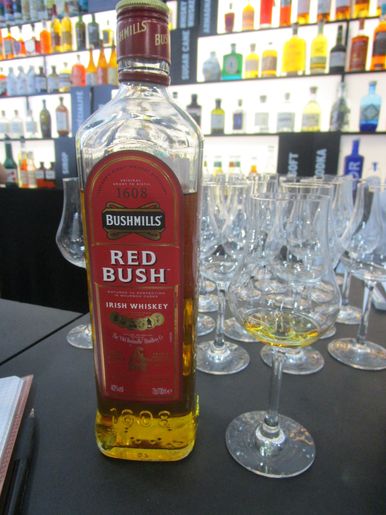 -METHODS & MADNESS (Midleton distillery/Experimental range) "SINGLE GRAIN" (Virgin Oak), 46 %: Un single-grain vieilli en fûts neufs, semble t'il peu brûlés, encore jeune, sec et violent, monolithique, pour moi l'antithèse du CHITA, et de ce qu'il faut faire....aucun intérêt. La version en fûts ayant été affinée dans des fûts de châtaignes ("Chesnut") était pour moi bien meilleure. Note estimée : 73/100
E.S. : An Irish single grain matured in new oak casks, probably lightly charred oak casks, so a bit young, violent, dry, very woody, and for me the antithesis of the CHITA, and of what should be done in my opinion. This choice of using that type of casks is a mistake, and for me the « Chestnut » casks finish was way more accomplished in my opinion. Rating estimation : 73/100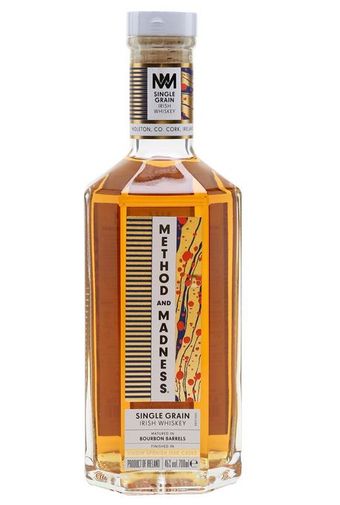 -"COPPER DOG", Speyside Blended Malt, for The CRAIGELLACHIE Hotel, 43 %: Une belle surprise pour ce blended malt parfaitement équilibré, onctueux, bien typé de la région du Speyside (fruité, noisetté, chocolaté) et assez plaisant. Note estimée à 86+/100
E.S. : An interesting blended malt bespoke for the CRAIGELLACHIE Hotel, with single malt from the Speyside area only. Perfectly balanced, it is smouth, fruity, with hazelnut & chocolate notes, yes, from Speyside, definitely ! A rather pleasant one. Rating estimation : 86+/100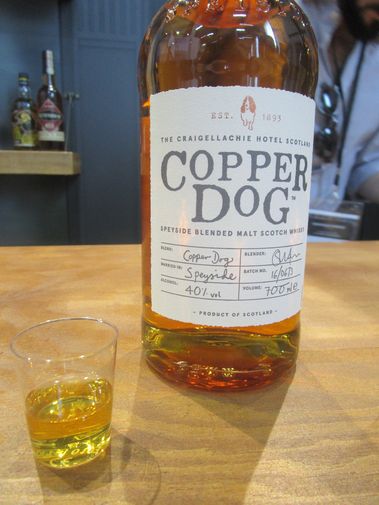 AUTRES SPIRITUEUX :
-ROKU GIN, première édition 2018, 43 % (SUNTORY) :
Il s'agit d'un bon gin japonais avec en partie une base d'infusions d'ingrédients japonais divers (plantes aromatiques, fleurs de cerisier, de thé, de yuzu, de poivre sansho), mais aussi bien sûr du genièvre, de coriandre et de cannelle, notamment. Son équilibre est parfait, son style délicat, pas si éloigné du concurrent NIKKA « Coffey Gin », mais je dois avouer que pour l'heure les 2 sont à mon avis battus par le KI NO BI, le gin de Kyoto, supérieur en expressivité & complexité.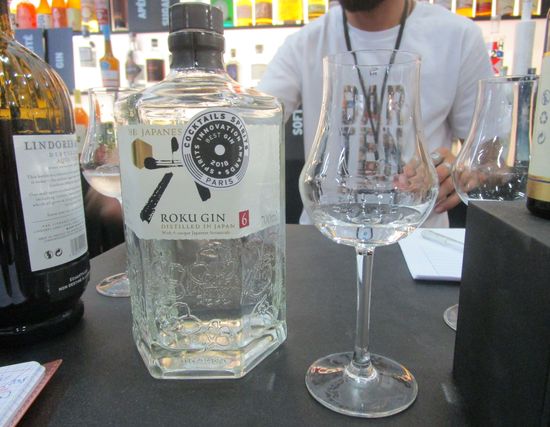 A Noter : Le bartender indépendant français employé par Suntory a créé 3 cocktails pour chaque référence (3 pour le CHITA, 3 pour le TOKI) dont celui sur la photo ci-dessous, nommé « Hermes », dégusté au salon, un vrai régal, aux délicieuses notes de mandarine, de sirop de thé matcha, entre autres (voir la recette sur la photo également).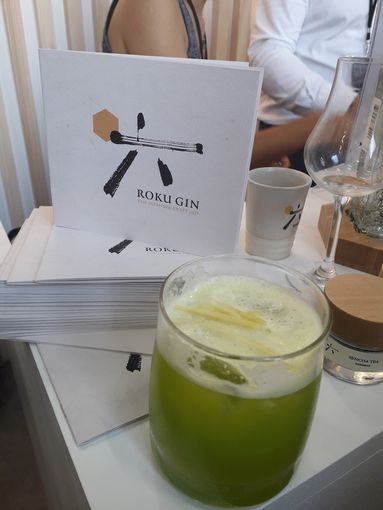 E.S. : A nice Japanese gin, with some Japanese ingredients as well (various botanical, cherry tree flowers, tea, sansho pepper, yuzu), but of course also the usual suspects (juniper, coriander & cinnamon). T.N. : Very subtle, delicate & balanced, it's not so far from rival NIKKA « Coffey gin », but both remain less impressive than the KI NO BI gin from Kyoto, superioir in complexity & expressivity in my opinion. Nota : There was a French independent bartender hired by SUNTORY for the show who creates some beautiful cocktails such as the one (see the ingredients below on the picture), showing delicious notes of mandarin & matcha tea syrup, between other things. A real treat !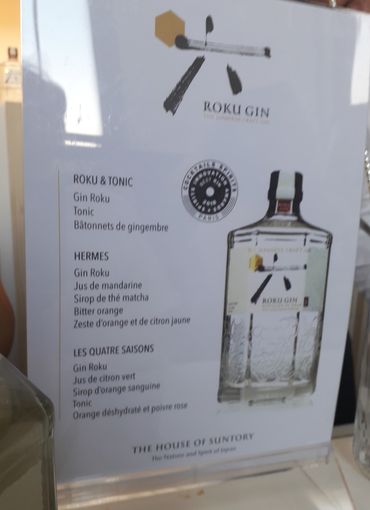 -RUM BACARDI 8 ans, 40 %:
Il s'agit d'un rhum de mélasse de Porto Rico, fin, très fondu, plutôt bien fait. Il peut se boire autrement qu'en cocktail, sec. Il est âgé de 8 à 16 ans et développe d'intéressantes notes modérément épicées, chocolatées et fruitées, de fruits secs caramélisés, un peu comme un « pudding liquide ». Rapport qualité/prix excellent (prix autour de 25 €).
E.S. : A nice molasses rum from Porto Rico, very melted, refined, rather well made, with notes like a « liquid pudding », caramelized dried fruits, chocolate, fruit & spices. A good quality/price ratio as well.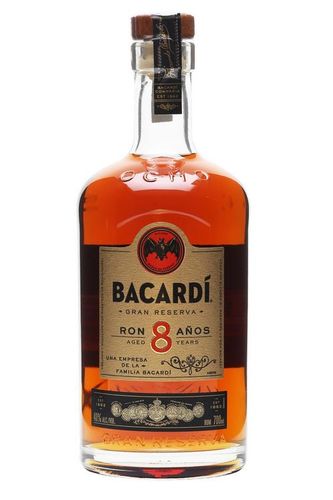 (Merci à The Whisky Exchange pour la photo)
*Stand du B.N.I.C. (Bureau National Interprofessionnel du Cognac) :
Il s'agit d'un organisme chargé de faire découvrir le Cognac et ses spécificités aux professionnels, mais aussi au public. Il me faut ici remercier David Boileau pour son accueil sur le stand et pour m'avoir aidé à sélectionner quelques-uns des Cognacs disponibles à la dégustation parmi une offre plutôt généreuse ! (car l'on ne peut pas tout goûter, n'est-ce-pas ?
Pas de Notes chiffrées pour ces Cognacs, mais des étoiles (notation simplifiée, une estimation seulement, sauf pour un, le meilleur du lot, le RAGNAUD-SABOURIN, car j'ai pu l'échantillonner !).
E.S. : Then I went to visit the French National Interprofessional Office of Cognac stand (shortened as « B.N.I.C. »), with the help of David Boileau, to choose a few different Cognac for a short assess. Thanks to this guy who's welcome & ability to explain these different products helped a lot (because we can't try everything, right?). Note that because it was a quick tasting, I won't rate the following Cognacs but give them symbolicly some stars, with the exception of my favorite of the stand (the RAGNAUD-SABOURIN) that I had the chance to sample for later on.
-HARDY XO « Rare » (Ugni Blanc), 40 % :
Un joli Cognac apéritif, très fin, correct, mais sans plus. Le titrage hélas n'aide pas, mais on est ici dans la tradition majoritaire commercialement (et encore actuellement) de recherche de fondu et de douceur, ce qu'il fait efficacement. ***
A pretty aperitive Cognac, refined, decent, but nothing more. Here the 40 % abv limitation is a bit frustrating. Ok we are here clearly in the dominant tradition of blended aged spirit, with sweetness & melted notes, and it « does the job » efficiently. ***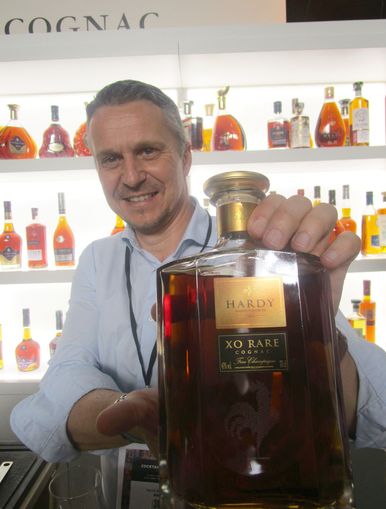 -RAGNAUD-SABOURIN XO « N°25 » ("Alliance"), Grande Champagne, 40 % :
A Noter : Ce Cognac a été mis en bouteille sans coloration au caramel (E150a) ni adjonction de sucre (saccharose brut).
Couleur: Vieil or, à reflets ambrés. Nez: Somptueux ! Complexe, très parfumé et expressif, d'une grande finesse aussi: Légère touche de solvant/acétone (signe de présence de l' « Ugni blanc »-renseignement pris il en est composé en grande majorité, une infime partie étant composée de « Folle Blanche »), fruité exubérant (orange zestée, abricots-sec & le fruit frais-pêches jaunes, un fruité charnu et une palette qui évoque un peu certains Single Pot Stills whiskeys irlandais), fleurs capiteuses (du lys, mais aussi probablement d'autres fleurs), beaucoup de charme...Bouche : Magnifique !!! Le toucher en bouche de ce whisky est fabuleux, d'une sensualité alliant finesse et gourmandise, envoûtement et satisfaction (grande longueur en bouche malgré le titrage standard). L'équilibre est parfait, et le palais est fidèle au nez, avec des fruits du verger, des fleurs capiteuses et comme une trace d'acétone apportant de beaux esters, et aussi une pointe de fruits exotiques aussi (papaye, voire de l'ananas confit). Pas ou peu de chêne ici perceptible, ou alors les tannins sont tellement fondus que c'est révélateur de fûts de qualité exceptionnelle. Une légère sucrosité naturelle, bluffante, survient alors en même temps que cette belle sensation de fruits confits variés, surmontée de ses notes florales quasiment aériennes, très séductrices, qui concluent ce voyage en une finale mémorable et qui me rends déjà nostalgique du verre vide. Je suis subjugué ! Tenue à la dilution: Avec juste quelques gouttes (car c'est un Cognac, non un single malt whisky, donc recherchant le fondu avant tout, et déjà à 40%), le charme persiste et ajoute encore un peu de sensualité du fruité et du floral. Ne pas aller au-delà cependant pour ne pas créer de déséquilibre, sinon gare ! De même, je tuerais volontiers celui qui mettrait des glaçons dans ce vieux Cognac ! Conclusion: Un Cognac exceptionnel, comme j'en croise rarement d'aussi expressifs parmi ceux titrant 40 %, et même ceux qui vont jusqu'à 45/46 %. Gourmandise, équilibre, harmonie & sensualité sont les maîtres-mots ici, et c'est très impressionnant. Mes compliments au maître de chais et à l'assembleur ! Un Cognac fortement recommandé ! Indication de Prix : Autour de 100-150 €, vente en ligne ou cavistes. Note confirmée: 94/100
ENGLISH SUMMARY: Old gold color, with amber hues (all natural-no caramel or sugar added here, as alas too often in Cognac!). Nose: Sumptuous! Complex, very perfumy, very expressive, and of a great delicacy as well. The light solventy touch (or say acetone) betrays the presence of "Ugni blanc" as the main grape variety here, while there is a little of "Folle Blanche". (Nota: Cognac is double-distilled wine, while Armagnac is single-distilled wine, and Scotch whisky most often double-distilled grain, wether it is barley, corn, or else, malted or not). The fruitiness is exuberant, with orange zest, apricot (both fresh & dried), yellow peaches (all these fruit with a fleshy sensation evoking Single Pot still Irish whiskey), and it is accompanied by some beautiful heady flowers notes, especially lily in the valley, but probably some others too. A lot of charm… Palate: Magnificent! The sensation on the palate of this Cognac is incredible, it allies sweetness, sensuality, finesse, "gourmetness" & length on the palate like no other (especially at 40 %). The balance here is perfect between the fruity & the floral notes, with a great faithfulness to the nose: All the fruity & floral notes are here in harmony and I also get now some estery notes (exotic fruit such a papaya, and maybe some roasted pineapple). No oak or so little feel of it here, or the oak tannins are so much melted that it is clear that exceptional casks haven been used here. A slightly sugary note (perfectly natural here) is then coming through, impressive, along with some beautiful mixed candied fruit notes, topped with some now aerial floral notes, very seductive, and this conclude a journey in a memorable finish that makes me already nostalgic of it (the empty glass). I am blown away! With water: With just a few drops of water, not more (remember it's a Cognac, not a Single Malt whisky, so it is made with in mind make it more melted as possible, plus it is already diluted to 40 % abv), it stays expressive, the charm is still there & it adds even a bit more sensuality (floral & fruity) on the palate. Warning, more water would break its perfect balance, and I will kill the one who dilute it too much as well as the one who will put ice in this! Conclusion: An exceptional Cognac for sure, the kind I rarely come across, among those who are reduced to 40 % as well as some even reduced only at 45/46 %. Gourmet, balanced, harmonious & sensual are the words I would say summerize well this beauty/ Kudos to the master-distiller & master blender! A warmly recommended Cognac! Price tag: Around 100 to 150 € in France, but you can also find it on line in UK for instance. Confirmed rating: 94/100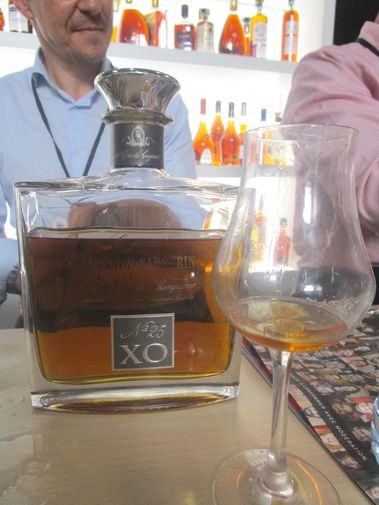 -REMI LANDIER XO, Fins Bois, 40 % :
Un joli Cognac digestif, tout en délicatesse, floral, fruité, équilibré. Recommandé. ***/*
A pretty digestive Cognac, all in delicacy, floral, fruity, balanced. Recommended.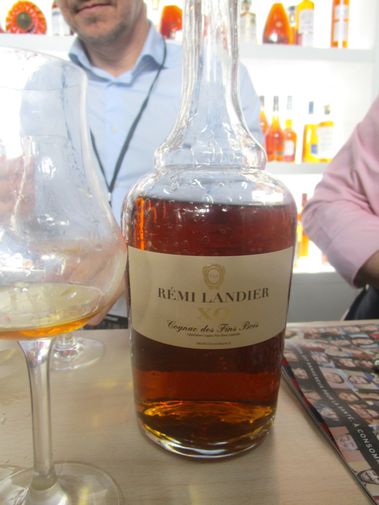 -CHATEAU DE MONTIFAUD « Silver » (Petite Champagne), 40 % :
Un Cognac au profil un peu plus sec, très fondu mais un peu fermé tout de même. A voir dans un autre contexte. ***
This one is a bit more drier profile of Cognac, a bit closed, but very melted. To try again in another context. ***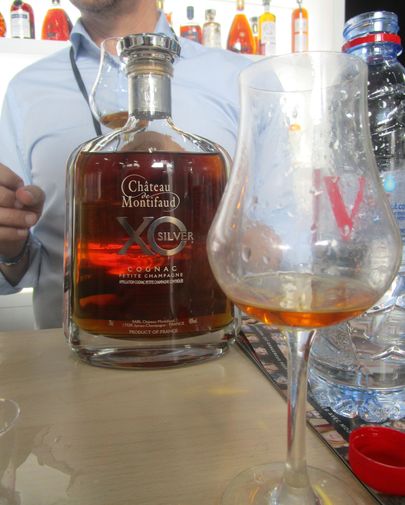 -BOURGOIN « Microbarrique » XO (22 ans, millésime 1994), 35 cl, 43 % : Finition en microbarrique de 10 litres (avec bousinage maximal) :
Un Cognac original, avec un profil fruité charnu, une certaine densité, et un boisé un peu plus prononcé que la moyenne, mais encore équilibré. Recommandé. ***/*
An original Cognac, with a more fleshy fruity profile, some density as well, and more wood than the average, but still balanced. Recommandé. ***/*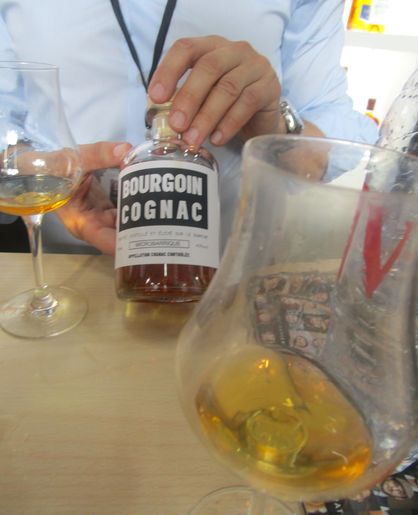 -CAMUS XO « Elegance », 40 % :
Un Cognac assez expressif, sur l'orange, les plantes aromatiques et un boisé noble, plutôt joliment fait, je dois dire. Recommandé. ***/*
A rather expressive Cognac, mainly focusing on orange notes, but with some nice botanical notes & a noble wood note. Pretty well made, I have to say. Recommended. ***/*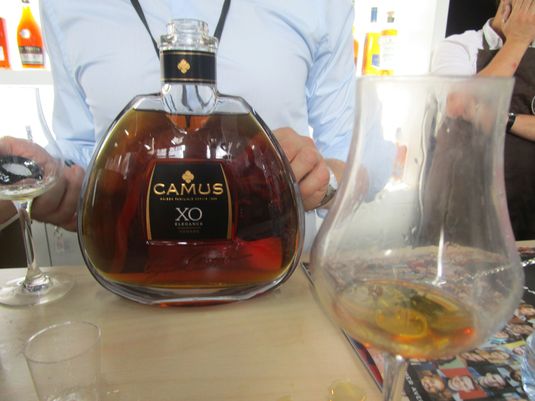 En dehors de cet important stand à vocation didactique, d'autres marques de Cognac avaient parfois un stand, et j'ai choisi de m'attarder sur celui-ci :
Except this educational stand, other Cognac brands were presented during this show, and I choose to stop at this one, from a family owned-of Norvegian Origin-going back to 1905 :
*Stand BACHE-GABRIELSEN (maison familiale d'origine norvégienne qui existe depuis 1905) :
Pas de Notes chiffrées pour ces Cognacs, mais des étoiles (notation simplifiée, une estimation seulement):
-« AMERICAN OAK » (maturation en chêne français plusieurs années, puis 6 mois en fûts de chêne américain), 40 %:
Joli nez. Un whisky assez fin, très fondu en bouche, avec une densité fruitée intéressante avec des notes de fruits secs orientaux (les dattes en tête), puis une jolie souplesse avec un peu de bois & de chocolat au lait. ***
A nice nose, for a Cognac matured in French oak, then finished in American oak for 6 months. Very melted, on the palate, with some interesting fruity thickness showing oriental dried fruit notes (dates first!), and then a pretty suppleness, with some wood & milk chocolate coming through. ***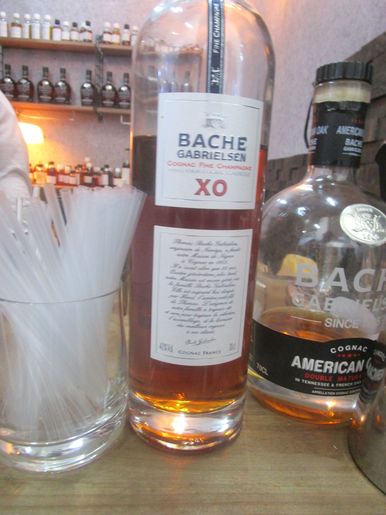 -« FINE CHAMPAGNE », XO (environ 15 ans d'âge), (72 % de Grande Champagne), 40 % :
Une version plus âgée, plus aboutie, très fine, un peu sur le même profil, mais avec davantage de fruits noirs. Recommandée. ***/*
A more accomplished (& an older one) expression, more refined, on the same aromatic profile basically, but with more dark fruit. Recommended. ***/*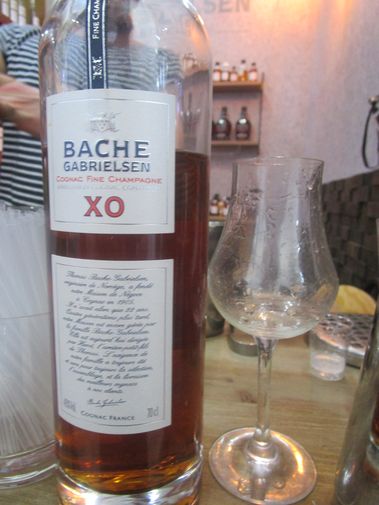 -« SERENITE EXTRA », Grande Champagne, 35 ans de moyenne d'âge*, 40 % :
Un Cognac de grande qualité, dense sur le fruit, d'une profondeur plus grande que les précédents (*= sur certains sites l'on parle d'un assemblage de fûts de 20 à 60 ans, mais je ne peux le confirmer), avec un fondu remarquable, mais que j'aurais aimé titrer un peu plus. Fortement recommandé ! ****/* Indication de Prix : Autour de 120/130 €
A Cognac of a great quality, also thick on fruity notes, of more depth than the previous ones (in some websites, some speak about 20 to 60 years old content, but I'm not sure). The level in « meltiness » is remarkable here, but I wish I could get more satisfaction out of it, with a bit higher abv. Strongly recommended ! ****/*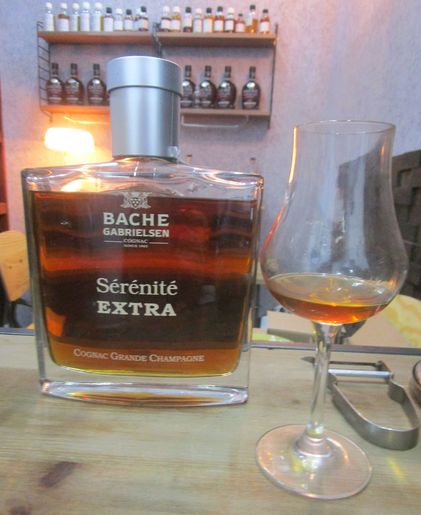 A noter : Dégustation d'un excellent cocktail, proche d'un Old Fashioned, mais au Cognac, élaboré avec l'American Oak, par le bartender du Symposium (voir photo ci-dessous), à Bordeaux (que je recommande, du coup !).
Note : There was also a very good bartender here, who created a Cognac based cocktail that was close to an Old Fashioned, and an excellent one. I can't remember his name but he told me he works for the Symposium Bar in Bordeaux town (a bar that I have to recommend too, rightfully so).