Salon Club-Expert DUGAS 2019
Reportage sur le SALON CLUB-EXPERT DUGAS 2019, Palais Brongniart, Paris
les 22 & 23 Septembre 2019
(Wine, Whisky & other Spirits show from French house DUGAS, producer, distributor & importer, September, 22 & 23, 2019).
& concernant la Soirée de présentation Presse des Nouveautés 2019 de la Maison DUGAS (au Bar House Garden),
Paris, le 17 Septembre 2019
(& Press Evening Launch of DUGAS novelties, House Garden Bar, September, 17).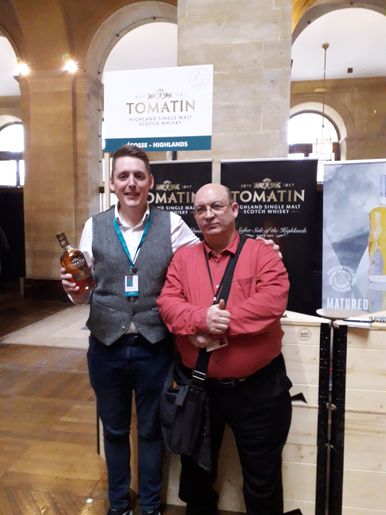 The pleasure for me to meet Scott Adamson, TOMATIN's Global Brand Ambassador, for one of his rare appearances in a French show.
Sujet publié le : 03/11/2019-Mise à Jour du : 03/11/2019
First published : 03/11/2019-Update : 03/11/2019
Photos: Tous droits réservés © Grégoire Sarafian (pour la majorité des photos, sauf si précisé).
Pictures: Copyright © Grégoire Sarafian (for the majority of them, except for a few, where appropriate).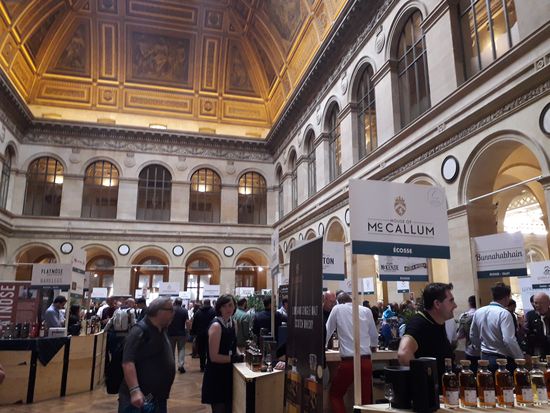 INTRODUCTION BILINGUE/BILINGUAL PRESENTATION :
Pour ce reportage, comme pour celui concernant le WHISKY LIVE PARIS 2019 (reportage à suivre), je serais bref sur l'événement et la soirée de présentation de presse qui a précédé le salon et à laquelle j'étais invité… La soirée a eu lieu le 17 Septembre 2019 dans un bar récent nommé le HOUSE GARDEN (excellent accueil et cocktails, avec un concept original de "low abv" , promotion d'une consommation responsable, mais avec tout de même du goût dans les saveurs) et situé 6, Rue Richard Lenoir (Paris, 11 ème), tandis que le salon lui-même a eu lieu pour la première fois, curieusement, dans l'un des premiers lieux mythiques liés au salon concurrent, le WHISKY LIVE PARIS, au Palais Brongniart (Paris, 2 ème), ancien lieu de la Bourse de Paris, désormais privatisé. Merci à la maison DUGAS, et spécialement à Lucie Chartreux pour l'invitation à la soirée presse et à l'accréditation presse pour le salon. Comme d'habitude, j'ai privilégié la dégustation des whiskies aux autres spiritueux (à l'exception d'une nouvelle référence de gin), et, pour information, j'ai ajouté un astérisque* après le nom des whiskies dégustés lors de la soirée presse (certains l'étaient en effet en exclusivité), lorsqu'ils étaient absents au Salon.
A Noter : Exceptionnellement, et je l'expérimente pour la première fois, hormis pour les notes de dégustation via échantillon ou bouteille (notes plus complètes & note chiffrée-teste en marron), toutes les notes brèves de dégustation de whiskies dégustés dans un contexte de salon important seront désormais directement publiées en anglais (texte en noir cette fois, sauf l'introduction), ce, pour des soucis d'efficacité et de rapidité de publication.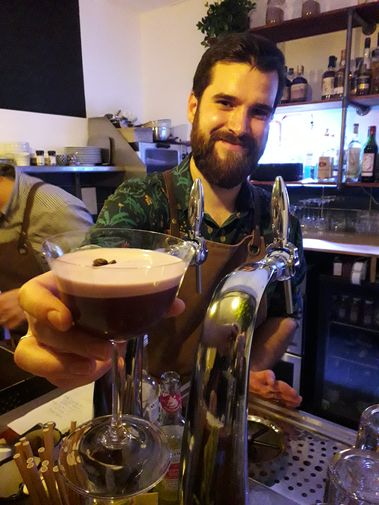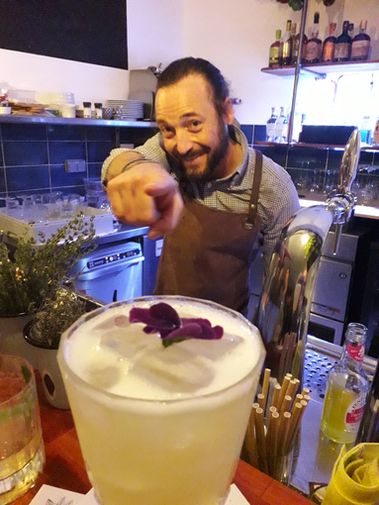 On the left, bartender Yann Salentin, creator of "Churchill Coffee Sour" cocktail (highlighting Churchill Vintage 2017 Port) & on the right, bartender Olivier Martinez, creator here of the "Folle Nuit Blanche" cocktail (highlighting Tito's vodka & Coquerel Calvados). Both are the founders of the HOUSE GARDEN Bar in Paris (address above, highly recommended).
ENGLISH SUMMARY: For this report, as well as for the one about WHISKY LIVE PARIS 2019 (report to follow soon), I will be writing shortly than usual about the event & the Press evening prior to the show to present this year's new whisky & other spirits bottlings, an event I was invited to for the first time. The event took place on September, 17 in a recently opened bar named the House Garden (an excellent place to sip "low abv" cocktails, a new concept promoting responsible drinking but however keeping the flavors expressive at the same time), a bar located in the 17th district of Paris (6, Richard Lenoir street), while the Club-Expert DUGAS show was taking place surprisingly and for the first time in one of the most mythic locations of the adversary show (Whisky Live Paris), I mean the Brongniart Palace (near the subway station Bourse, in Paris's second district). Thanks a lot to the Dugas staff, especially to Lucie Chartreux for the invite to both events (the Press evening & the main show). As usual, I chose to make whisky the first choice (so I have almost tasted no other spirit, except a gin new expression) and added an asterisk* after its name when the whisky tasted was only available to taste during the Press Evening launch of novelties, and not at the show.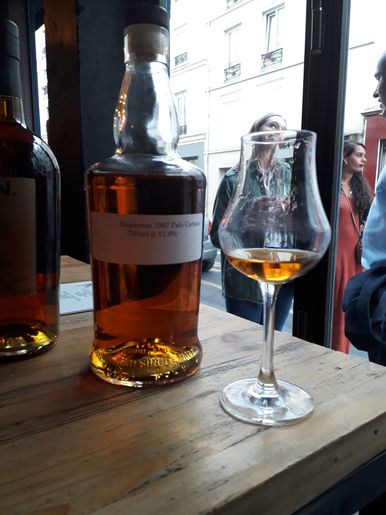 For me the best whisky proposal from DUGAS this year (here with a temporary label because it was an exclusive to the Press Event advanced sample of the bottle).
A 21 y.o. DEANSTON vintage 1997 matured in American oak & finished in Palo Cortado Sherry casks, 51,8 % abv with a sweet & original profile (tasting notes below).
Note: Exceptionally, and this is the first time I'm experimenting this, except for tasting notes coming from a bottle I have purchased or a sample I was allowed to take from the show (for these you will find more complete notes & the French version of it first), all the other tasting notes will be written directly and only in English, in black color this time, in order to be quicker to publish this report.
NOTES DE DEGUSTATION PUBLIEES DANS CE NUMERO :
(TASTING NOTES PUBLISHED IN THIS ISSUE)
-FLATNOSE "RUM CASK FINISH" n.a.s., 2019, bottled by The ISLAY BOYS LTD (Donald MacKenzie & MacKay Smith), Scottish BLENDED WHISKY (12 Single Malts, 3 Single Grains), 43 %:
A sweet nose & sweet palate (vanilla, exotic fruit, sweet spices), rather well done, well balanced, but remaining light. A decent dram.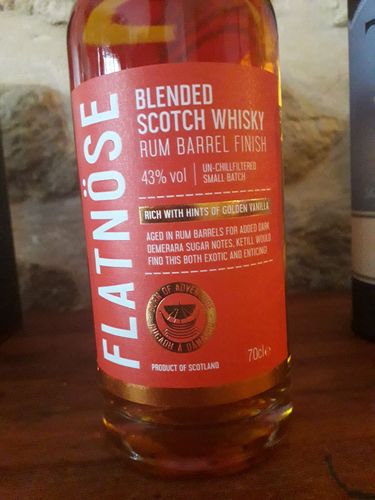 -GLENTAUCHERS 11 y.o. bottled by CADENHEAD/Small Batch, ncf/nc, 57,9 % (Scottish SINGLE MALT):
A bit too sharp on the nose (spicy, herbal), but on the palate, with a help of a few drops of water, it gets more interesting, developping nice notes of citrus fruit (mainly citrus), almonds & vanilla. Nice, but not outstanding.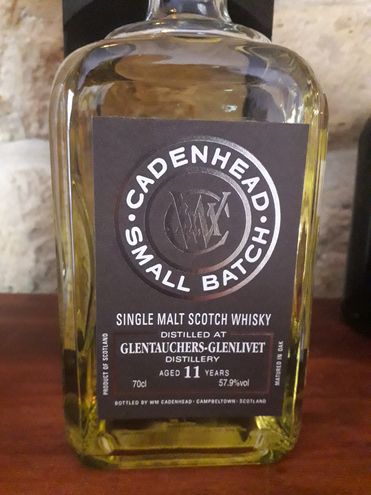 -AULTMORE 12 y.o. (2006-2019) bottled by HOUSE OF MCCALLUM, Single-cask (No 1042-330 bottles), Bio Syrah Wine cask finish, ncf/nc, 46,5 % (Scottish SINGLE MALT):
Note : House of MacCallum is a new luxury looking brand created last year by Anthony McCallum, Ian MacLeod's previous malt whisky "whisky maker" (for cask selection & blending). T.N.: As for Ian MacLeod's "Chieftain's" range, Anthony seem to rely strongly on wine casks finishes for many of his references, which isn't a very good sign if you ask me, but let's judge each bottling aside from that: This one has kept well its balance between wine influence & distillate influence, with an important but still tamed oak influence as well. So this is nicely fruity (I even thought at the beginning that it was only sherry used here…). A nice AULTMORE. I tasted also a ROYAL BRACKLA 10 y.o. (this time on the show) that was decent, but I was expecting it to be better & more conform to the delicious distillery fruity, floral, estery & charming style.
-DEANSTON* official bottling "PALO CORTADO CASK FINISH", vintage "1997" (bottled in 2019), 21 y.o., Palo Cortado Sherry finish, limited edition (277 bottles ?), ncf/nc, 51,8 % (Scottish SINGLE MALT):
This wonder was only available at the "Press Evening Salon Club Expert Dugas Novelties launch" and isn't easily available in the French market it seems. For me one of the TOP 5 bottles of the show this year, if not the best. An absolute blast of creamy, lazy, sexy luxuriant (milk & Swiss) chocolate & cream (almost the best "café latte" you've ever had), "praliné", malted barley, sweet oak & sweet spices & whatever again I don't know. Just a major treat for your tastebuds. A top priority on my wishlist, though prices vary from 175 to more than 230 € !. Worth probably over a 90 to 93+/100 rating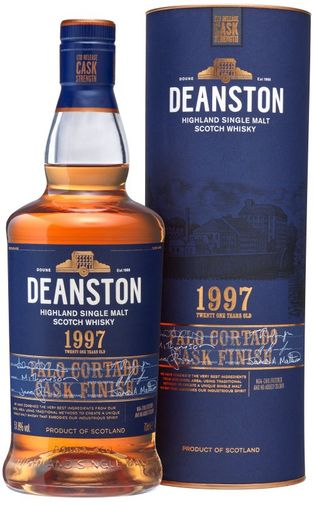 -DEANSTON official bottling "ORGANIC OLOROSO CASK FINISH", vintage "2002" (distilled 18/12/2002, bottled in 2019), 16 y.o., (matured in recharred casks, finished 2 years in Organic Oloroso Sherry casks), limited edition (3492 bottles), ncf/nc, 50,6 % (Scottish SINGLE MALT):
Nice golden to rich amber color. Rich nose, full of oriental pastries & strong sherry, red fruit, bags of spices (but staying "affordable"), and a great length...yummy all the way. With a few drops of water, it gets a bit winey but not enough to make you (or me, at least) go away from it. A strong & very well made sherry bomb. It has also some creamy texture I loved a lot. Another winner of the show, worth over a 90/100 rating for sure.
-DEANSTON official bottling "FINO CASK FINISH", vintage "2006" (bottled in 2019 ?), over 12 y.o., (finished in Fino Sherry casks), limited edition (1608 bottles), ncf/nc, 55,0 % (Scottish SINGLE MALT):
Nice Sauternes/golden color. Nice delicate sherry influence, subtle, with a beautiful nuttiness coming through, gentle oak, great balance too. Another winner. Damned, why didn't I take more empty samples ?!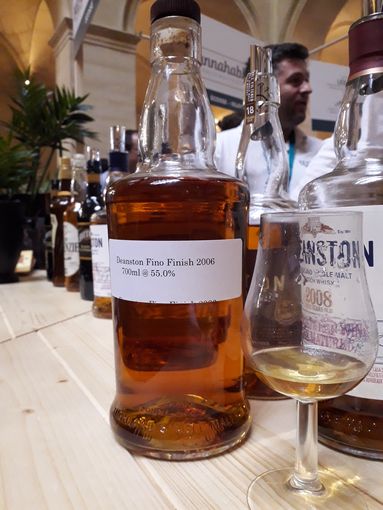 -DEANSTON official bottling "BORDEAUX RED WINE CASK MATURED", vintage "2008" (bottled in 2017), 9 y.o., (fully matured in Bordeaux Red wine casks), limited edition (1400 bottles), ncf/nc, 58,7 % (Scottish SINGLE MALT):
Rich amber color with red hues. I am amazed, every single DEANSTON limited edition I have tried this year blew me away. This one too, though a bit less in my alley because of its winey style (coming through more when you dilute it a bit), but it is very good. Tasted neat, it is more driven by red fruit than by tannic or too oxydatively winey notes, which is never great. Red fruit notes here are ahead & its juicily good. Estimated around a solid 88/100 rating.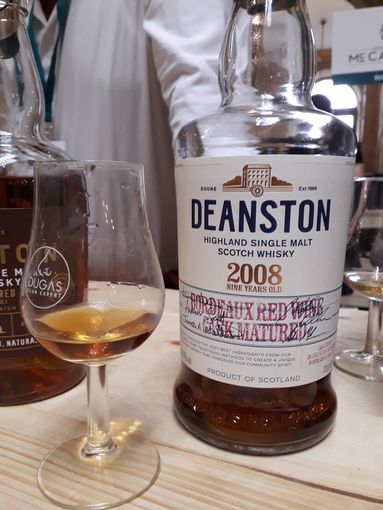 -GLASGOW Distillery bottling "1770", "2019 Release" expression (unpeated), 1st fill Bourbon barrels & Virgin Oak casks, 50 cl, 46 % (Scottish SINGLE MALT):
I liked last year's inaugural Single Malt proposal of this new distillery, though noticed the heavily charring of cask that was hiding a bit the distillery character in my opinion, and this one seem to be a bit less heavy on the oak (charring) than the previous one, but still has a lot. However, there are nice esters (English liquorice allsorts, exotic fruit, pineapple mainly) that shine through, as well as some vanilla, soft spices, and (added note) it has a longer finish than the peated & sherried one I think. Temporary rating: Around 86-87/100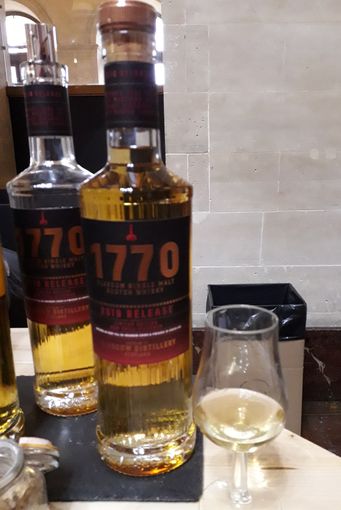 -GLASGOW Distillery bottling "1770", "Peated Release No 1" expression, 1st fill Sherry Oloroso butts & Virgin Oak casks, 50 cl, 46 % (Scottish SINGLE MALT):
This time the recipe is a bit different, as the master distiller switched from Bourbon to Sherry casks in the mix to add to the Virgin Oak casks, and of course, peated malt (from the Highlands, with some heather involved, so it could be from Orkney in my opinion). Subtle, rather well done, it carries some beautiful esters that manage to shine through the peat & the Sherry, and some notes clearly from the Sherry (nice toffee notes, some "noble nut"notes as well. Nice, but rather light (because still young, probably).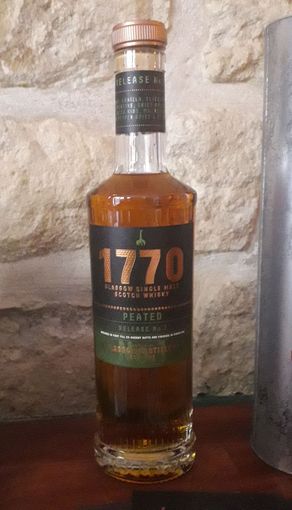 -BUNNAHABHAIN* official bottling "MARSALA CASK FINISH", vintage "1988" (distilled 01/12/1988, bottled in summer 2019-over 30 y.o.), finished 3 years in 4 Marsala Cask Hogsheads, limited edition (1260 bottles), ncf/nc, 47,4 % (Scottish SINGLE MALT):
Another "Evening Press launch" only tasting. Copper color. On the nose, it is refined, with moderate Marsala wine influence, dried fruit (including dates, figs, apricots), some dark chocolate, and sweet spices. Rather well done, it gets a bit winey when you add a few drops of water, but still very nice. For an over 25 yo BUNNAHABHAIN though, I was expecting a bit more. Once again I'm afraid I'll note that this last decade for me the indie bottlers served often better the distillery than the official bottlings imho-one exception maybe to this (ok the 12 & 18 yo are decent), the 20 yo "PALO CORTADO FINISH" that came earlier on...beautiful. Rating estimation for this one is around 87+/100 for me. Nice, but beaten by all the limited edition DEANSTONs of this year when it comes to masterful finishing & full taste.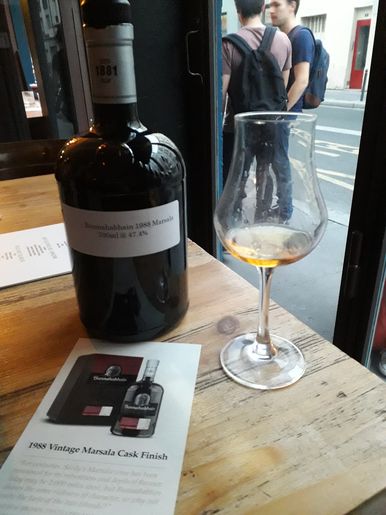 -BUNNAHABHAIN official bottling "STIUIREADAIR" (core range) n.a.s., 2019, 46,3 % (Scottish SINGLE MALT):
I was expecting a lot from this one and…had less than a centiliter to assess it...(I was so disappointed I didn't come back for the more peated expressions of the 3 brands later on, plus it was a bit too warm on this stand-good welcome though), not easy (even if I don't swallow all the glass content & spit some, it is important for me to have a wide mouthfeel & keep some whisky to dilute it a bit to see how it reacts to water). A woody, spicy, light & sherried expression that seem a bit pale compared to the 12 y.o. (despite the 12 y.o. own struggle to let the distillery character shine as before, but it's another story we'll tell later on on the website or maybe on video as I haven't published a recent review of the 12 y.o.). A disappointing one, but sure needing to be assessed another time in better conditions.
-LEDAIG official bottling 19 y.o. (limited edition), 2018, Bourbon matured & finished in Sherry Oloroso casks, 46,3 % (Scottish SINGLE MALT):
Alas, same averagely bad conditions to taste it...A farmy note (moderate stable note, but it is common to LEDAIG & seemed to be enhanced when sherried casks are involved...I noticed the same thing in BRORA). A moderately peated expression in which the Sherry plays the first violin, but not necessarily the best one. Decent, but unimpressive. Yet, an opinion to taken with a pinch of salt, as tasting conditions weren't the best.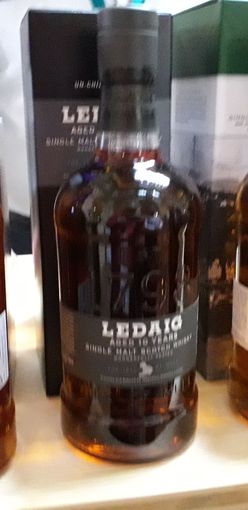 -TOBERMORY official bottling 12 y.o. (core range) n.a.s., 2019, Bourbon casks (only), 46,3 % (Scottish SINGLE MALT):
Alas, same averagely bad conditions to taste it…I was expecting a lot of this new reference since last year (in other words more distillery character, less "tricks" with heavy finishes destroying it, like some expressions, for instance the previous 15 y.o.). Again, with many reservations, I have to say I have been a bit disappointed by this one. The nose is refined, but the palate is harsher, with a lot of wood & strong spices, so, while it was early in my visit of the show that day (even the beginning, mind you), I didn't manage to find any floral, fruity or toffee notes like I see some other reviewers find there. One to try again in better conditions.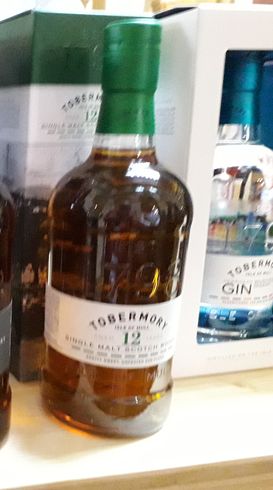 -ROZELIEURES Single-Cask (H.S.E. Rhum cask finish), n.a.s., 43 % (French SINGLE MALT):
While French small indie bottler Benjamin KUENTZ managed these last years to get good casks from this East of France distillery, I note that their own official bottlings still struggle to deliver a clean spirit (when it isn't hidden behind peat or wine casks), despite the high quality rum casks used to finish it. "Nothing to be gained here" (J.M. Basquiat).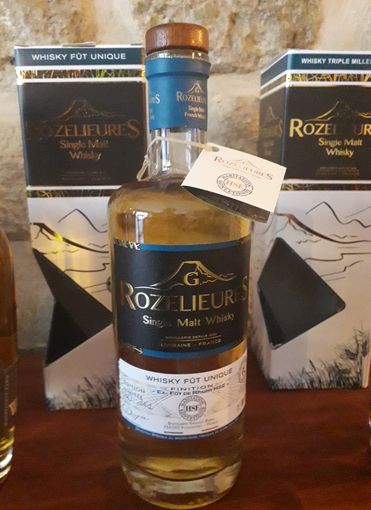 -GLEN SPEY 12 y.o. (supposed 2019 bottling), Ian MacLEOD/"Chieftain's" range, P.X. Sherry finish, 46 % (Scottish SINGLE MALT):
A nice whisky, with some fruity & floral notes, some gentles spices too, but not much more and not much personality. The distillery character doesn't come through enough in my opinion, but it is a decent malt.
-SMOKEHEAD "HIGH VOLTAGE" (Sherry casks, peated), 58 % (Scottish SINGLE MALT):
Ian MacLeod peated brand showcasing undisclosed distilleries casks presents this time a high strength whisky which is also using more sherry casks than the usual n.a.s. expression. So it is still bold, heavy peat blast in the head, but curiously thinner than expected, probably because of the main sherry casks presence (something you can also experience when you try for instance LAGAVULIN or TALISKER Distiller's Edition). Not bad, but a bit too young & feisty, and a bit too thin on the palate. Me? I prefer FINNLAGGAN Cask Strength in (almost) same territory, but with no sherry, or (but it's more expensive & sold out) the "Peated & Sherry" ELEMENTS OF ISLAY Cask strength (see my report to be coming soon about Whisky Live Paris 2019 show).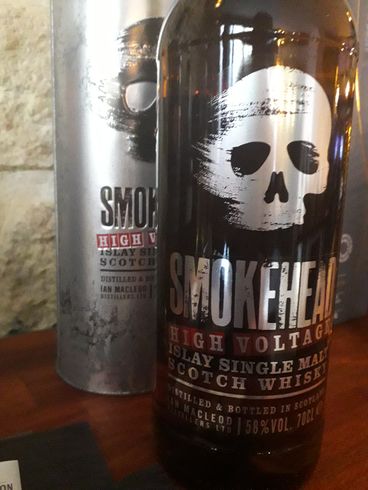 -TAMDHU official bottling n.a.s. "BATCH STRENGTH" (Batch 004), limited release, 57,8 %(Scottish SINGLE MALT):
New batch of this popular version a bit younger than 10 y.o., but also (as for the different versions of the 12 y.o. & even the new 15 y.o.) with I believe a different recipe. Yes, since the now discontinued beautiful 10 y.o. (despite it was reduced to 40 % abv), I am a bit worried, or say questioned by their different choice of casks, their new emphasis on different kind of sherry casks profile than before, choosing more dusty, earthy, "closed" type sherry casks & I think it, to a certain extent, impoverishes a bit the beautiful sherry profile that TAMDHU had at the time of the most recent rebranding, a few years ago, and I regret that. This one is no exception, but maybe a tad better than batch 003. So you get firm oak, tannins, dark chocolate, and not much fruit. Decent, but not great.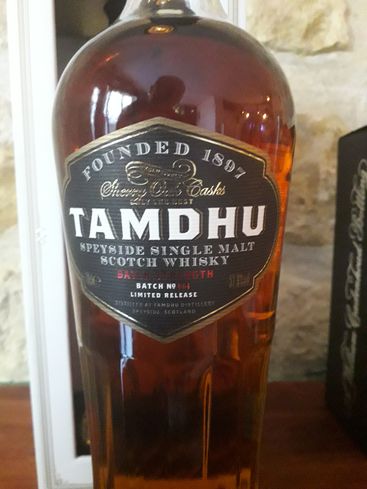 -TAMDHU official bottling 15 y.o. (first release, 2019), 46 % (Scottish SINGLE MALT):
This is the new expression for the core range (there are several versions as well this year for travel retail, but as it is hard to get them here, let's forget them). T.N.: Golden color. Light & well balanced nose, a more complex profile than the new (regular, not the M. & S. one) 12 y.o., a better profile in my opinion regarding its fruitiness (dark fruit, dried fruit, some cherries as well), dark chocolate, less oak & sherry tannins than the 12 y.o. (does it make sense?) and a more harmonious style, with some depth. I reserve my final opinion and rating there, as this one needs other tastings I think.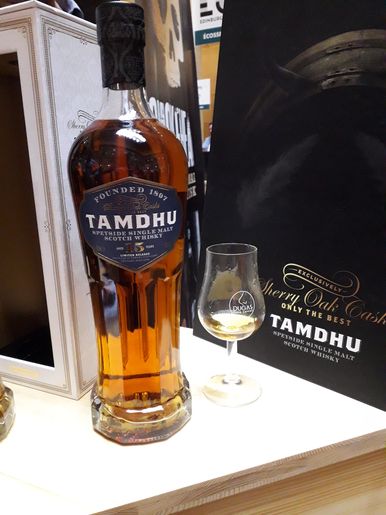 -GLENGOYNE official bottling of the "LEGACY" range, "Chapter One" (see below), n.a.s, (first release, 2019), 1st fill & refill Sherry casks, 48 % (Scottish SINGLE MALT):
Note: This is the new expression included in the core range belonging to a new series paying homage to important people related to the distillery history. This first one is a tribute to Cochrane Cartwright, Glengoyne's distillery manager in 1869, famous because he chose to introduce sherry casks to Glengoyne's malts style & recipe. T.N.: The general profile of this one is elegant, relatively light, well balanced and focusing on a light to medium sherried style of GLENGOYNE (a bit like the small brother of the Teapot Dram I will say), with moderate oak & soft spices, dried fruit, sweet herbs, and maybe a hint of pear. Nice, I shall get back to it for further exploration & more notes. A good value too, around 65 €.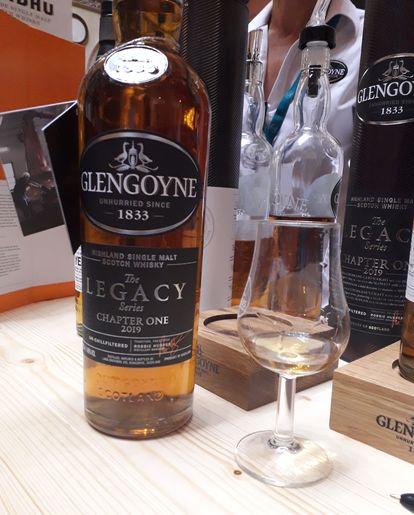 -WOLFBURN official bottling, "N°375" ("SMALL BATCH RELEASE", bottled 03/2019), n.a.s. (around 4 y.o.), 1st fill Bourbon barrels (but 100 liters ones) & 2nd fill Oloroso Sherry casks (limited edition to 5500 bottles), ncf/nc, 46 % (Scottish SINGLE MALT):
Note: WOLFBURN is now distributed in France by la maison Dugas instead of La Maison du Whisky. This one is a beautifully crafted expression that manages to get the best of the "Aurora" (the more sherried expression from the core range) & the "Northland", focusing on Bourbon barrels.
TN: Classy, well balanced, with a complex bouquet on the nose, rather expressive (vanilla, sweet spices, linseed oil, honey, citrus fruit, with hint of red fruit). The palate shows a nice complexity as well, on the same notes, but opens it a bit (vanilla, sweet spices, gentle oak, hints of red fruit, acacia honey and light caramel notes), with maybe a bit more sherry influence, with a slightly winey note coming through, but remaining very well balanced, as some red fruit are there too. A few drops of water can help to get deeper in it, but don't add too much. The overall impression is very positive, I like this one a lot. I will have to get back to this one to give it a rating & more detailed impressions but I think this one could be rated easily around 90+/100. On my wishlist.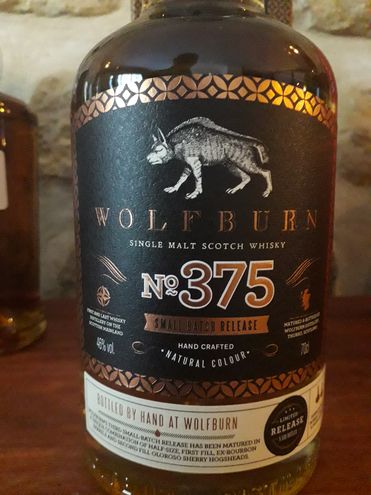 -WOLFBURN (official, but unbottled) "NEW MAKE", 2019, 70 % abv :
FRENCH Notes: Merci à Mark Westmorland, l'ambassadeur de la distillerie à l'allure de Viking, pour cette dégustation que j'ai préférée transférer dans un échantillon pour le déguster au calme. Couleur : Bien évidemment transparente, puisque sans vieillissement. Notes habituelles pour du distillat pur, à savoir des artichauts & de l'eau-de-vie de prune, mais aussi une vague trace de tourbe, un "murmure" d'agumes peut être aussi...En bouche, sans dilution, c'est supportable, et même appréciable, et exprime une légère note de tourbe, et s'avère plus proche du single malt en version de 3 ans d'âge que je ne l'aurais pensé. J'ai perçu, à tort (du rêve ?) ou à raison, des notes marines côtières (embruns, sel), pas évident d'avoir une certitude. Le palais reprend les autres notes du nez. Avec un peu d'eau (plus que pour un whisky à 46 %), ces notes sont reprises, mais deviennent un peu plus "vertes", évoquant des plantes aromatiques comme la verveine, signe typique de la jeunesse du distillat. Plutôt bon !
ENGLISH Notes: Kindly poured by Mark Westmorland (yes, the Viking-looking-like WOLFBURN brand ambassador!), I saved it for later on & that helped me assess it in a quiet environnment: Color: Obviously none, so transparent, as there is no ageing here. Artichokes, prune eau-de-vie (spirit), it is strong but bearable, even enjoyable, expresses a slight hint of peat, and the murmur of some citrus fruit maybe. On the palate, undiluted, it is closer to the 3 y.o. single malt than one could think, with some coastal discrete notes (seaspray, salt), but maybe I'm dreaming, it's difficult, honestly. I also had the same notes as on the nose. With some water, it keeps these notes but gets greener (understand botanical), with now some notes of verbena that make sense with youth. Already good !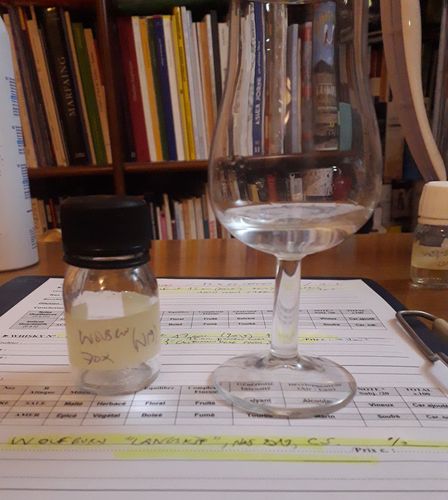 -WOLFBURN official bottling "LANGSKIP", n.a.s., matured in 100 % first fill Bourbon casks, 58 % :
FRENCH Notes: Merci à Mark pour le petit échantillon dégusté plus tard. Couleur: Or pâle à jaune paille clair. Nez: Fin, modérément marin (surtout les embruns et le sel), belle note de pâte d'amandes (allégée en sucre), pointe d'acidité liée aux notes d'agrumes, vanille, gingembre (c'est jeune, mais bien fait). Bouche: Plutôt bien faite et abordable sans eau pour un titrage aussi fort, elle reprend les notes du nez avec davantage de morsure du bois et des épices qui en proviennent (gingembre, piment doux), avec une belle longueur en bouche. Avec un peu d'eau, il se stabilise davantage, je veux dire que les différentes notes sont mieux intégrées et l'ensemble semble être plus complexe, avec une belle note de sucre d'orge (malt) en finale. Délicieux. Léger et équilibré, il est plutôt bon (peut être que le premier lot était meilleur ?) mais la version single-cask "No 375" m'impressionne davantage encore. Note chiffrée: 89/100
ENGLISH Notes: Thanks to Mark for the wee sample tasted home later on. Color: Pale yellow. Nose: Refined, moderately coastal (sea spray & salt mostly), beautiful almond paste note (ok with less sugar), a hint of acidity in the citrus fruit notes, some vanilla, ginger, linked to the oak & the spices coming from it (ginger, sweet chilli pepper), and a good length. With a few drops of water, it gains more balance, I mean that the different notes are better integrated and it seems to become more complex, with a beautiful note of malted barley sugar for the finish. Light & well balanced, this is rather good (maybe the first batch was better, though ?), but I have to say that the new single-cask expresssion called "No 375" impresses me even more. Rating: 89/100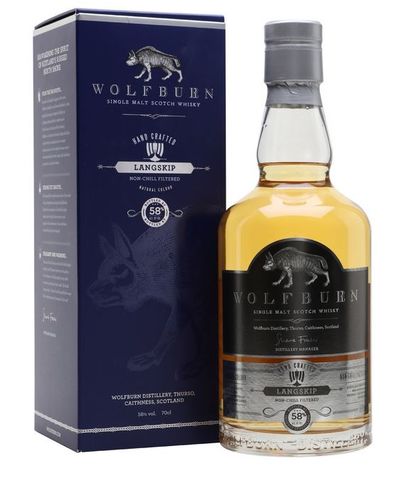 Thanks to The Whisky Exchange for this picture...
BLADNOCH
Note: J'étais heureux de découvrir la nouvelle gamme officielle de BLADNOCH (une distillerie des Lowlands fondée en 1817, mais fermée en 2014), après la reprise de la distillerie en 2015 par David Prior, un homme d'affaires australien, qui embauchera Ian MacMillan (ex-Burn Stewart Group) en tant que maître-distillateur, afin de créer les premiers single malts de la nouvelle gamme régulière en 2016. Ce dernier quittera cependant la distillerie fin 2018, après avoir vécu le bicentenaire de la distillerie et sera remplacé par Neil Bulloch, formé par MacMillan, puis en 2019 par Nick Savage (ex-The Macallan). La distillerie produit aussi un blended whisky nommé "PURE SCOT", non testé.
Note: I was happy to discover for the first time the new official range of BLADNOCH whiskies (a Lowlands distillery founded in 1817 but closed in 2014), after the new ownership by an Australian business man called David Prior, with the help of Ian MacMillan (who previously worked for the Burn Stewart Distillers group), hired as the master-distiller. They so created the first single malts of the new core range & celebrated the 200th anniversary of the distillery. However, MacMillan left the distillery in the end of year 2018 and was replaced by Neil Bulloch, formed by him, and in 2019 by Nick Savage (ex-The Macallan). The distillery also produced a blended whisky called "PURE SCOT" I haven't tried.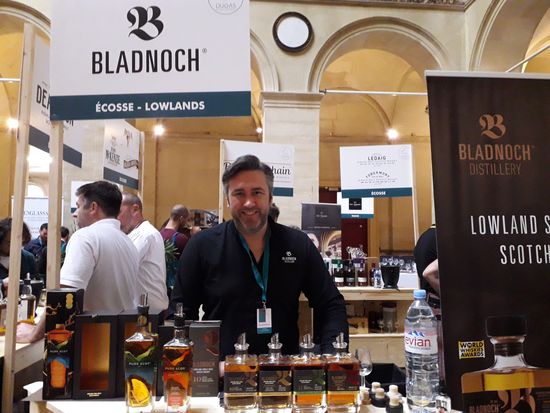 A nice stand, the one from BLADNOCH, the Lowlands distillery recently rebranded, here with brand ambassador Will Pitchforth.
-BLADNOCH official bottling 10 y.o., Bourbon casks, 2019, non chill filtered, 46,7 %:
Note: Une version utilisant des fûts de Bourbon de premier et second remplissage (Heaven Hill, Woodford Reserve), mais aussi de Tennessee whiskey (Jack Daniel's, ici).
Couleur: Or clair. Nez: L'on retrouve une bonne partie du style classique BLADNOCH, avec les agrumes, les herbes sèches, les épices au premier plan, avec peut être davantage de chêne qu'auparavant, moins de vanille qu'escompté, mais c'est un joli nez. Bouche: Agrumes, miel et vanille rivalisent avec épices douces, herbes sèches sauvages & le chêne, assez présent, mais pas dominant. Tenue à la dilution: Plutôt bonne, apportant une certaine souplesse & douceur. Conclusion: Une belle renaissance pour la gamme régulière, avec celui de la nouvelle gamme qui est peut-être le plus fidèle à l'ancien style BLADNOCH. Indication de Prix: Autour de 67 € Note (estimation): 86/100 D'autres notes seront peut-être à venir…
ENGLISH Notes: Note: An expression gathering first & second fill Bourbon barrels (from Heaven Hill, Woodford Reserve), as well as some Tennessee whiskeys casks (from Jack Daniel's, here).
T.N.: Color: Clear gold. Nose: Pleasantly faithful (mainly) to the classic BLADNOCH style, it displays notes of citrus fruit, dried herbs, with spices on the first ground, maybe a bit more oak than before, a bit less vanilla as well, but it is a nice nose. On the palate, citrus fruit, honey & vanilla rival with some sweet spices, dried & wild herbs & oak, an oak that is important, but not dominant. With a few drops of water, there is a nice suppleness sweetening the palate a bit. Conclusion: A nice renaissance for the core range, and maybe the expression of these 4 tasted here that could be the most faithful to the ancient BLADNOCH style. Around 67 €. Estimated rate (others notes might follow): 86/100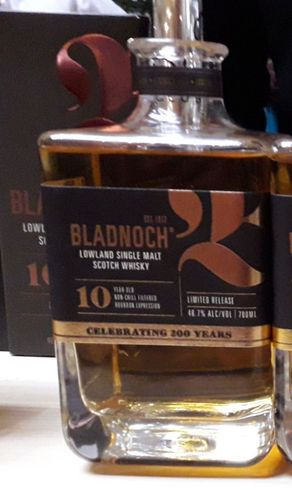 -BLADNOCH official bottling n.a.s. (said to be older than 10 y.o.) "SAMSARA", Bourbon & Californian red Wine casks, 2019, 46,7 %:
Nice fruity nose, rounded, pleasant. The palate is dominated by the wine, topping some caramel notes, but stays moderately winey. I enjoyed it, but it might not be my go to if I had to pick only one of the new four...About wine casks influence, it is the 17 y.o. that is more impressive in my opinion. Nice one, though. Around 93 € in France. Note (estimation): 84+/100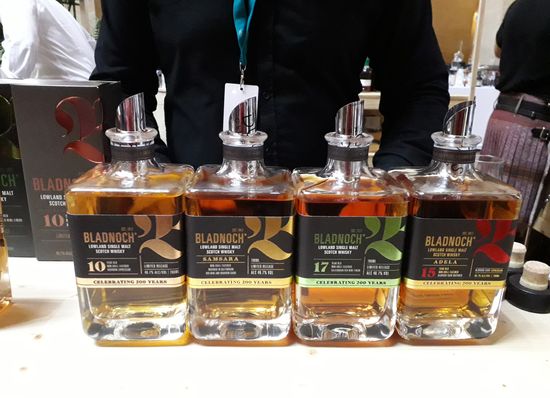 -BLADNOCH official bottling 17 y.o., Bourbon matured (for 17 y.o.), and finished in Californian red Wine casks, 2019, non chill filtered, 46,7 %: Thanks to brand ambassador Will Pitchforth for the sample.


Couleur: Vieil or. Nez: Riche, bien fait, avec une influence vineuse perceptible mais pas dominante à ce stade (en plus elle se rapproche d'un vin cuit, plus que d'un vin rouge). Belles notes de fruits confits, un peu de saumûre, un côté oxydatif & aigre (comme chez The GLENTURRET ou OLD PULTENEY) que l'on retrouvera en bouche. Bouche: Belle rondeur fruitée (fruits confits variés, fruits secs), retour du côté aigre, saumûré et oxydatif (cerises aigres, groseilles), cannelle & poivre (modéré). Un whisky bien construit. P.V.C. (France): 114 € Note chiffrée: 89/100
ENGLISH Notes: Color: Old gold. Nose: Rich, rather well done, with a noticeable wine influence but it isn't dominating at this stage, and also I find it rather close to a fortified wine than to a red wine. Nice candied fruit notes, a bit of sour notes too, a kind of oxydative style one can find sometimes at The GLENTURRET or OLD PULTENEY. On the palate, this a bit uneasy sour note is still there (sour cherries, redcurrant), while I fortunately also get a beautiful fruity rounded note (varied candied fruit, dried fruit), some spices (cinnamon, pepper), staying moderate though. A wel crafted whisky. Price around 114 € in France. Rating: 89/100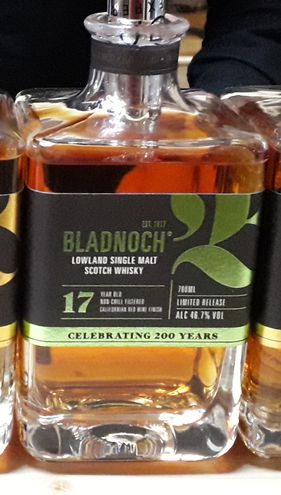 -BLADNOCH official bottling 15 y.o. "ADELA", Oloroso Sherry casks matured, 2019, non chill filtered, 46,7 %: P.V.C. (France) : 139 € -Thanks to brand ambassador Will Pitchforth for the sample.
Couleur: Vieil or (mais plus clair que le 17 ans). Nez: Relativement ferme, demande un peu de temps pour s'ouvrir, dominé par un boisé intense & des épices, puis par un Sherry assez moderne. En bouche, dévoile un côté vineux inattendu (et saumûré), mais ensuite c'est un Sherry moderne, sec, un peu fermé qui se met en place, avec un boisé puissant (comme sur les batchs durs d'Aberlour "A'Bunadh"), quelques fruits (fruits rouges, fruits secs variés), des épices (gingembre, piment d'Espelette) qui renforcent la fermeté & la sécheresse du profil. L'ajout d'un peu d'eau lui est bénéfique, mais pas autant qu'escompté, le Sherry demeurant très moderne. Un BLADNOCH résolument moderne, plutôt bon, mais qu'on aurait aimé être plus séducteur & souple en bouche. Au salon je l'ai préféré au 17 ans, mais au calme, c'est le contraire, étonnant, non ? P.V.C. (France): 139 € Note chiffrée: 87/100
ENGLISH Notes: Color: Old gold (but clearer than the 17 y.o.). Nose: Relatively tight, it needs a bit of time to open up, as it is dominated by some firm oak (intense) & spices, and then by a rather modern Sherry. On the palate, it reveals an unexpected winey side (also a bit sour), and quickly the dry Sherry is back, along with a powerful firm & dry oak (like in the hardest batches of Aberlour "A'Bunadh"), some fruit (red fruit, varied dried fruit), some spices (ginger, French mildly chilli pepper called "Piment d'Espelette"), spices that reinforce the firmness & dryness of the general profile of this whisky. A few drops of water helps a bit, but not as much as expected, the Sherry staying very modern, dry. When I tasted it on the show, I prefered this one to the 17 y.o., but now, in better conditions, it is the contrary. Amazing, isn't it ? Price around 139 € in France. Rating: 87/100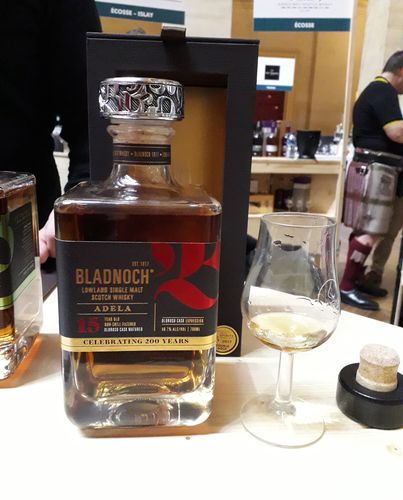 -TOMATIN "CU BOCAN", limited release "Creation" (No 2) series, lightly peated (17 ppm), matured for 80 % of it in Japanese spirit called Shochu casks & the rest in European Virgin oak, 46 %: Note: This one is the most experimental of the 3 versions of this series also bearing a completely new bottle design, as the 2 other ones, which differs from TOMATIN Core range. In fact, the production of CU BOCAN is also partly different, as the fermentation time is shorter , while the distillation is faster than usual, said Scott Adamson, the global brand ambassador I had the chance to meet in this show. T.N.: Pale yellow (white wine). The nose is pleasantly estery & a bit yeasty, and even some citrus fruit & vanilla, moderate peat, while the palate, faithful to the nose, delivers nicely balanced floral, fruity & lightly peated notes, and one can barely notice he casks types used here could be unusual, which is amazing. Well done ! A very pleasant single malt. Estimated rate: 88/100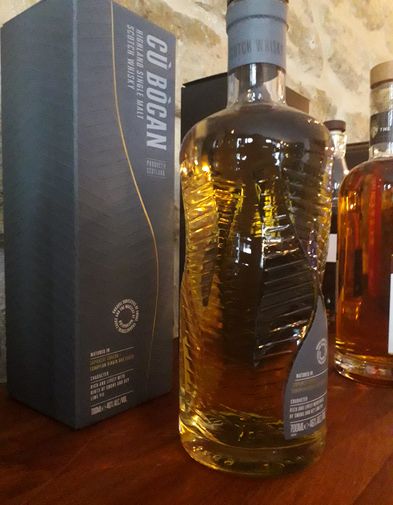 -TOMATIN official bottling 30 years old, 46 % (available only during the professional day, Monday):
Note: This one was matured during 22 y.o. in 10 first fill Bourbon barrels, then finished 8 years long in 3 Hogsheads. Brief tasting note: A subtle & quite woody single malt, with lots of malted barley, some caramel, citrus fruit, oak spices, but staying balanced. Hard to score it in public show conditions, as it needs time.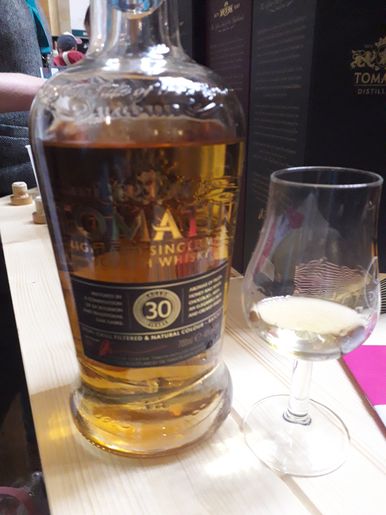 J & A MITCHELL company brands, associated independent bottler (CADENHEAD) & distilleries they help to produce whisky in the Campbeltown area (GLENGYLE):
Independent bottler CADENHEAD :
-BALMENACH-Glenlivet 12 y.o. (Small Batch rounded bottles range with reduced abv), 46 %:
Gently floral, fruity (citrus fruit), with some sweet spices & vanilla, this is a nice aperitive whisky sold around 66 € here. Recommended "unpretentious but efficient" single malt, apparently released for French market.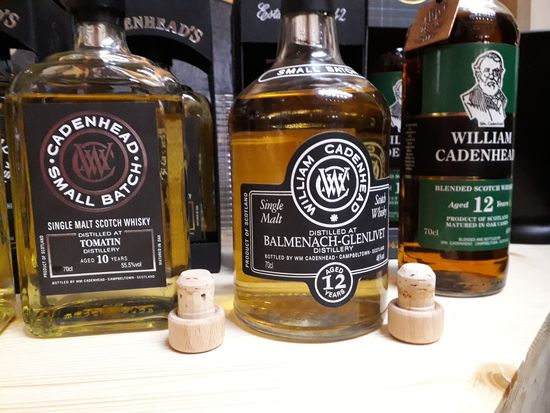 -GLENROTHES-Glenlivet 17 y.o. (2001-2018), Small Batch squared bottles range, cask strength), from 2 Bourbon Hogsheads (528 bottles), 53 %:
Clear gold, this rather fruity (citrus fruit) & green (tea leaves) whisky is nice & a pleasant offering (not the first good Bourbon driven Cadenhead's bottling, I remember a very good 20 y.o.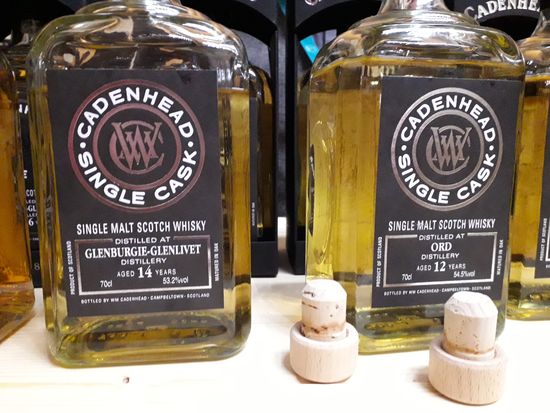 -GLENBURGIE-Glenlivet 14 y.o. (2004-2018), Small Batch squared bottles range, cask strength), from a Bourbon Hogshead (270 bottles), 53,2 %:
A golden color consequent single malt with nice floral, fruity, a bit yeasty & malty (with even some nuttiness & dried fruit) qualities, pretty enjoyable.
-LINKWOOD-Glenlivet 28 y.o. (1987-2015), Small Batch squared bottles range, cask strength), from 2 Sherry Hogsheads (1062 bottles), 58,4 %:
Amber color. The color is impressive, but on the nose as well as on the palate, the oak & its firm spices (tannins are loud & clear) tend to diminish of not erase a bit too much the distillate's very subtle profile when it ages too, and it is a pity. It isn't bad at all, mind you, but I was expecting way much more of this one. Besides, in order to stay a bit safe (almost no other spirits tasted), I didn't try that gorgeous looking bottle of rum, but hope I will some day...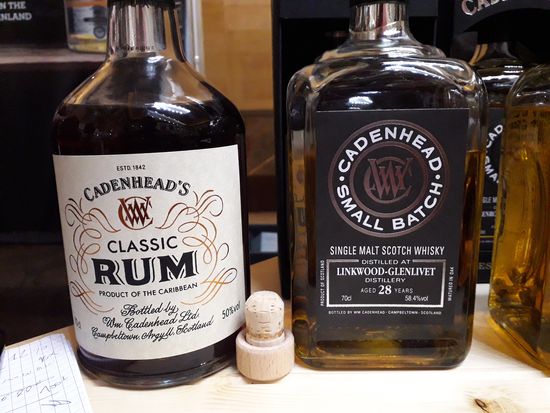 THE FAMILY OWNED DISTILLERIES BRANDS :
-SPRINGBANK official bottling 15 y.o. "RUM WOOD", limited edition "Rum barrel"(900 bottles), distilled in 12/2003, bottled in 08/2019, 51 ,0 %:
Slightly peated, I'm surprised (in a show context for sure, it might be different after a sample) how the rum influence is light here (also if you compare it to the GLEN SCOTIA 2003 –a 15 yo y.o. as well-Rum cask finish for Campbeltown Festival…). It is a bit earthy, rather malty, a bit oaky, mildly spicy, but not much more at first impression. I was expecting more rum influence & more coconut & exotic fruit notes.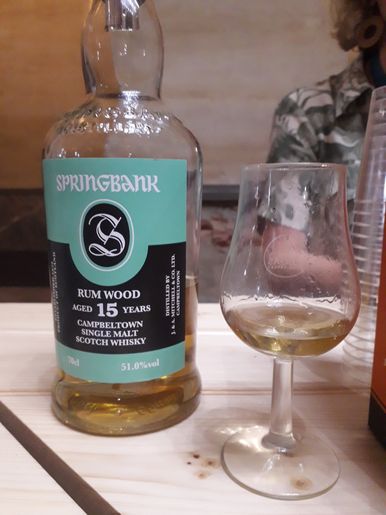 -SPRINGBANK official bottling 21 y.o. (Oloroso Sherry), limited Single-Cask Edition (2018 ?) for French market (Sherry Oloroso, 342 bottles), 48,2 % (sold around 330 €):
It is the same bottling that was presented last year at the same show. Like last year I found this rather excellent, less rounded than the core range's small batch 21 y.o., with maybe more earthy & other tertiary notes (I get also tobacco for Habana cigars, some leather), gentle spices & dark chocolate. A well crafted whisky & well balanced cask (so, well selected too). Very good, but at an unreachable price "for us mortals", a phenomenon touching more & more whiskies over 18 y.o. and sometimes even under this age. Also I don't understand why this single-cask version bears the same price than the one from the core range at 46 %. I could rate this one a bit above 90/100.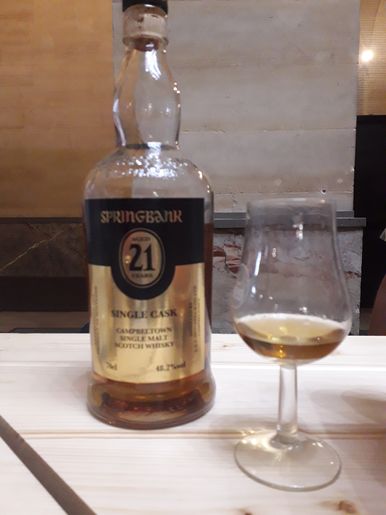 -HAZELBURN official bottling 14 y.o. (distilled 10/2004, bottled 05/02/2019) "OLOROSO CASK MATURED" Sherry, limited 2019 edition, (9900 bottles), 49,3 %:
A bit farmy on the nose, with heavy sherry at work, then it seems to be more intricated with the spirit on the palate, and more melted. Spices, dried fruit (sultanas & all kinds of raisins) & dark chocolate evolve in a half fruity, half malty & oaky environment, with no obvious winner, which is both showing a good balance & a bit frustrating as nothing really stands out for me, but no worries, it's good, but just not blowing me away. Around 90 €.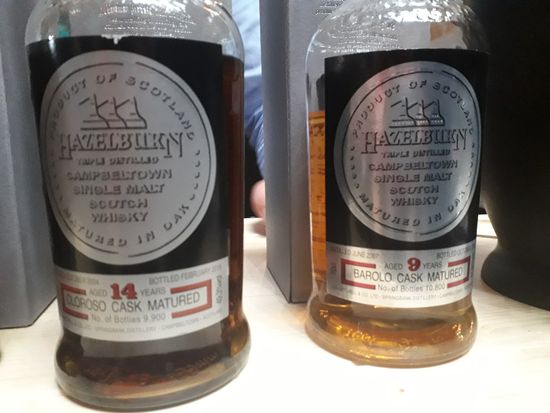 -LONGROW official bottling 18 y.o. (2019 edition), 75 % Sherry cask, 25 % Bourbon casks, 46 % (around 120 €):
It is fascinating to see the batch variations of this expression since the beginning, as I have tasted several ones (not all, mind you) over the years and never found one matching the elegance, balance & style of the first 2008 edition. One of the "worst" (well, hem, everything is relative, it was more than drinkable) editions was for me the 2011 (the most dirty, briny, salty one-definitively not my alley), while this one is closer to the first edition, but with less class. A pretty good malty, moderately peated "gristy-porridgy-as-we-like" state of the art SPRINGBANK though, that I really enjoyed this year.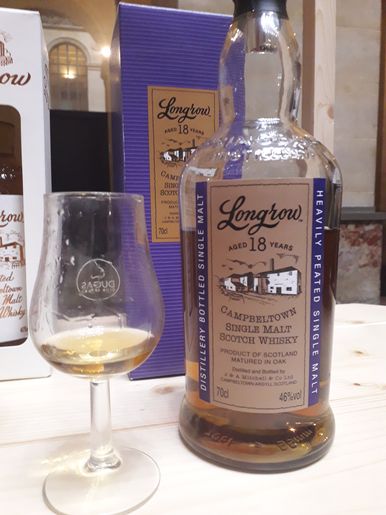 -LONGROW official bottling 11 y.o. "RED" series, limited edition "PINOT NOIR CASK MATURED" (rather 8 years in Bourbon barrels, and 3 in Red Pinot Noir wine), 53,1 % (around 100/120 €):
A well composed edition, better than some previous ones that were too winey for my taste, with enough fruit elements (red fruit, dark fruit) to entertain, and also enough tannins & spices to give it a decent structure, and no major flaws (no overpowering winey notes, for instance). One I couldn't retaste to have a better understanding of it, but one I enjoyed to try for sure.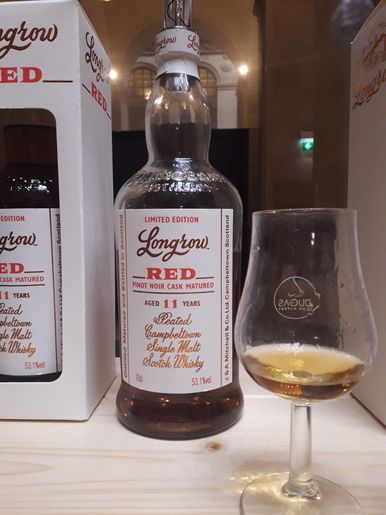 -KILKERRAN (GLENGYLE Distillery) official bottling (rather an advanced sample here-on the right, in the picture below), distilled in 2016, Batch 2 (Bourbon barrels), 60,9 %:
GLENGYLE (under SPRINGBANK's staff supervision) continues to grow & experiment. Here it is a strong Bourbon casks driven single malt, with quite some character, some huge oak, not so much vanilla, some coconut, and malted barley on top of that. But, unfortunately, even with some water, the oak speaks so loud that the other notes are forced to shut up…So I prefered the lower abv one.
-KILKERRAN (GLENGYLE Distillery) official bottling (rather an advanced sample here-on the left, in the picture below), distilled in 2004 (more than 10 years old), Single-cask (Oloroso Wood, Cask number 1196), 52,6 %:
A more interesting expression than the Bourbon one, I have to say (while I was expecting the contrary). Sweet & well balanced, with a beautiful interplay between the Sherry & the oak, this one is on the good way. Curious to see how & when they will bottle it.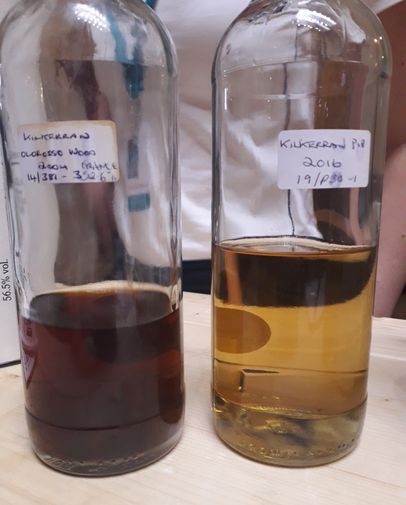 A SMALL DIGRESSION IN GIN TERRITORY :
Last year I have enjoyed the whole range of EDINBURGH Gin distillery, a distillery built in 2010 in Leith, West end of Edinburgh, and which is now owned by Ian McLEOD Distillers limited, but part of The Spencerfield Spirits company. They make botanical & flowers liqueurs bottled from around 20 % abv to 40 % abv and several types of GINs, such as the latest one below:
-"SEASIDE" GIN, EDINBURGH Gin distillery (in partnership with Heriot-Watt University's Brewing & Distilling MSc course), 43 % abv:
Note from the producer: This gin is "using foraged shoreline botanicals, marine plants including scurvy grass, ground ivy and bladderwrack to create a gin with distinctive minerality. These are complemented with aromatic spice notes from grains of paradise, coriander and cardamom" (and of course juniper). Brief tasting note: A beautifully crafted gin, with some obvious maritime influence, but very subtle, such as in the ISLE OF HARRIS. Nice seaspray whiffs, tiny seaweed influence, oriental spices (moderately aromatic, but just enough to add subtlety to the whole). I instantly loved this new creation and once again the packaging, subtle & kind of "Art Nouveau", is gorgeous as well. Warmly recommended.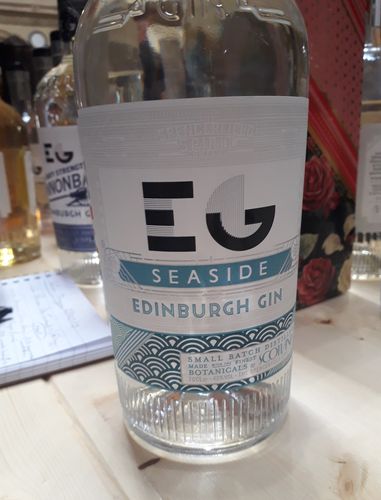 AND LAST, BUT NOT LEAST, SOME NORTH AMERICAN WHISKIES:
REBEL YELL is a brand from LUXCOW Distillers (which after became LUXCO Spirited brands), who previously sourced their whiskeys from (it is commonly admitted but I don't say it is an 100 % sure information here but a guess) Heaven Hill. They state that the original recipe of their Bourbon goes back to 1849 with the Stitzel-Weller family (that use to produce famous Pappy Van Winkle whiskies) and was revived in 1936, with the choice of wheat as second ingredient. Thanks to John Lax for his welcome on the stand.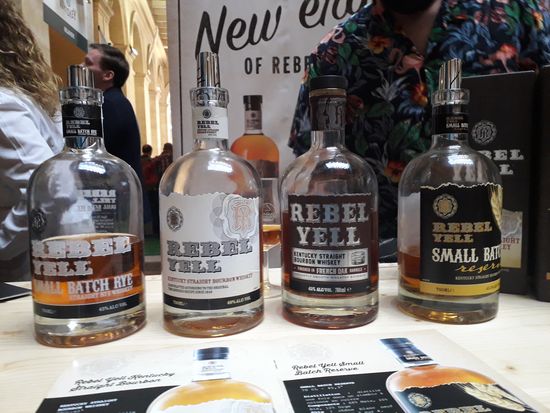 -REBEL YELL 4 y.o. Kentucky Straight Bourbon (but a "wheated Bourbon"-68 % corn, 20 % wheat, 12 % barley-), Level 3 of casks charring (out of 4), 40 % (around 40 €):
Light on the nose as well as on the palate, this Bourbon shows some cereal notes, some biscuity notes too, some honey & dried fruit. It is a decent Bourbon, but lacks of some oomph in my opinion. An entry level product.
-REBEL YELL 4 y.o. "Finished in FRENCH OAK barrels" (for 6 months), Kentucky Straight Bourbon (but a "wheated Bourbon"-68 % corn, 20 % wheat, 12 % barley-), 45 % (around 45 €):
This one is less light but still very playing on the wheat's sweetness & the melted flavors, then strangely becomes more interesting with a few drops of water, releasing some sweet spices & buttery cereals. Nice.
-REBEL YELL 4 y.o. "SMALL BATCH RESERVE", Kentucky Straight Bourbon (but a "wheated Bourbon"-68 % corn, 20 % wheat, 12 % barley-), 45,3 % (around 45 €) :
Another light one, despite a slightly higher abv. Notes of honey, caramel, sweet spices & some vanilla. Brown sugar is also coming through. Nice.
-REBEL YELL 4 y.o. "SMALL BATCH / RYE", Kentucky Straight Bourbon (but a "wheated Bourbon"-68 % corn, 20 % wheat, 12 % barley-), 45 % (around 45 €):
A light one, a bit more focused on the spices, but staying sweet (honey, sweet spices, vanilla, and caramel).
WHISTLEPIG is a recent brand who's story starts in 2007, when master-distiller Dave Pickerell (who alas died last year at 62 years old), previously operating at Maker's Mark (and strongly associated with its success), buys a bankrupted farm in Vermont, with the ambition to produce the best rye whisky possible. He also acquired a stock of Canadian rye whiskey (most probably sourced from ALBERTA Distillers) and starts to sell it in 2010. But it's only in 2015 that Dave decides, along with the owner, Raj Bhakta, to produce rye whiskey directly in the Vermont distillery, from start to finish. So, the first expressions partly using U.S. local rye production are only recently hiting the shelves, and should be soon entirely sourced inside the U.S.A.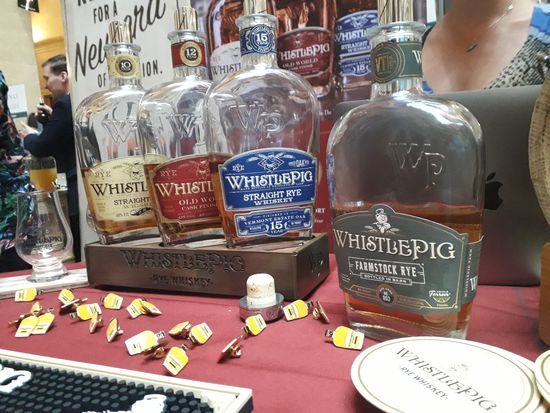 -WHISTLEPIG "FARMSTOCK RYE" ("Bottled in Barn"), Rye Crop No 003 (Limited Edition),matured in American White Oak casks from Vermont state, with a mashbill made of 52 % of 3 y.o. rye whiskey, 31 % of 6 y.o. unspecified whiskey & 17 % of 10 y.o. Canadian whisky from the Alberta state, 75 cl, 43 % (AMERICAN RYE WHISKEY):
Couleur: Vieil or. Notes brèves: De belles notes épicées liées au seigle, ainsi qu'une belle exubérance florale (rose, pivoine, fruits rouges exotiques, de type papaye, notamment), du bois de rose également (rappelant là aussi le LOT 40, mais peut être avec une douceur et moins de boisé, ainsi qu'une note de cuir. L'équilibre est assez beau ici, s'avère très plaisant en bouche, bien que différent du 10 ans d'âge de la gamme régulière. Note estimée à 88/100, voire davantage.
ENGLISH Notes: Color: Old gold. Brief Notes: Beautiful notes of Rye spices & floral & fruit exuberance (rose, peony, exotic red fruit/papaya), rosewood, reminding me of the LOT 40, but with some sweetness & tone down oak/leather notes as well. The balanced here is very good & it is quite enjoyable, though different from the regular 10 y.o. release. Nice novelty. Estimated rating at : 88/100 to more.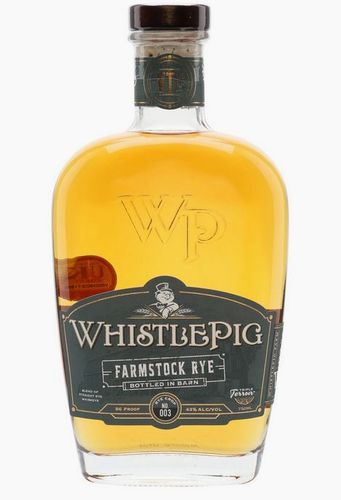 Photo: Courtesy of The Whisky Exchange.
-WHISTLEPIG 12 y.o. "OLD WORLD CASK FINISH", 2019 (but this expression exists since at least 2015), 100 % RYE, with 3 finishes (63 % Madeira drums, 30 % Sauternes barriques & 7 % Port pipes), 43 % : Thanks to Savannah, from WHISTLEPIG for the sample.
Couleur: Or profond, avec quelques reflets oranges. Nez: Complexe, avec quantité d'épices de seigle et toutes sortes de fruits & de fleurs. Une note extraordinaire évoquant un parfum (sans caractère péjoratif). Sirop de fleurs (rose), miel "toutes fleurs", pivoine, liqueurs d'orange & d'abricot, vin fortifié (influence du Porto), quantité de fruits secs, et une touche nettement orientale. En bouche: c'est une explosion de saveurs assez déconcertante de prime abord, des saveurs florales ou fruitées fidèles au nez, avec un toucher en bouche épais et un caractère oriental traduit par un style sexy & exubérant (mettant particulièrement en avant une note éblouissante de loukoums à la rose, oui, incroyable !). C'est tout simplement superbe, et un incroyablement complexe whisky de seigle. Sur le site internet, le distributeur précise qu'il a fallu 4 ans et l'aide de 500 barmen pour élaborer cette version. Je ne sais pas ce qu'il en est en réalité, mais le résultat est là, plutôt impressionnant, je dois dire. Avec quelques gouttes d'eau, cela devient encore plus irréel, aérien, fantastique ! Conclusion: Un des whiskies de seigle les plus complexes jamais dégustés. Note confirmée: 94/100
ENGLISH Notes: Color: Deep gold, with some orange hues. Nose: Complex, with bags of rye spice & all kinds of fruit & flowers. Extraordinary almost perfumy style (in a good way). Rose flowers syrup, all-flowers honey, peonies, orange & apricot liqueur, mulled wine, lots of dried fruit, also on an oriental side, etc…On the palate, it is an explosion of flavors, wether they are floral or fruity (faithful to the nose), with a dense mouthfeel, and the oriental side gets very sexy & exuberant, pushing a familiar note ahead, a mind-blowing note of rose perfumed Turkish delights, yes ! Its is simply superb, incredibly complex rye whisky. The French distributor's website states that it took 4 years and the help of 500 bartenders to create this expression. I don't know if it is true, but the result is very impressive I have to say. With a little of water, it gets even more surreal, aerial, a fantastic stuff! Conclusion: One of the most exuberant & complex rye whisky I have come across. Confirmed rating: 94/100 to more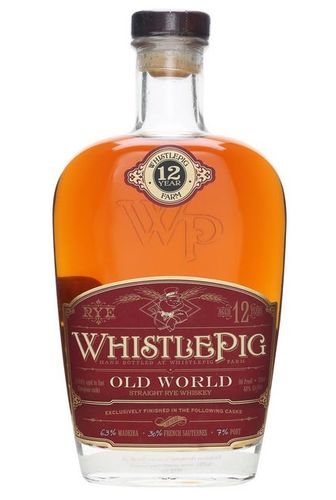 Photo: Courtesy of The Whisky Exchange.
-WHISTLEPIG 15 ans "VERMONT ESTATE OAK", 2019, 46% : Thanks to Savannah, from WHISTLEPIG for the sample.
Couleur: Vieil or. Nez: Joli boisé, avec de suite le seigle, puis une note d'huile de lin, comme une note de solvant et de poussière. Bouche: Le seigle domine, avec de la structure (épices), mais il est rejoint par des notes de boisé imprégnant profondément le distillat, un boisé un rien poussiéreux, et mâtiné de notes végétales (lin, feutre). Développement sur des notes de fleurs capiteuses (rose, pivoine), finale sur un fondu avec une légère amertume. Un peu d'eau permet de développer et assouplir ses notes florales, ainsi que le seigle, le tout avec une belle finesse. Conclusion: Moins spectaculaire que la version 10 ans d'âge à 50 %, mais aussi que la version expérimentale à 3 affinages (le 12 ans), ce whisky est néanmoins une belle variante, pour les amateurs avertis, mais tout en finesse. Indication de prix: Entre 250 et 300 €. Bien trop cher, à mon avis, aussi je conseille plutôt la version 10 ans à 50 %. Note confirmée: 91,5/100
ENGLISH Notes: Color: Old gold. Nose: Nice oak, then quickly followed by the rye, then by a linseed oil note, something solventy as well, and dust. On the palate, the rye dominates (with his bag of spices), but is quickly followed by deep oak notes taming the distillate, a dusty wood too. Green notes are coming through as well (linen, felt), then it develops on heady flowers (roses, peonies), and everything gets melted in the finish, with a bit of bitterness. Water helps bringing some suppleness, the floral notes as well as the rye, with a nice refinement. Conclusion: Less spectacular than the 10 y.o. (the one at 50 %), but also than the experimental 12 y.o. (the one with the 3 finishes), it is nevertheless a good alternative, more for connoisseurs I would say, with quite some refinement. Pricewise, though, at around 250/300 €, it is way too expensive for what it delivers, so I'd rather recommend the 50 % abv 10 y.o. version. Confirmed rating: 91,5/100
Photo: Courtesy of The Whisky Exchange.
-WHISTLEPIG 10 y.o. limited edition, an exclusive** 2019 storepick by NICKOLLS & PERCKS (a U.K. retailer & on line shop in Stourbridge, near Birmingham, West Midlands), SINGLE-BARREL (Barrel No 2434, 132 bottles), Cask Strength, 61,2 % (around 115 €):
Thanks to Alan from The Whisky Friend vlog (Youtube channel) for the sample. I know this one** wasn't presented at the show, but I thought it was a good place to talk about it.

Couleur : Ambrée. Un nez puissant & un peu alcooleux, puis des notes de cire, de vieux fauteuil club, puis des épices (du seigle) et de belles notes florales & fruitées au second plan. En bouche, c'est beau, mais assez agressif si dégusté pur. Le seigle se fait poivré, avec un côté poussiéreux, même...C'est seulement en milieu de bouche que le meilleur du seigle est à venir, avec de belles notes de bois de rose & de rose (la fleur), mais aussi de la pivoine, ainsi qu'une note de rhubarbe pour couronner le tout. Le poivre se fraye aussi un chemin (rose poivrée), mais sans excès. C'est évident ici que c'est bien plus appréciable avec une légère dilution, mais, malgré tout, cette version est moins accessible & plaisante que la version à 50 % à mon avis. Conclusion : Une version qui demande du temps et un réglage très personnel de la dilution, ce afin d'éliminer en partie son agressivité et le rendre plus agréable. Indication de prix : Autour de 115 €, sur le site en ligne de cette cave. Note confirmée : 92/100
ENGLISH Notes: Amber color. Strong & hot nose (with some alcohol burn), with notes of wax, of old club armchair, and some rye spices & nice floral/fruity notes in the second ground. On the palate, it is beautiful, but quite aggressive if tasted neat. The rye is peppery, there is also a dusty side to it….Then comes the best of the rye influence, the rose (flower & wood) notes, the peonies, and some rhubarb for good measure. Peppery rose notes also come through, but stays moderate. It gets better with some water for sure, but isn't as drinkable as the 50 % abv expression I have to say. Conclusion: One to take time with, to remove a bit of its aggressiveness, and one that really needs water in my opinion (difficult to say how much, it is very personal & difficult here), to be tamed a bit, and therefore more enjoyable. Once it is done, it can be great. Price tag around 115 €, on their on line shop. Confirmed rating : 92/100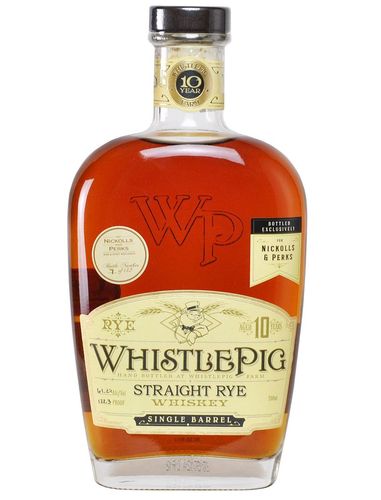 Photo: Courtesy of Nickolls & Percks.
A VENIR DANS CETTE RUBRIQUE / TO BE COMING SOON IN THIS SECTION :
-Whisky Live Paris 2019 (reportage/report)